Godfall Leak Shows The PS5 Exclusive In Action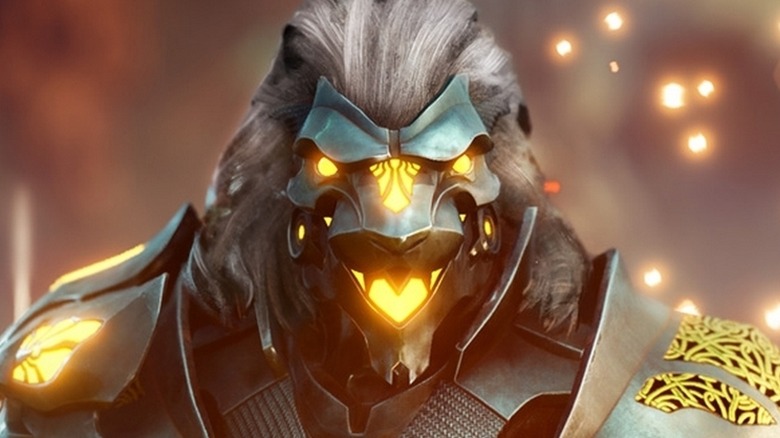 Sony appears to have a leak on its hands, as a Reddit user has posted what they claim is seven seconds of Godfall gameplay. Just a short and sweet glimpse of the combat, this is the first we've seen of the new IP since its reveal trailer at The Game Awards.
Let's take a look at those tantalizing seven seconds.
[GodFall] [Video] – Combat Footage (A Fraction of the footage from an Unreleased Trailer I have) from
PS4
It apparently comes from an internal trailer, showing some hacking and slashing set to an intense soundtrack. The effects look flashy and the enemies are big and bad, but we had already figured that would be the case from the trailer we saw in December. Godfall is described as a "third-person fantasy looter-slasher RPG." Our knightly protagonists wear glowing armor and a cavalier bravado as they face down a giant three-headed hydra.
u/YeaQuarterDongIng gave us a glimpse of them in action with magical moves and destructive powers. They claim that this is just a fraction of the footage in their possession, too. They have allegedly somehow gotten their hands on an unreleased trailer, accounting for the quick clips and booming music. While we should always be skeptical about unverified leaks like this, this video is pretty convincing.
Godfall is the lovechild of Gearbox and Counterplay Games, and was the very first PlayStation 5 exclusive announced. This alleged trailer seems to make use of those beefed up graphics Sony has been hinting at. Will the finished product look this way, though? We'll have to wait to find out.
Godfall's release window is Holiday 2020, so surely we'll be seeing more from this new triple-A high fantasy IP. Maybe we'll have an official release of this leaked trailer. Our leaker u/YeaQuarterDongIng claims that it was made in early 2019, so it might not be the most up to date footage. 
We'll keep you posted on all things Godfall here.