Is Fortnite's Next Event A Harley Quinn Crossover?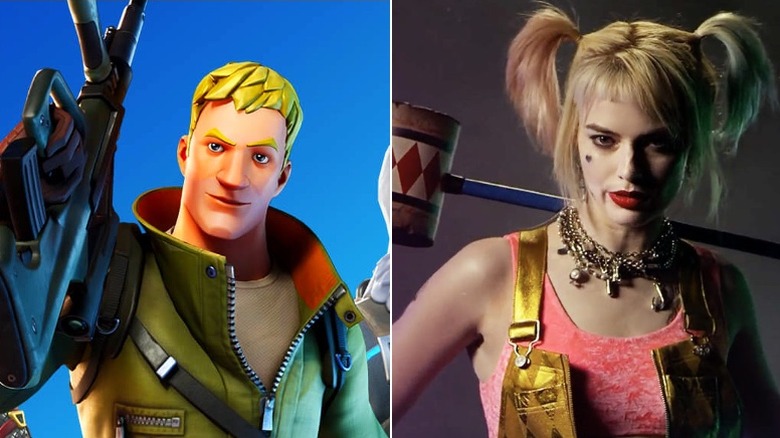 Epic Games is well known for being up for all kinds of wacky promotional tie-ins and limited time game modes within Fortnite. Thanks to a recent tweet from the official Fortnite Twitter account, we may know what the battle royale game's next "fantabulous" crossover event might involve.
The hint seemingly occurred as part of the promotional campaign for Warner Bros. Pictures' upcoming DC Comics film, Birds of Prey (and the Fantabulous Emancipation of One Harley Quinn). The WB Pictures Twitter account posted an image of some of the film's stars posing with a few of the artists contributing to the film's soundtrack. 
In a reply to the post, the official Fortnite account tweeted, "See you soon Harley," along with a knowing side-eyed emoji.
Now, this could simply be seen as a friendly comment toward the film's upcoming release. After all, major companies tend to pat one another on the back on social media fairly often. At least, the could easily be seen as the case had Warner Bros. not replied, "Can't wait." 
Naturally, fans have immediately seized upon this exchange. A few people are already speculating that this may as well be confirmation of a Harley Quinn-themed skin for Fortnite. It's certainly not out of the question for Fortnite to tie into a major superhero flick. One of the game's most successful limited time events involved the Infinity Gauntlet from the Avengers films, which would transform one cunning player into the Mad Titan Thanos himself. It's not hard to imagine a Harley Quinn character pack that swaps out the game's usual pickaxes for Harley's signature mallet.
Epic Games hit the ground running with major Fortnite announcements in 2020. Earlier this month, it launched the Icon Series, which will add "the artistic vision, personality, and attitude of top creators to Fortnite." The first addition to the Icon Series was a skin themed after noted streamer Tyler "Ninja" Blevins.