Another Witcher Game Just Surprise Launched On Switch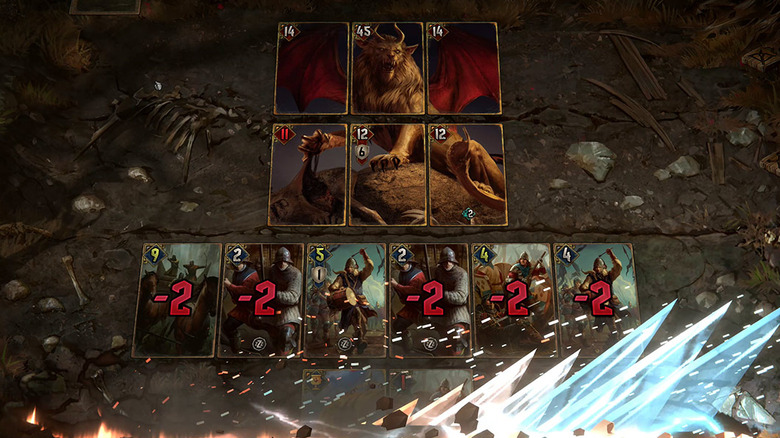 What's that, you say? You want a Nintendo Switch game that takes place in the world of The Witcher, but not one as sprawling as The Witcher 3? Perhaps something lighter is in order. How do you feel about card games?
Advertisement
Behold! Thronebreaker: The Witcher Tales is now available for Nintendo Switch. It arrived today without any kind of warning whatsoever, simply announcing its presence with a launch trailer on the official Witcher YouTube channel. And if you think this launch is a little weird — no press ahead of time, no promotion, nothing — add that to the fact that CD Projekt Red itself said this wasn't happening.
"There are no plans to release Thronebreaker on any other platforms than PC (GOG.COM), PlayStation 4 and Xbox One," the studio told Eurogamer before the game's original launch back in 2018.
Plans change, we suppose. The Switch has proven it has some staying power, and developers feel they can take advantage of its skyrocketing install base by releasing games on the platform. Still — how did this not even end up in a Nintendo Direct?
Advertisement
In any event, Thronebreaker is here now, and it'll likely be a go-to title for those who enjoy strategy card games like Hearthstone and such. We imagine it'll sell pretty decently, too, thanks to the enormous success of The Witcher TV series on Netflix. The Witcher 3 — which is several years old at this point — saw a huge increase in its player count thanks to the TV adaptation. Maybe that was some of the motivation behind this port.
Thronebreaker: The Witcher Tales is selling for $19.99 on the eShop. If you haven't had your fill of The Witcher just yet, and dumping dozens of hours into an open world RPG doesn't appeal to you, why not give this a go?