These Latest Resident Evil 8 Rumors Sound Insane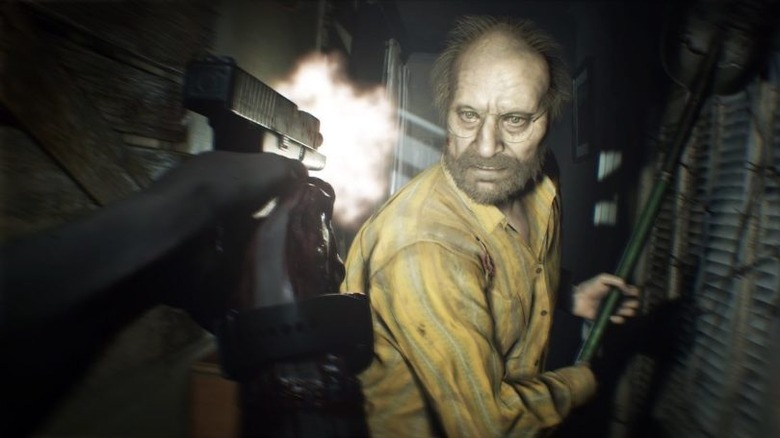 Resident Evil fans have been patiently waiting to see where the wild ending of Resident Evil 7 will lead the franchise next. If a recent email sent to RE fan site Biohazard Declassified is accurate, we may have some ideas of what to expect from the next entry. And this game sounds bonkers, even by Resident Evil standards.
The apparent tipster describes a game that features the return of RE7 protagonist Ethan and recurring hero Chris Redfield. It also takes place in a rural European village, much like Resident Evil 4. The game is supposedly made in a first-person P.O.V. and will feature several new types of enemies, including some kind of "wolf-like creatures" and a ghostly woman who vanishes when attacked. This already sounds like something much more akin to Silent Hill than Resident Evil, but it's definitely intriguing. One of the rumors even claims that the game may not even be titled Resident Evil 8.
As always, rumors should be taken with a grain of salt. However, it's worth mentioning that others (like the popular gaming account Nibel) have come forward saying that they've heard similar details, supposedly stemming from a rough playtest conducted by Capcom. It's also entirely possible that this version of the game has been scrapped.
This would line up with the claims of Evil VR, who has broken legitimate Resident Evil news in the past. A few months ago, Evil VR claimed to have information that suggested Resident Evil 8 was still quite a ways off. Just last week, noted leaker Dusk Golem also intimated that the next Resident Evil game was being rebuilt from the ground up. 
Maybe this take on the series was deemed too bizarre to move forward. After all, this wouldn't be the first time that Resident Evil almost went in a more supernatural direction. The Devil May Cry series was born out of a failed early version of Resident Evil 4. It could be that we'll still see some version of this story in the future, even if it's not a part of the Resident Evil series proper.
In the meantime, Resident Evil fans will have their hands full trying to escape from Raccoon City when the RE3 remake drops in April.