The Next Big Couch Co-Op Game Is About Moving Furniture
Moving out is practically impossible without a team of friends helping out. Publisher Team 17 has seen fit to gamify what would otherwise be a tedious chore. First the company turned cooking into a chaotic, charmingly cooperative mad dash in Overcooked. Now it's brought the same kooky antics to its newest title, Moving Out.
Team 17 announced Moving Out this morning via a peppy trailer packed with packing. The game has you and a friend or three take charge of a moving company. It's up to you and your team to enter houses and empty them piece by piece. This means carrying out hefty, awkwardly shaped furniture and using some good old team work to get these couches out the door and into your van.
Then you've got to deliver the goods — apparently all while trying to set new speed records. No one seems to mind when you crash through a living room window to shave off a few seconds. 
The trailer is pretty darn cute, giving prospective players a brief glimpse of the 50+ levels. That's a lot of boxes. The city of Packmore must be really into packing.
Moving Out is 'ridiculous'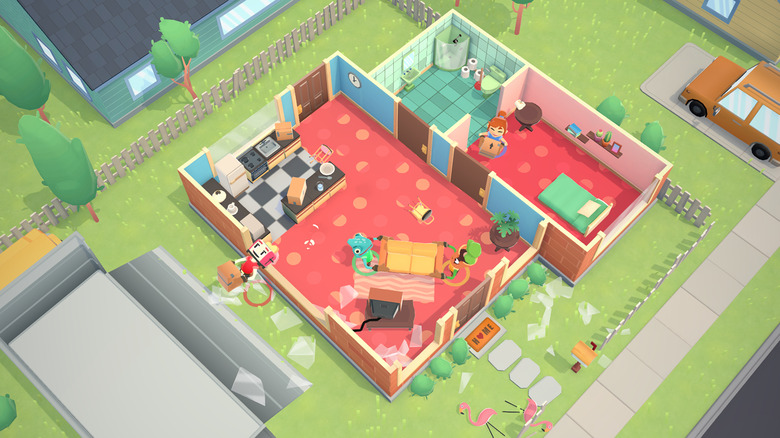 Packmore is packed with all sorts of different locations, from suburban houses to booby-trapped farmyards. Careful of those rakes. Team 17 describes Moving Out as "a ridiculous physics-based moving simulator" and we have to admit: it does sound pretty ridiculous. You can customize characters or decide to be a "newly certified Furniture Arrangement & Relocation Technician" who just so happens to have a toaster or a potted plant for a head. Your mover can also be a chameleon.
We had a taste of this kind of gameplay when Team 17 first released Overcooked, which turned into the game to play with friends (and maybe ruin friendships.) Overcooked turned simple recipes into recipes for disaster, and we loved it. Now we have Moving Out, which is set to move onto the Nintendo Switch, PlayStation 4, Xbox One, and PC on April 28, bringing – Team 17's pun, not ours — new meaning to couch co-op.