Later Dater Is The Most Bizarre Dating Sim Ever
The video game world has its fair share of strange dating sims. If you've ever taken a peek at games like Hatoful Boyfriend, you know exactly what we're talking about. Despite just about every spin on dating being explored — birds included — we're not sure we've seen a release tackle the complexities of single life as a senior citizen. That is, until Later Daters.
Let us clear one thing up right away: a serious sim this is not. From the moment the game's announcement trailer takes off, you can tell this is a more comical take on senior dating. The trailer is presented as a sort of informercial for the senior living facility; you can almost imagine it being a VHS tape you'd pop into your VCR. But things quickly take a turn when you listen to the actual words coming out of the presenter's mouth.
"This is the sexy yet wholesome gaming experience you never knew you needed," he says, matter-of-factly.
This is going to be a very weird game, indeed.
Later Daters is low-key adult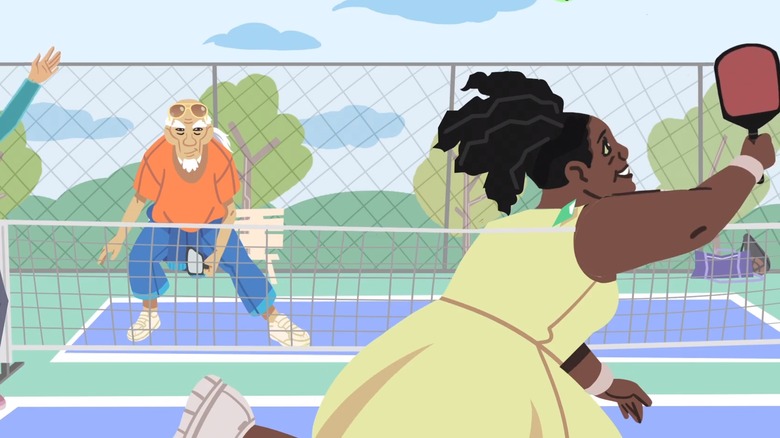 Later Daters looks like a fairly innocent title, but upon closer inspection, we can't help but believe there's more than meets the eye. You're not finding the love of your golden years; you're flirting with the entire "cast of captivating silver foxes." The folks in the retirement community of Ye OLDE "may be getting older, but their libidos show no sign of slowing down," according to the trailer.
During an interaction with one such resident, she drops a line that illustrates this point perfectly.
"And we'll see each other when God is ready for us to be together," says a character named Esther, presumably speaking about her late partner. "Until then, well, I'm going to have my fun – if you know what I mean."
Yes, we know what you mean.
Bloom Digital Media — the Canadian indie behind Later Dater – plans to bring the title to PC and Nintendo Switch on April 16, 2020. The game will be episodic in nature; April will see the release of the first three episodes, with the rest arriving later in 2020.
We're very eager to see how gamers take to this weird little project. We were all surprised last year when a rabble-rousing goose stole our hearts. Maybe 2020 will be the year of Esther and her "fun."