Ninja Reveals His True Feelings About Fortnite's First Map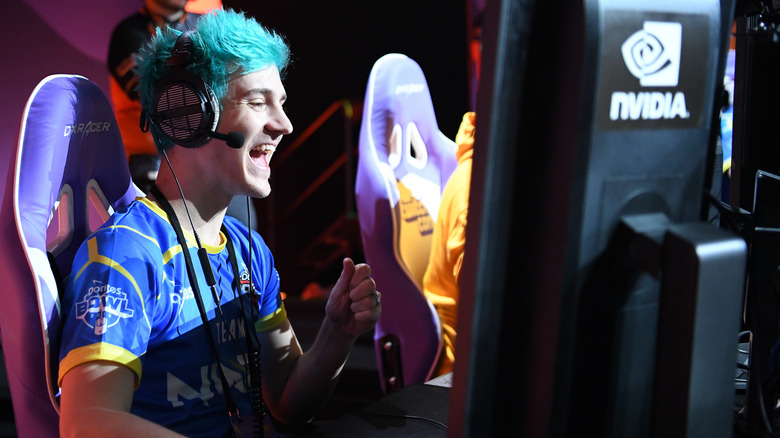 Robert Reiners/Getty Images
Fortnite's first map lasted ten seasons and went through a number of transformations along the way. There were volcanic eruptions. There were meteor strikes. A being not unlike the Night King from Game of Thrones came riding in on a glacier. Epic Games threw tons of updates at Fortnite players to keep that original map fresh, culminating in a tenth season that used time travel and split dimensions to take players on a nostalgic tour of the past.
By the end of that final season on the original map, players were more than ready for something new. And that is indeed what they got when Fortnite: Chapter 2's inaugural season kicked off. It added a host of new mechanics to the game and simplified the leveling process. More importantly, however, it introduced an all-new map. While most were delighted to be playing in a new location at the time, it seems some players are now missing that first map and all the memories they made there.
One of those players is Ninja, the popular Mixer streamer who makes his living playing Fortnite for the world. In a recent stream, Ninja reflected on the game's past and how much the first map meant to people.
"Do I miss Tilted? Of course, man." Ninja said, referencing the popular landing zone known as Tilted Towers. "I think there's so many beautiful things about the first map that a lot of people want back [...] Everything from the first entire chapter. I miss so much of it."
Ninja went on to talk about the new map in comparison to the old one.
"It's so jarring to get thrown back into such a basic map," he said. "Like, we kind of forget all the beautiful things that happened in the first map. Like the Cube."
Ninja and DrLupo, in particular, likely have a fondness for the Cube, which went by the name Kevin. The two were playing in a tournament when Kevin the Cube first spawned into Fortnite's Chapter 1 map. Ninja's "What just happened?!" scream probably captures the surprise nature of Fortnite's prior map additions better than anything. Most players weren't aware of what was going to happen until they were seeing it with their own eyes.
Thus far, Fortnite: Chapter 2 hasn't proven to be anywhere near as exciting or interesting, though it's possible you can chalk that up to its freshness. Both Chapter 2 and the new map launched back in October of last year, and believe it or not, we're still in the first season of that new chapter. It seems likely Epic will shake things up with Chapter 2: Season 2, and in fact, CNET reports that there appears to be an alternate reality game (ARG) taking shape as we speak.
The next season of Fortnite: Chapter is set to launch on Feb. 20. Right on cue, there are mysterious posters popping up in various parts of the world, along with strange phone numbers that play cryptic voice messages like, "Yes sir, the agents were called. Card to access the safe purchased" and "During ID scanning, access denied, agency communication was interrupted."
What is this strange "agency" the team behind Fortnite is building up? And more importantly, what is contained in the safe? Could we potentially see some new weapons added in Fortnite: Chapter 2's second season? Or will we witness something far more unpredictable? Epic's blog post about Season 2 purposely omitted the juicy details. Perhaps the redacted bits in that post tie into the ARG we're seeing play out right now.
If anyone hasn't lost faith in Epic's ability to weave a tale within the Fortnite universe, though, it's Ninja. After he was through reminiscing about the way things used to be, Ninja expressed some confidence in the folks behind the game, stating, "I'm sure they'll create just as epic a storyline with this map."
We won't have to wait very long to find out if that's true. As we mentioned, Fortnite: Chapter 2's newest season is just days away. We can probably expect some sandbox changes as some weapons get buffed and others get toned down. We can also probably expect some seasonal special events at some point. Will we see a new mode or two with the launch of the new season? Will there be a radical alteration to the current map when the latest update arrives? Those are questions we won't be able to answer until Season 2 is live and we get a chance to dive in and check things out.
Be sure to check back for more on Fortnite: Chapter 2 — Season 2 as news breaks.