The Truth About Faker's Handsome Contract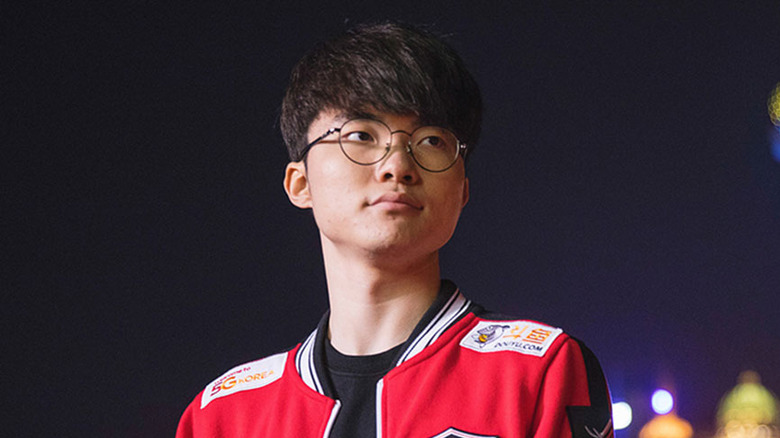 Lee "Faker" Sang-hyeok is one of the most notable professional League of Legends players in the business. Since he joined the pro team T1 in 2013, he has gone on to make bank as one of the team's most valuable players. Now, it appears that not only has Faker's tenure with the team been extended, but his position within the team's founding company, T1 Entertainment & Sports, is more exciting than ever. 
Advertisement
According to a report from ESPN, Faker has recently signed a new contract with T1 that comes with some incredible talking points. As of right now, three years is the maximum length of a contract renewal per the wishes of Riot Games, the developer of League of Legends. Riot Games has said that this is done to ensure stable team rosters, as well as protect players from being abused by unfair contracts that could keep them from being paid fairly. 
Naturally, part of Faker's new contract took care of just those concerns, extending his time with the team for another three years. However, T1 has taken extra steps to ensure Faker's continued allegiance, some of which are seemingly unprecedented.
In addition to the extended contract renewal, T1 has made Faker a part-owner in the company. He will be in close contact with the company's leadership and, whats more, his association with T1 will continue long after his professional gaming career has come to an end. That's right; T1 has extended an offer to him to become a member of their leadership team when he retires from pro gaming. All in all, it's a pretty cushy gig for the young gamer, who has been in high demand from other organizations over the years.
Advertisement
Faker himself has intimated that huge sums have been thrown his way in hopes of persuading him to leave T1 for other pro teams. This latest deal seems to ensure that he's staying put for quite some time. 
Another reason why this is a great move for Faker, beyond the job security and what is sure to be a hefty paycheck, comes down to the sheer sustainability of such a career. While there have been plenty of pro gamers who have ruined their careers through their own foolish actions, Faker has maintained a rather spotless image. It's likely one of many reasons why T1 wants to continue to have a working relationship with him. 
However, public embarrassments or cheating scandals aren't the only things that can spell an early ending to an esports career. Many players have had their careers cut shorter than they anticipated because of esports-related injuries. Injuries sustained while gaming are certainly not a new thing, but they very rarely have an adverse effect on someone's livelihood outside of esports. The strain that comes with so much repetitive motion has left some with permanent damage. 
Though Faker is still young, it's good to see that he's taking his future endeavors into account. This is pretty par for the course for Faker, who has always seemed to have a pretty good mind for business. A recent interview with Korean talk show Radio Star revealed that he is very careful with his earnings from esports, preferring not to overspend or act too frivolous with his money. A position within the company that has sponsored him for so long seems like a splendid fit for someone who is passionate about gaming, even if they're eventually unable to continue on the same track.
Advertisement
T1 obviously seems to agree with this sentiment. "Since T1's inception, Faker has been the cornerstone of our team's success," said T1 CEO John Marsh in a statement to ESPN. "Even after Faker's retirement ... he will begin the next chapter of his legacy in a leadership role with T1, helping to mold the next generation of elite esports athletes."
In other words, we may be looking forward to a future for esports where more of the folks in charge are former pro gamers themselves. Whenever he ascends to his leadership role, Faker will be in a unique position to bring his own experience to the world of planning future events and choosing team rosters. With so many unprecedented decisions and exciting opportunities for all of those involved, it's easy to see why this contract is such a big deal.
Hey, maybe Faker can spend some time playing that LoL Esports Manager sim that was recently announced by Riot Games? That's expected to arrive at some point later this year and it could be just the thing needed to help him warm up for his future role at T1.