The Real Reason Dr Disrespect Turned Down 1000 Dollars In Stream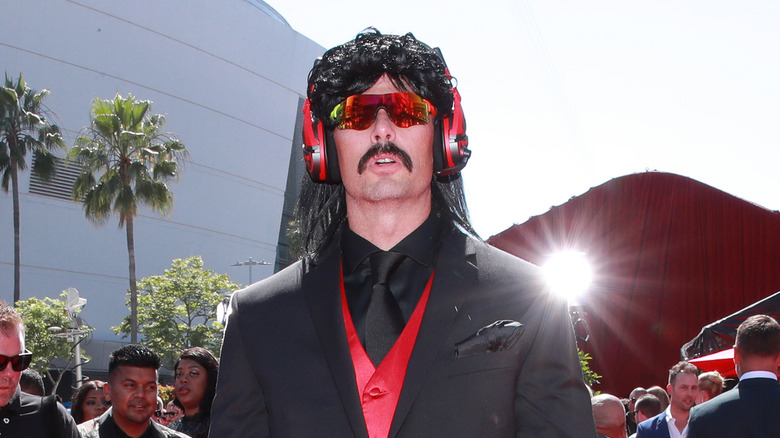 Rich Fury/Getty Images
Streamers on Twitch, Mixer and other competing platforms want viewers. More than that, though, they want paying viewers. If there's anything a streamer likes more than a huge viewer count and a prime placement on the Twitch or Mixer home page, it's a fan who is willing to shell out some cash — especially via donations. Subscriptions are fine and dandy, but streamers have to wait for a payout to see that money. Donations can come instantly, which is why many streamers go out of their way to encourage them.
It may come as a surprise, then, to hear that popular Twitch streamer Dr Disrespect turned down a very sizable donation recently. When you learn about the circumstances surrounding his decision, however, you may not be all that shocked.
Dr Disrespect has recently started playing a lot of Escape from Tarkov, a first-person shooter from a Russian studio called Battlestate Games. The title has really taken off as of late, and it's safe to say Dr. Disrespect's newfound affection for it has probably landed him some new viewers. Escape from Tarkov rise hasn't come without controversy, however, as some have slammed the game's developers for refusing to add female characters. It's possible one of those unhappy players is a fan of Dr Disrespect's, as well, and would love to see the Doc play just about anything else.
So much so that this fan was apparently willing to part with $1,000 to make it happen.
According to Dotesports, Dr Disrespect received a $300 donation from someone watching a recent stream, along with a message that another $1,000 was waiting in the wings. The catch? That extra grand could only be secured if the Doc uninstalled Escape from Tarkov completely. It seemed like easy money, especially since all the Doc had to do was click an uninstall button. Unfortunately for the viewer, Dr Disrespect was not having it at all.
The Doc pretended to make a phone call to the fictional CEO of the Code Red tournament series in order to check in on a project.
"What's the word on the Code Red Escape from Tarkov tournament?" Dr Disrespect asked.
After some imaginary conversation, the Doc laid any hopes he'd uninstall the game to rest.
"Let's just say I'm not gonna be a thousand dollars richer today," he said before ending the call.
Just like that, Dr Disrespect had masterfully turned a potentially negative situation into a pretty big news story. While the streamer wasn't able to share any additional details, it appears the Doc is going to play a role in what could be the first-ever Escape from Tarkov tournament. We can't say for certain if he'll be hosting or taking part, but he's clearly in the know about an event that, until he mentioned it, was under wraps.
Aside from this recent news, it's actually been a rather quiet few months for Dr Disrespect, who is used to making headlines for his sometimes controversial behavior. After the E3 bathroom streaming incident in June of last year, it seemed the Doc was on the road to getting himself permanently kicked off of Twitch. Slamming Kotaku for covering that story didn't help much, and the Doc did himself no favors by engaging in a spat with a reporter from the site afterward. But lately, the Twitch star has been doing what he does best: streaming. He's been playing a lot of Escape from Tarkov, and has mostly kept himself out of trouble. That is good news for his fans.
Love him or hate him, Dr Disrespect is one of the more creative characters in the medium, and the man behind the mustache — Guy Beahm — is one of the smartest people in the business. The two-time, as he's known, rarely fails to keep his fans entertained. You can see that in his staged call to the "CEO" of Code Red, which was about as close to performance art as a Twitch broadcast can get.
The streaming game is definitely more interesting with the Doc in it, so we sincerely hope he continues to focus on his craft going forward. There are tens of thousands who tune in to watch Dr Disrespect on the regular, and with this Escape from Tarkov tournament presumably in the works, the streamer could both increase his audience and the audience for Battlestate's shooter. It sounds like a win for everyone involved, but we'll have to wait and see how things ultimately turn out.
We'll be sure to keep you updated if we learn more about the Code Red Escape from Tarkov tournament — or if Dr Disrespect happens to make the news again.