EA Just Gave Out One Of The Harshest Bans Ever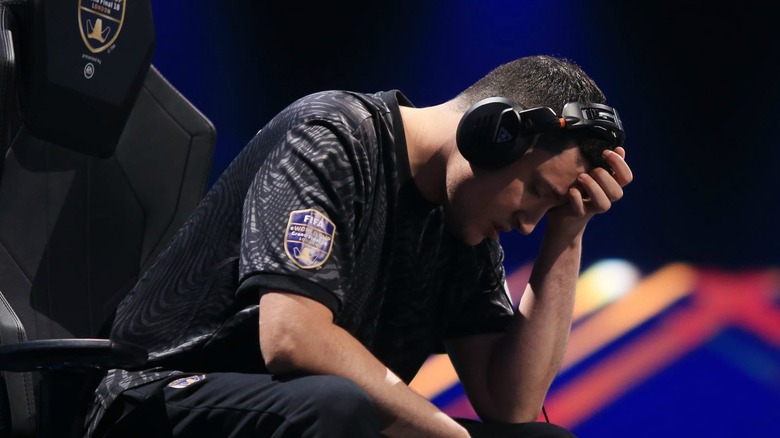 Kurt "Kurt0411" Fenech is a competitive esports player and streamer with a bit of a reputation for having an attitude in the face of defeat. His profanity-laden rants and conduct during Electronic Arts-sponsored events have led to him butting heads with EA in more than one instance. Recently, however, his actions have led to one blow-up with EA (and his fans) after another.
One memorable video — one that has been pointed to as possibly being the one that broke the camel's back — featured Fenech going on a rant against FIFA 20 that culminated in him spitting on a scarf branded with the EA logo. 
Back in November 2019, EA decided that enough was enough. The company formally banned Fenech from all future EA-sponsored FIFA events, citing his multiple conduct violations. According to EA's official statement, the main violation in Fenech's case was "posting or uploading materials that [EA has] determined are abusive, harassing, and vulgar," even doing so after being issued a final warning from EA.
Since the ban, Fenech has continued to rail against the decision in his videos. As angry as Fenech is toward them, this would probably have been the best-case scenario for EA, since it would just be one person the company would have to block on social media channels. Unfortunately, many Kurt0411 fans have rallied behind Fenech's cause, and things have gotten progressively uglier.
About a week after the ban — around the time when Fenech posted a video called for the firing of everyone who was involved in the last few FIFA games — EA staffers began to receive threatening and hateful messages on social media. Shortly thereafter, several EA staffers found that their Twitter accounts had been hacked. Thankfully, unlike the horrific messages posted to 2K's social media following a hack, these were simple (and fake) announcements that Kurt0411's ban had been lifted.
In reacting to the news of the hacked accounts, Kurt0411 displayed anything but remorse for the actions of his fans. "There's a revolution on the way. You have to pick a side. And choose a side wisely," said the streamer. "You can't come after me and do nothing about your game. Enough is enough. Karma."
The hacks, as well as Fenech's apparent endorsement of them, led to EA carrying out what may be their harshest ban of all time. Effective immediately, Fenech has been banned from all EA games and services. 
EA issued a statement regarding the ban on Twitter, saying, "In November 2019 ... Kurt0411 was banned from competing or attending any EA SPORTS FIFA 20 Global Series events or future competitions. Since that time, Kurt has continued to post abusive and threatening messages and videos about EA employees and competitive players on social media and he has encouraged others to do the same. His messages have crossed a line of decency into very personal attacks."
EA furthermore stated that this was being done to ensure a "safe and enjoyable" experience for everyone. Whether or not things will go EA's way has yet to be seen, as it appears that Fenech is far from done with the company, even if he can no longer play their games. 
Kurt0411's ire towards EA came to a head in the last week when he collaborated on a rap track aimed at dissing EA's policies. The song, called "Little Rats," calls out several EA employees and esports personalities by name as Fenech airs out his grievances with the industry.
It's this last bit that feels the most surreal, mainly because it's not even the only ban-related diss track we've seen this year. Just last month, banned Fortnite streamer FaZe Jarvis put out a rap video featuring such memorable lyrics as, "I just got one question: how I get banned from a game?"
The difference here is immediately apparent when one looks at the comments on Youtube. While FaZe Jarvis' track was roundly mocked by most of the folks who saw it, there seems to be a ton of support being thrown Kurt0411's way. Several commenters on the "Little Rats" video seem to agree that FIFA 2020 is a broken game and are commending Fenech's willingness to take EA to task.
Whether or not you agree with the ban, it doesn't seem as though Kurt0411 is going anywhere in the near future. If anything, this latest turn of events seems to have emboldened him. 
Just yesterday, Fenech tweeted, "End of the day I have never said anything I shouldn't have. This is just deeper than anyone thinks. They didn't want me competing at events cos they were scared I'd win them."