GTA 6 Fans Are Reaching For Any And All Signs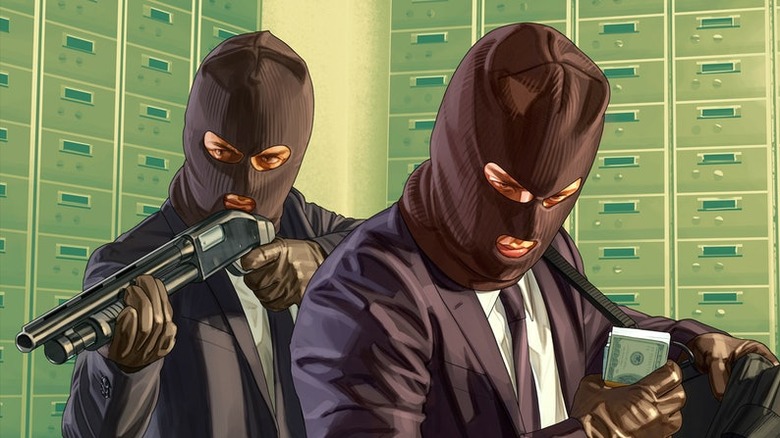 Fans of the Grand Theft Auto series just can't stop speculating. The hunger for GTA 6 is real. Just last week, fans were freaking out over artwork posted to the Instagram account of former Rockstar Games artist Stephen Bliss. These appeared to depict characters in a Vice City kind of setting, which naturally had folks salivating at the very idea of a new GTA game set in the '80s.
It should be no surprise, then, that recent updates to Rockstar's website have gotten the old gears turning in the heads of anxious fans. Specifically, an odd rendition of Rockstar's logo has been spotted on the company's website. It depicts a golden robot with a feminine body embracing the Rockstar logo. Next to the robot is a bottle of champagne chilling in a bucket of ice. 
Folks are poring over every detail of the picture, thinking that it holds some hints about a new game from Rockstar. One Twitter user pointed out that the bottle has the year 1998 on its label, which led them to believe that Rockstar's next game will take place in the '90s. It was swiftly pointed out to them that Rockstar was founded in 1998, so that is the most likely reason for the graphic to reference that specific year.
Another interesting thing has been pointed out in regards to Rockstar's social media accounts. Some users are claiming Rockstar has one more video listed on its YouTube channel than before. However, it appears that this new video (whatever it is) is still privately listed. This has led many to believe that Rockstar has a new trailer of some kind loaded up and ready for release down the road. Whether this is a trailer for a GTA 5 expansion, an official announcement teaser for GTA 6, or something else entirely remains to be seen.
However, it should also be noted that there appears to be some disagreement over whether or not the video count is accurate. As with all of these theories, it appears that some fans are looking for any excuse to get excited, while others just don't want to put all their eggs in one hypothetical basket.
Rockstar has been through quite a shakeup in recent months. It was recently reported that Rockstar co-founder and Vice President Dan Houser would be stepping down from his position at the company. While this announcement came as quite a shock to the gaming community at large, Houser had apparently been on an extended leave of absence from Rockstar for quite some time before the formal announcement. In the wake of such a huge change, it makes sense that the company would want to do a bit of housekeeping and maybe even revamp its logo. Rockstar has certainly made some updates to its website, which fans have noticed looks a lot cleaner and easier to navigate than before.
However, even this has given fans new theories to hang their hats on. In regards to the newer design for Rockstar's site, one user tweeted, "in their featured games [on the site] there are RDR2, GTA V, LA Noire and Bully which probably means that we will see new installments in these franchises soon."
This one is honestly a bit of a reach, considering most companies would likely want to feature their biggest titles up front. After all, Grand Theft Auto 5 is one of the best-selling games of all time, so of course Rockstar would want to put that bad boy front and center.
This last fact, actually, may be one of the biggest reasons why Rockstar likely isn't in a hurry to release GTA 6. With new content constantly coming to GTA 5 and the fact that the game continues to sell like hotcakes six years after release, it may be a minute before we get any kind of concrete news. As for the other games on the list? Well, it seems unlikely that we'll see another full Red Dead Redemption game in the near future, especially considering how long it took for us to get RDR2. Also, Rockstar currently has its hands full with hackers infesting Red Dead Online, so it would be kind of odd for the company to just move on to the next installment. 
As for Bully and L.A. Noire, well, those are both games that haven't seen any kind of follow-up in recent years. It's nice to see Rockstar hyping up other properties on its main page, rather than just relying on its reputation as the house that GTA built. Still, if all of the new site updates are connected, one can't help but go back to the question: what the heck does the robot have to do with any of it? As rad as it sounds, we're probably not getting Robo-Bully or L.A. Noire 2077 in the near future.
Until then, we can certainly dream.