How To Unlock Ashe's Mardi Gras Skin In Overwatch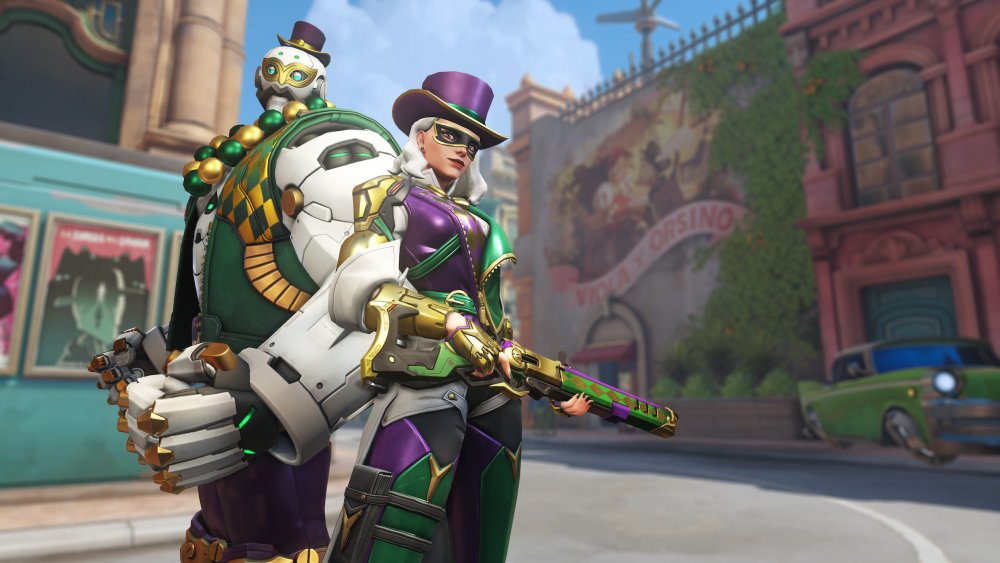 Strike up the big band and get ready to play some Overwatch, cher. Blizzard is celebrating Mardi Gras for a limited time. From Feb. 25 to March 9, players have the chance to unlock some swank sprays, icons, and even a new epic skin themed after the holiday. Ashe and B.O.B. are decked out in green, purple, and gold and awaiting skilled players to unlock Ashe's epic new skin.
How do you win Ashe's Mardi Gras Challenge? To unlock this stylish skin, you need to win nine games. You can play in any mode, so feel free to mix up your match ups. To keep you motivated along the way, batches of wins will unlock new player icons and sprays. Win three games and you'll receive the Mardi Gras Ashe and B.O.B. icons. Win six games and Blizzard will reward you with a spray of the mask that Ashe wears in her new skin. Win nine games and you'll unlock the Epic Mardi Gras Ashe Skin.
Blizzard wants to spread the Mardi Gras cheer all around so that even the least confident of players can walk away with a prize or two. Like previous mini-events, Ashe's Mardi Gras Challenge invites players to watch participating streamers to unlock sprays. Two hours will unlock a festive King Cake Ball Spray. Four hours of watching will award viewers with a dubiously dressed-up Zenyatta and a snacking father/daughter duo in the form of a stuffed Torbjorn and Brigitte. Finally, six hours will give you a jazzed up Lucio, a dapper Reaper, and a kingly McCree.
This mini-challenge is mini: remember that it's only here for a short while. Better start the party sooner, rather than later.