The Real Reason Knuckles Wasn't In The Sonic The Hedgehog Movie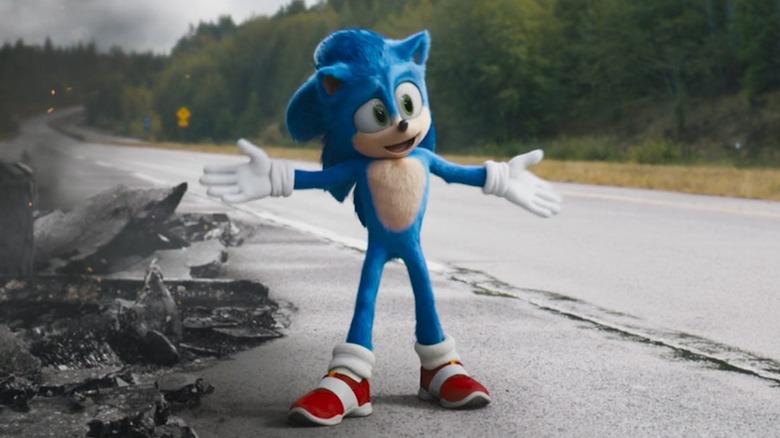 Beware of spoilers ahead for the new Sonic the Hedgehog movie.
Sonic and Knuckles go together like peanut butter and jelly. Since the red echidna's debut in Sonic the Hedgehog 3, Knuckles has had quite an evolution as a character. From enemy to begrudging ally to anti-hero and finally to genuine friend, Knuckles and everyone's favorite way past cool hedgehog have been inseparable for quite some time, with Knuckles getting almost as much of the spotlight as Sonic's friend Tails.
But while Tails received a fun little cameo appearance during the new Sonic the Hedgehog movie's end credits scene, Knuckles was conspicuously absent. This comes as a bit of a surprise, considering how many fun Easter eggs there are in the movie that's reference several moments and characters from Sonic's history. So why was Knuckles left out of the film?
Well, ComicBook.com asked Sonic the Hedgehog director Jeff Fowler that very question. According to Fowler, it simply came down to a desire to tell a more succinct origin story for Sonic's first movie. More specifically, because the first game in the series also kept things simple with just Sonic battling Dr. Robotnik/Dr. Eggman.
"For this first film, we really were just looking at the 1991 game and just see where it all started and just keep it simple. Just really try to nail Sonic and Robotnik and just set up their rivalry," said Fowler. "There's a lot of great characters in Sonic universe, but it's the most important thing is just to get Sonic set up ... And then, if all that goes well, then we can kind of open it up and bring in some of these other characters that fans know and love."
This idea of focusing specifically on what worked in the first game was expanded upon a little more in an interview with GamesRadar+, in which Fowler pointed out that the original game series has provided a decent template for where to go with the movies.
"In designing this film, the best approach was to go back to 1991 and that first game: Sonic vs. Robotnik," said Fowler. "Then, in terms of the lineage of the movies, you could look at what they did with those early games and that provides a great blueprint for future stories."
So, much like the games expanded the roster of characters over time, it seems that the plan is to wait for the movie's sequel to go a little more wild with introducing more of Sonic's supporting cast. In other words, we should probably expect to see Knuckles in a future installment. In fact, the first flick included a pretty significant tease toward the possible existence of Knuckles in the Sonic movie universe.
As explained by Screen Rant's Craig Elvy, there's a harrowing sequence at the beginning of the movie that features a young Sonic and his guardian, Longclaw. The two are attacked by an angry tribe that kills Longclaw and sends Sonic running at top speed, straight through the portal that leads him to earth and the main adventure of the film. As Elvy points out, though it's not explicitly said in the film, the attacking tribe seem to be all echidnas.
The implication here seems to be that the echidnas may have been hunting Sonic or Longclaw for quite a while, though it's left pretty ambiguous by the movie. But after such a traumatic event, it appears that the movies may have set up Sonic to be at the very least extremely wary of Knuckles when the echidna makes his first full appearance.
What's interesting to note in this regard is the somewhat ominous tone of Tails' appearance at the end of the film. He seems to be on a mission, following someone or something with a tracking device. It makes one wonder if Sonic and Tails will start things off on the wrong foot in the sequel, mirroring Sonic and Knuckles' old rivalry. It would be pretty cool to see if the second movie flips the script on everyone's established relationships like that. It could be interesting to see how hard Tails and Knuckles may have to work to gain Sonic's trust.
Whatever happens in the future, it's basically a sure thing that this movie will get a sequel. The movie did extremely well with critics and fans and it's currently crushing at the box office. As Forbes' Scott Mendelson put it, "with a $70 million Fri-Mon debut, an A from CinemaScore and clear sailing at least until March 6, [Paramount] is going to announce a sequel any moment now."
Now hopefully the fans won't have to force a dramatic redesign of Knuckles before the sequel comes out.