We Finally Know Which Console Has Better Graphics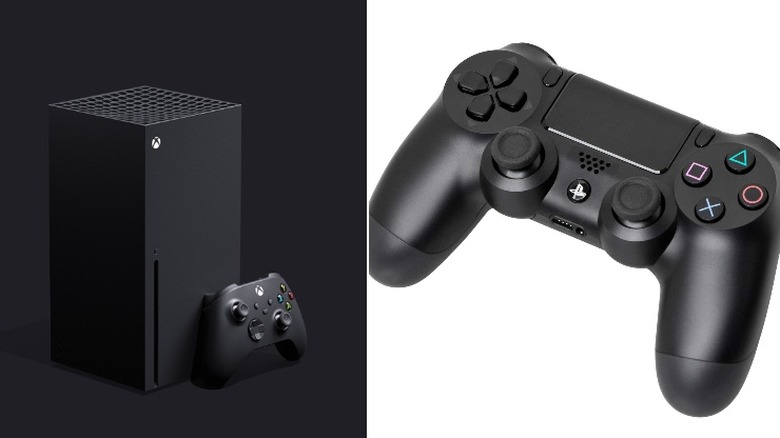 Computer processing development company AMD has revealed some juicy details regarding both the Xbox Series X and the PlayStation 5. The company held its annual Financial Analyst Day and made a few comments and announcements regarding some of its clients, including Sony and Microsoft. 
During the presentation, AMD seemed to hint that the Xbox Series X and the PlayStation 5 will both use the same AMD graphics card, the RDNA 2. It was previously confirmed by Microsoft that the Xbox Series X would be using RDNA 2, but this is the closest we've gotten to an official word on Sony's plans for a graphics card.
Along with comments regarding AMD's "ten-plus year relationship with Sony," the presentation shows us a graphic of AMD's roadmap for rolling out RDNA 2. This includes a section showing the future console generation, with both systems represented. It seems like this is more than simply wishful thinking on AMD's part. After all, they have been working with Sony for years at this point.
So what does this mean for the power of both systems? Well, it actually means they're most likely going to visually hold the same impact as one another. This will surely come as something of a shock for the diehards who usually argue over the superiority of their preferred console. That will probably still be the case with this upcoming console generation, but the differences in opinion will have to be judged on more than looks.
For instance, we do know that the Xbox Series X is looking to advance the sound quality heard in previous generations, with plans to create "a revolution with spatial sound that turns any pair of headphones into a multi-dimensional gateway to another world." Meanwhile, the PS5 will also reportedly feature something called "PlayStation Assist," which will allow players to ask for help when they're stuck in a game in real time.
In fact, both systems are using some pricier materials in their construction, which has caused some issues on the production side of things. This is also a major contributing factor in the ongoing worry that the next generation of consoles will be absurdly expensive. One of the reasons we haven't received an official price point announcement from Sony is because they are essentially waiting to see what the Xbox Series X is capable of and what Microsoft plans to charge for it. It's easy to see why some of us are worried that the PS5 might be in trouble.
As pointed out by Xbox news gatherer Idle Sloth, this seems to contradict a report we heard last year. At that time, PlayStation Japan posted some vague specs regarding the PS5 that seemed to hint at RDNA 1 being the graphics card in the PlayStation 5. However, things can change during a long development cycle. Also, as pointed out by one user, this listing "doesn't confirm anything either way. RDNA 1 and 2 and anything in between would all be considered RDNA technology ... the AMD statement wasn't clear that they both have full fat RDNA 2."
So perhaps the answer lies somewhere in the middle, with the PlayStation using a derivative of RDNA 2 or something very close to it from AMD. Whatever the case, it's a reason to be excited. It certainly seems like the two systems are much closer in quality than we previously suspected.
As with pretty much every other detail heading into the next console generation, all we can do is wait for an official word from Sony. In the meantime, it is certainly exciting to imagine what could be coming our way from future video games.