Things Keep Going Downhill For GameStop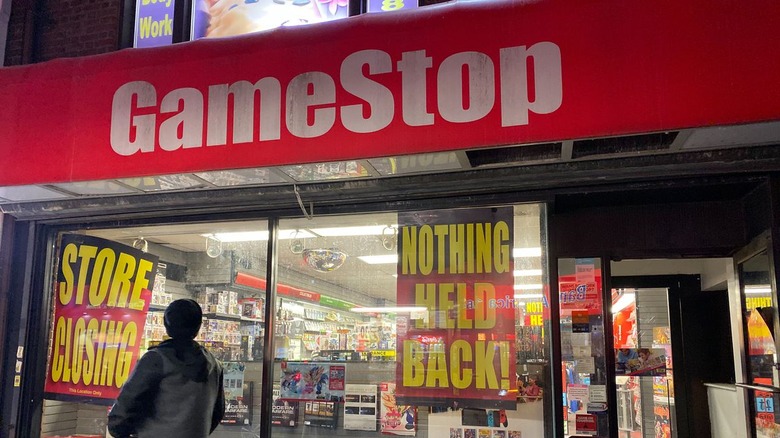 GameStop is continuing to have a difficult time. We already know that the coronavirus outbreak is causing a massive impact on the gaming industry, but there may not be a place where that's been felt more than at GameStop.
According to a report from Gamasutra, GameStop intends to permanently close over 300 of its stores. This comes after the company closed 320 stores in 2019. In other words, many of the stores that have closed due to the coronavirus may not reopen.
During last year's store closures, the official word from GameStop was that these closures were part of a plan to "de-densify" the company's physical presence. Less stores would theoretically mean more online sales and increased traffic to the remaining storefront locations.
According to Gamasutra, GameStop's chief financial officer Jim Bell said, "In fiscal 2020, we will continue in our efforts to de-densify our store base, focused on maximizing product productivity of the entire fleet ... [We] anticipate store closures to be equal to or more than 320 net closures we saw in fiscal 2019 on a global basis. Importantly, we want to emphasize that these store closures are a very specific and proactive part of our de-densification plan and they are not related to recent business trends."
The part about this not being business-related seems in line with GameStop's earnings reports. GameStop CEO George Sherman recently assured GameStop's investors that the company was doing well. Though he anticipated a slow start to the year due to the outbreak and forced store closures, he expected the end of the year to be significantly more profitable. At the time, it was explained that this confidence was due to the impending release of the next console generation. Now, however, it seems as though GameStop has plenty other reasons to expect to save money.
The company has already seen multiple forced closures from several states that have deemed the retailer non-essential and in violation of public health guidelines during the pandemic. The stores that still remain open are going to absurd lengths to continue making sales. The Boston Globe recently received a company memo forwarded to the publication from an anonymous GameStop store manager. The memo describes the current process through which GameStop stores are expected to take payments as they continue curbside sales, and it's wild.
While customers are still not allowed into stores, they are able to come pick up and pay for games through a rather unusual process. Employees have been told to wear bags taped to their hands and to open the door just enough that they can take the customer's credit or debit card. They have then been instructed to turn the bag inside out, dropping both the customer's card and their product into the bag. After that, they are to poke their arms back through the door to hand the customer their product.
This obviously isn't sitting well with GameStop employees, considering the fact that a store manager leaked this memo to the press. The manager seemingly remained anonymous out of fear of retaliation. When reached for comment by The Boston Globe, GameStop sort of dodged questions about the whole "wearing bags" situation, but the company did issue a statement.
"With employee and customer safety as our paramount concern, all our stores remain closed to customer access," read the statement from GameStop. "Only employees may enter our stores at this time. Importantly, all GameStop employees have been assured that they do not have to work if they are not comfortable, or need to stay home to care for a family member. While GameStop is best known as a provider of gaming and home entertainment systems, we also offer a wide array of products and devices that are important to facilitate remote work, distance learning, and virtual connectivity."
In other words, it appears that GameStop is still holding onto the idea that it should be considered an "essential" business. The embattled retailer has come under fire in in recent weeks for its response to the coronavirus pandemic. Or rather, the fact that GameStop either has no plan or an inconsistent one has caused quite a bit of frustration for customers and employees alike.
In fact, this latest bag-wearing tactic flies directly in the face of the company's most recently-reported plans. GameStop announced just last week that it intended to close all storefronts for the foreseeable future. At the time, George Sherman released a statement that seemed to clarify GameStop's stance on the issue.
"Our priority has been and continues to be on the well-being of our employees, customers and business partners," Sherman said. "We have been steadfast in our adherence to CDC-guided safety and local government orders for retailers in each of our communities."
So, technically, yes, the storefronts did close. However, employees are still apparently expected to report for duty as usual or risk losing their jobs.