Twitter Reacts To Sony's New PS5 Controller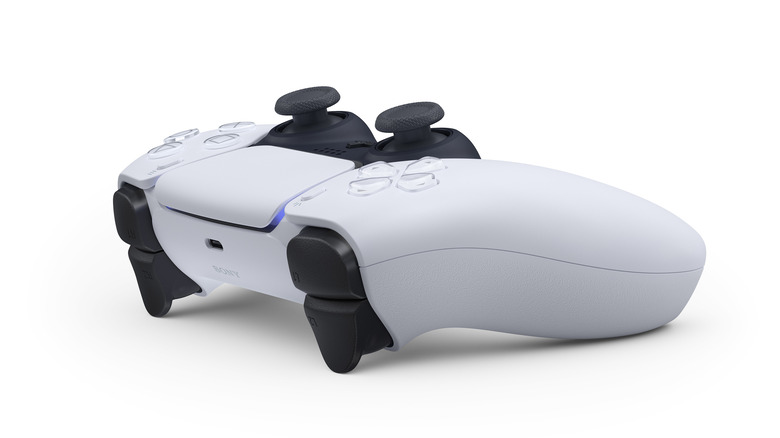 Yesterday, Sony finally revealed the look for the PlayStation 5's controller, the DualSense. This put an end to years of rumors and guesswork regarding the controller's design and style aesthetics. Now, as with all new things, the time has come for social media to debate the DualSense's every detail. Unsurprisingly, people seem to have mixed feelings regarding the latest PlayStation controller.
Advertisement
One of the biggest talking points regarding the first look at the DualSense is just how much it seems to resemble an Xbox controller at first glance. In fact, it has been compared rather closely with the Xbox Series X controller. Granted, the placement of joysticks and the Xbox Series X's lack of a touch pad in the middle are the most obvious differences. Still, the similarities in the overall design (particularly the shoulder buttons and the grip) have been compared quite a bit. This is either a fantastic thing or an affront to everything fans know and love, depending on whom you ask.
One of the more level-headed reactions came from a user who pointed out that we can't really decide whether we love or hate this controller before we've even used it. As this fan wrote, "This is the first PS controller change that just seems like a rather big departure from the previous iteration instead of an incremental change. I'll have to hold a PS5 controller before I can tell whether it was a good or bad idea to change it so drastically."
Advertisement
They're not wrong. It's definitely a big swing from Sony. Up to this point, we were all basically under the impression that Sony would stick to its usual conventions. The very fact that this controller isn't called the DualShock 5 is a massive shock in itself. Everything about this new controller seems to be designed to challenge our expectations. This includes the fact that, yes, it kind of does look like an Xbox controller.
One user actually took the design similarities to be a good thing. This person tweeted, "Playstation controllers have always been way too thin. This looks way more ergonomic. If it feels more like an xbox controller I'm all for it." 
Meanwhile, others seem to think that the design may have been a calculated move on Sony's part to sway Xbox gamers over to purchasing the PlayStation 5. Brand loyalty is a big deal in every new console war, so it's honestly not the craziest theory we've heard.
Some feel that the similarities aren't quite close enough. For example, one user recommended that Sony should have taken more design cues from the Xbox Series X, writing, "I honestly feel like instead of a touch pad and a mic [Sony should] have added back buttons because those are actually really useful."
Advertisement
Another fan co-signed on this, writing, "Agreed on those back buttons! ... this PS5 controller looks a LOT better than the 4, but I still dont see the point in the touch bar."
Then there are the folks who don't like the design at all, feeling it strays too far from what we've grown accustomed to with previous PlayStation controllers. One Twitter user expressed her worry that the new controller would be too chunky to fit in her hands. This person also expressed a hope that there will be some option for third-party controllers after the PlayStation 5's launch that will mimic the look and feel of the trusty DualShock 4.
Most importantly, you may be asking: where are the memes? Oh, you'd better believe that folks were taking this thing to task with some memes. For example, has anyone noticed that the DualSense looks like an Xbox controller wearing a tank top?
It's been seen and cannot be unseen...#PS5 #DualSense pic.twitter.com/xrfYwQUwCW

— 𝙹𝚊𝚌𝚔 𝙸𝚛𝚎𝚕𝚊𝚗𝚍 (@JackIreland_200) April 8, 2020
Or how about the fact that it also resembles a Stormtrooper helmet from Star Wars, as pointed out by the great BossLogic?
#PS5 pic.twitter.com/FIXlAgwUES

— BossLogic (@Bosslogic) April 8, 2020
Advertisement
One fan may have summed it up best with a single tweet: "I could be one of the few people that actually like the new PS5 dualsense controller design. Though I do admit, we have been getting some nice memes out of it."
And honestly, that's a great point. Don't we all love poking fun things at the things that are important to us? Hopefully we'll get to see and feel the DualSense in action sooner rather than later. Then we can all make up our own minds about the latest controller in the PlayStation line.