We Finally Know When We'll Get To See The PS5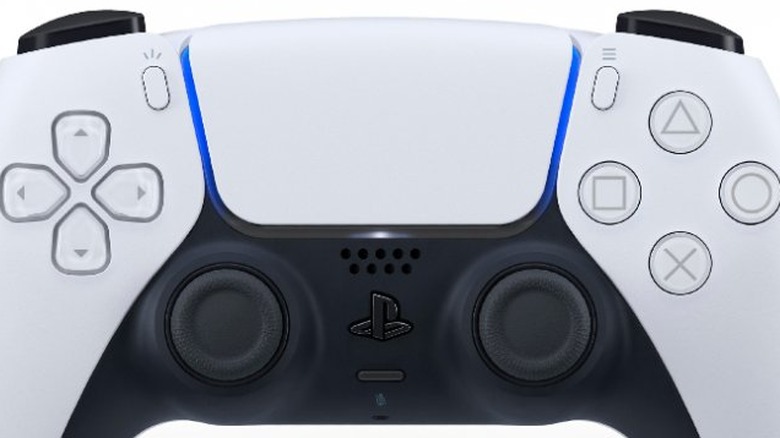 We've been wondering for quite a while when we'd get an official reveal of the PlayStation 5. We still don't know what the system looks like, despite leaked dev kits and a look at a weird robot that Sony hopes to pair with the console. However, there are now rumblings that indicate a PlayStation 5 reveal on the horizon.
In fact, noted PlayStation leaker PSErebus claims that the reveal may be sooner than we's anticipated. According to them, "The final design for PlayStation 5 will be officially unveiled by Sony Interactive Entertainment on the PlayStation Blog on June 2, 2020." Additionally, PSErebus says that we should expect the PlayStation 5's final design to be featured on the cover of Issue 176 of PlayStation Official Magazine, which is due for digital release in June. 
A blog post doesn't necessarily sound like the most glamorous way to reveal the new console design. However, as one fan pointed out, "Sony has done that twice so far with the first announcement and the controller and both times it blew up and overshadowed everything else." In other words, a blog post tracks with Sony's more recent marketing efforts.
It would be easy to dismiss PSErebus' claims, considering the fact that they previously indicated that preorders for the PS5 would go live as early as March. However, we do know that Sony's plans have been in a constant state of flux in the last few months. For all we know, there may have originally been some kind of massive reveal in the cards back then, but that all changed due to the outbreak of COVID-19.
Something that definitely lends some credence to this timeframe is that it has seemingly been corroborated by more than one industry insider. A recent post from Venture Beat's Jeff Grub stated that the PlayStation 5 reveal is "currently planned for June 4." Meanwhile, Bloomberg's Jason Schreier mentioned a similar announcement window during an appearance on the Press Start Podcast. On that show, he told the hosts that we should expect something big from Sony by early or mid-June. 
We've previously heard reports that Sony's original plans for unveiling the PlayStation 5 were significantly impacted by the coronavirus outbreak. This is something else that Schreier pointed out in that interview. Since the pandemic began, Sony and Microsoft have both had to make changes to their original marketing plans. While Microsoft has shown off quite a bit of the the Xbox Series X, there are still several unknowns where the PlayStation 5 is concerned. 
We at least know what the new PlayStation 5 controller, the DualSense, looks like. However, even that reveal was apparently done out of a bit of desperation on Sony's part. According to recent reports, the PlayStation 5 was originally supposed to be fully revealed this month. However, Sony had to cancel the planned big reveal event due to public health and safety concerns. This led to the DualSense reveal apparently being hastily put together, just so Sony would have something to show to fans.
Over the last few months, it has appeared as though Sony has developed a bit of a "wait and see" strategy regarding any plans to show off the PlayStation 5. This is due to a number of factors, including Sony's unwillingness to announce a price point for the console. We do know that the console may be released in limited quantities during its first year. This is partially due to the fact that the console will cost quite a bit to manufacture, therefore making the system pricier for customers as well. Sony seems to be waiting for Microsoft to make a move first, but neither company is quite ready to budge. 
According to PSErebus, that may all be about to change. Not only will the system supposedly be revealed soon, but we will be able to finally preorder one for ourselves. PSErebus tweeted, "Preorders for PlayStation 5 will not begin until the console is unveiled to the public. Sony Interactive Entertainment continue to remain in constant communication with retailers around the world."
It would make sense for Sony to launch preorders for the PS5 as soon as possible, especially considering the fact that the system is supposed to launch this holiday season. In the meantime, we'll keep an eye out for any more leaks or hints toward a reveal event. It certainly seems like June is going to be an interesting month.