Fortnite's Mobile Revenue Is Almost Unfathomable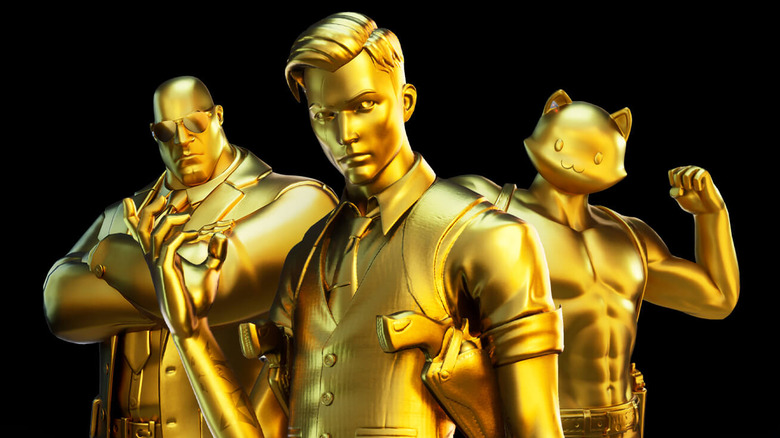 There's no denying that Fortnite is a phenomenon that continues to rake in the big bucks. It's a huge hit with gamers and despite some issues that people have had with the current iteration of the game, it maintains a strong following. Superstar streamers like Ninja have essentially built their entire careers off of playing Fortnite, so it's no surprise to learn that the game is making a ton of money for Epic Games. However, the mobile versions of Fortnite have recently surpassed a huge milestone that may surprise even the most diehard fans of the battle royale title.
According to a report from Sensor Tower, the mobile versions of Fortnite for iOS and Android have made more than $1 billion dollars. Considering the fact that the game is free-to-play, that means this staggering figure has been made in microtransactions alone.
Here's the absolute craziest part, however: the mobile version of Fortnite is just over two years old. Fortnite launched on iOS back in March of 2018 and it came out of the gate making big bucks. The game raked in around $1.5 million dollars during just its first three days on mobile devices. Keep in mind, this was just the iOS version. Since the game has been made available on Android devices through the Epic Games Store, it has only grown in popularity, bringing in even more cash in the process. 
Regardless, that means that this amount of money has been brought in within just two years of the mobile version of Fortnite launching. This number doesn't even include the other platforms for which the game is available. Thinking about the overall money the game must be bringing in truly boggles the mind.
Sensor Tower's Craig Chapple has a few theories regarding how and why the game's revenue may have increased in such a major way. One of the biggest factors is the coronavirus outbreak, which has caused more people than ever to stay indoors for large stretches of time. The resulting lockdowns has actually been a major factor in multiple video game platforms seeing an increase in players. For instance, Steam has broken its record for most concurrent players more than once in the last couple of months.
It has also been noted by Sensor Tower that the game launched on Google Play last month, which gave fans yet another way to download the game for themselves. In fact, Sensor Tower reports that at least a full $1 billion of the reported mobile earnings are from the iOS version of the game available through the App Store. However, the version available through Google Play is already starting to catch up, having earned around $937,000 since just last month.
Fortnite has also hosted some interesting events that have brought curious new and lapsed players into the game. One of these was the recent Travis Scott "Astronomical" virtual concert. The first "Astronomical" performance alone brought in around 12.3 million concurrent players and was described as "the kind of experience that could only exist in a virtual space like [Fortnite]."
This is a huge win for Fortnite's mobile ports, considering how much of an uphill battle these versions of the game have had in the last couple of years. Yes, the revenue was there almost immediately, but many fans still haven't been entirely won over by these versions of the game. In fact, SVG ranked the mobile versions of Fortnite dead last a few years ago in our rankings of every platform's version of the game. Even then, the issue wasn't that the mobile versions were necessarily bad, but they had significantly more kinks to work out than the others.
Gamers have had issues with some imprecise touch controls resulting from Fortnite's port to phone screens. These have been alleviated somewhat with further patches, but the mobile version remains somewhat easier to play on tablets. Still, as Chapple noted, the game has seen more highs than lows. 
"While Fortnite's revenues on mobile had recently declined since its early highs, the battle royale title remains one of the world's top performers on mobile, an impressive feat considering only App Store revenue was tracked up until last month ... Fortnite is once again forging a path forward for others to follow." Chapple concluded.
Over the years, there have been many comments regarding the staying power of Fortnite. Notable streamers like Ninja and Dakotaz have feuded over whether or not Fortnite is worth playing anymore, leading to a falling out between the two. There have also been concerns over changes Fortnite has made to try and compete with other battle royale games, such as Apex Legends.
For the most part, however, Fortnite has continued going strong with a loyal fanbase. These latest figures are just further proof of the game's continuing popularity.