Next Level Racing Blames Media For Gran Turismo 7 Chaos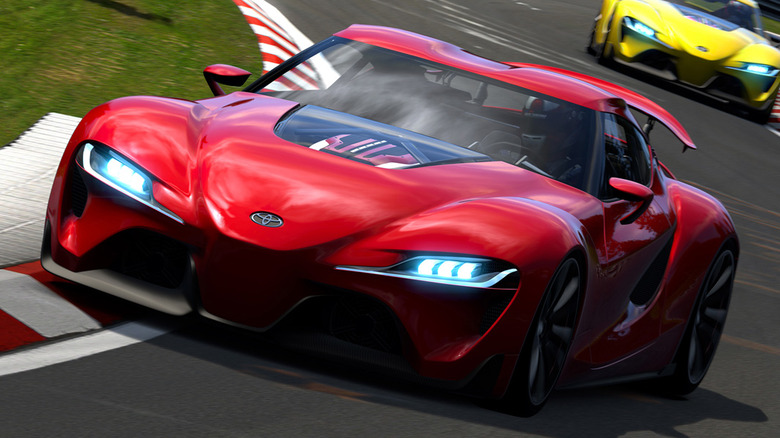 Fans of the Gran Turismo series aren't sure whether or not they should be excited, and for good reason. Next Level Racing is a company that specializes in creating realistic cockpits, stands, and accessories for flight and racing simulators. They also naturally tend to get very invested in upcoming video game releases. It seems that a recent post on Next Level's Instagram account has backfired for the company in a big way. 
In a post that has since been deleted, Next Level Racing appeared to be attempting to appeal to fans of racing games by asking about upcoming titles. On the company's Instagram account, Next Level Racing posted a photo of a racecar with the caption "What racing game are you most looking forward to in 2020?" The image notably featured four video game logos: Dirt 5, F1 2020, AMS 2 ... and Grand Turismo 7, a game that hasn't actually been announced yet.
For all the world, it looked as though this was a leak or a rather unceremonious announcement for a new installment in the Gran Turismo series. Naturally, Next Level Racing's comments were flooded with people asking for more information on Gran Turismo 7. There have been hopes that the next game in the series would debut as a PS5 exclusive, but nothing concrete has been announced.

In response, Next Level Racing took down the previously mentioned post and took to social media to address the situation. In a rather confusing response, Next Level appeared to be shifting the blame onto the media for commenting and reporting on the image. It seems that Next Level felt the whole thing was blown out of proportion.
"Our team has recognized that a recent post by us using a logo has been misinterpreted by media and it does not reflect any information from our end, and we deny knowing any information regarding the launch of [Gran Turismo 7]. There have been assumptions made in the media that are quite simply untrue," reads the statement. "Due to this, we have decided to take down our previous social post. Our Graphic Design Department used the mock logo that is circulated on the internet. We do apologize for any confusion that this might have caused."
In other words, Next Level Racing literally used a fake logo for Gran Turismo 7 in its own advertising, then couldn't understand why people thought the company knew something regarding the existence of a new Gran Turismo game. Now, Next Level Racing is apparently attempting to shift the blame on the folks who reported seeing the logo in the first place and made "assumptions." 
It's an odd tactic for the company to take, particularly considering the phrasing in its original post. This would be like if Ninja had announced his official Fortnite skin and then told fans he doesn't know anything about Fortnite. Some folks on Twitter just aren't buying it.
To put it lightly, this doesn't entirely track. As Kotaku's Ian Walker so bluntly put it, "Turns out, the entire fiasco was a mistake on the part of the manufacturer, but the people there who are actually to blame for the [mistake] would like everyone to know that 'the media' were the ones who acted irresponsibly."
There is also the fact that Next Level Racing is claiming that the Gran Turismo 7 logo seen in the company's Instagram post is one that was found on the internet by Next Level's graphic design team. This also doesn't seem to be adding up for some folks. The Sixth Axis has reached out to Next Level Racing on Twitter to ask for the original source for the supposedly fake logo. However, there has yet to be a response regarding this from Next Level.
So what exactly happened here? It really seems as though the company was simply trying to appeal to fans and made the mistake of trying to hype a game that doesn't officially exist yet. Unfortunately, rather than backpedal fully, the company attempted to lay the blame on people for noticing the mistake. It's not a great look.
Maybe we'll hear something more concrete regarding the future of the Gran Turismo franchise soon. After all, Sony is supposedly revealing its slate of PlayStation 5 launch titles next month. According to last month's issue of Official PlayStation Magazine, the issue available June 2 will give fans a closer look at "the latest games coming to PlayStation 5, and how they'll play."
It wouldn't be out of the question to assume that Sony would want to launch its new console with a tried-and-true hit franchise like Gran Turismo. Hopefully Sony will make an official statement on the matter soon, because it appears as though Next Level Racing will be keeping a tight lip from here on out.