How Red Dead Redemption Inspired Ghost Of Tsushima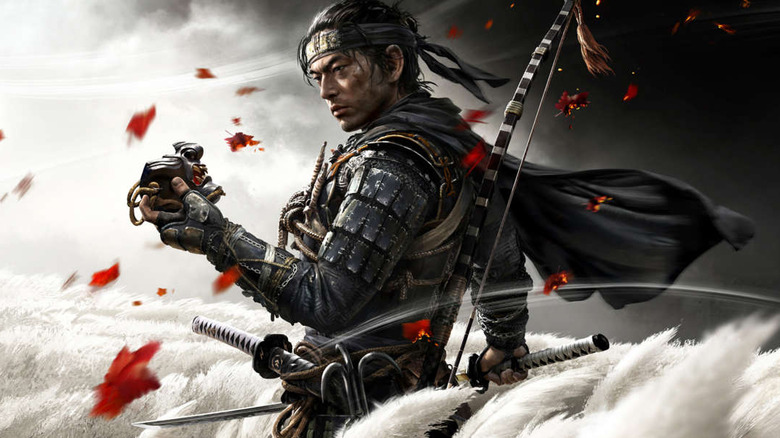 Sucker Punch Productions is getting ready to finally unleash its new samurai action game Ghost of Tsushima this July. In an interview with GAMINGbible, the game's director, Nate Fox, explained that the team working on the game took inspiration from several different games from the last decade. One game in particular formed quite a bit of what Sucker Punch wanted to accomplish with its latest title. That game is none other than Rockstar Games' 2010 masterpiece, Red Dead Redemption. 
As explained by Fox, "I would say the number one inspiration for the title was Red Dead Redemption — not Red Dead 2 but Red Dead Redemption — because they did such a fantastic job bringing the fantasy of being an outlaw cowboy to life. 
"Landscape, the way that people talk to you, the way that you move – [everything in the game] brought you into that identity," Fox said. "And for us, I used to say like, 'Hey,' when I would try and get people excited about the game, 'think of it like as the same format as that.'"
In other words, Sucker Punch strove for a sense of immersion in the world of Ghost of Tsushima. Just like the original Red Dead Redemption really captured the feel of being an outlaw in the wild west, Ghost of Tsushima wants to create an authentic world for its characters to inhabit and explore.
Last month, it was announced that Ghost of Tsushima would be delayed from its original release date of June 26. The game will now be released on July 27, which should give the team the time to finish polishing it to Sucker Punch's standards. There was some speculation that the game had been delayed so it wouldn't have to compete with the also-delayed The Last of Us Part 2. 
There were also concerns regarding the quality of the final product, but those have since been addressed in a series of tweets from Sucker Punch. It has been explained that the game suffered a bit of a setback due to the coronavirus outbreak. In an effort to keep the members of its development team safe, production was moved to remote positions.
"As you may have seen, Ghost of Tsushima is moving out just a few weeks to July 17," tweeted the official Sucker Punch Productions account. "There have certainly been challenges in adapting to game development in a Work From Home environment, but thanks to an incredible effort by our worldwide team, Ghost is nearly ready for release."
Sucker Punch continued, "There are a few finishing touches to apply and bugs to squash – so we'll put these extra couple weeks to good use."
In other words, it appears that the game is proceeding as planned, just with the timetable altered a bit to allow for safety of consumers and developer alike. It also appears as though the work is paying off. Sucker Punch recently showed off 18 minutes of mind-blowing gameplay footage as part of Sony's recent State of Play. This is also when it was revealed that players have the option of playing through Ghost of Tsushima in a grainy black and white filter and with a full Japanese audio track. This option looks to fully embrace the feel of an old-school samurai movie.
There were some more recent games that also pointed Sucker Punch in the direction that it wanted to go with Ghost of Tsushima. One of these was The Legend of Zelda: Breath of the Wild. Nate Fox explained that seeing Breath of the Wild's world-building aspects and the way it rewarded exploration was integral in the development of Ghost of Tsushima. 
As Fox explained, "When we're building the game, and a game like Breath of the Wild comes out – that does such an amazing job of showing how the power of curiosity can be stoked in all these many ways. While we always wanted you [to] be transported to Tsushima Island ... I think that that game really inspired us to try even harder, to go deeper, to just clear out the decks so that you could be just as present as possible in Tsushima."
This all sounds like great news for fans of the games mentioned by Fox, as well as anyone who thought the gameplay footage showed promise. Hopefully Ghost of Tsushima will live up to the hype and Sucker Punch will have taken care of those "few finishing touches." As it stands, Ghost of Tsushima is shaping up to be one heck of a PlayStation exclusive.