Why Battlefront 2 Fans Are Excited For June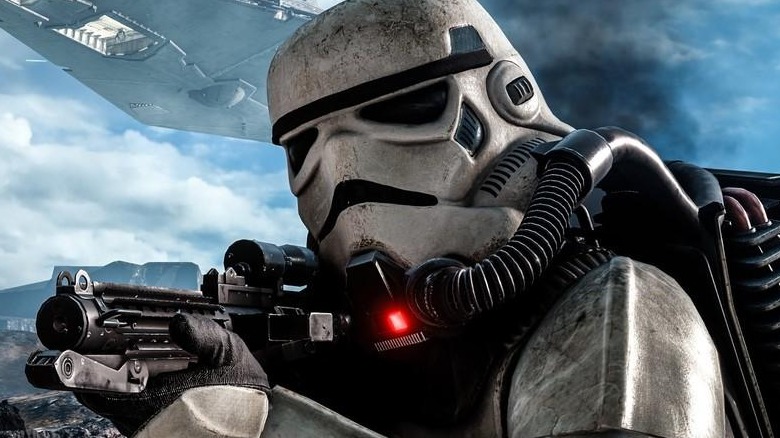 Star Wars fans are about to receive one heck of a deal. A few days ago, games info leaker Nibel shared an Instagram teaser that had seemingly leaked the news that Star Wars: Battlefront 2 would be added as a free PS Plus title for June 2020. Though Nibel labeled it as a "rumor" at the time, it seemed pretty legit.
It appears as though the accidental leak led to Sony making a formal announcement regarding the news. If you haven't had a chance to play Battlefront 2 or you've been itching for a chance to revisit it, now is your chance. Starting on June 2, Star Wars: Battlefront 2 will be available to al PS Plus subscribers for free.
Upon its release, Battlefront 2 was roundly criticized by journalists and fans alike for its over-reliance on microtransactions and loot boxes. The game was considered one of the worst offenders of the "pay to win" style of video game design.
Battlefront 2's campaign also received some flak for feeling incomplete. It was later given a final chapter in the free DLC expansion, Resurrection, which more or less wrapped up the core game's narrative. 
However, Resurrection wasn't universally loved, mainly because it felt like it belonged as part of the original release of the game. As PlayStation Lifestyle's review put it, "Resurrection doesn't stand alone as as a good series of missions by itself, but being a free addition, it works great as an epilogue chapter, following up on some of the character development we got to see across the main Battlefront 2 campaign."
In this sense, picking the game up for free now will probably make for a more seamless experience. Players who are experiencing the game for the first time through PS Plus will be able to play through the entire Battlefront 2 story without having to wait for the conclusion to arrive at a later date.
Despite these missteps, Star Wars: Battlefront 2 does have quite a strong following. It seemed as though EA had taken many of the critiques to heart and given players what they wanted. There was a clear effort made to reassess Battlefront 2's model and to salvage the Star Wars license.
Back in 2018, roughly one year after the game's launch, critics began to revisit the controversial Star Wars title to give it something of a reappraisal. When re-reviewing the game, Metro said of Battlefront 2, "A revamped progression system and the demotion of loot boxes to a purely cosmetic role finally gives this ambitious Star Wars game the redemption it deserves." However, Metro still felt that the game didn't have nearly enough content. Not only that, but the content that was there was still somewhat undercooked and lacking in innovative gameplay.
Battlefront 2 also recently added its final planned update, which incorporated elements from Rogue One: A Star Wars Story. In other words, players who snag Battlefront 2 for free now will be getting the most complete Battlefront 2 experience they are likely to have.
Some fans of the game are excited to see Battlefront 2 being given something of a second chance. It appears as though many gamers wrote Battlefront 2 off after the blowback surrounding its original release. Now, it seems as though PS Plus will give some folks an excuse to see how far along the game has come since release.
One fan tweeted, "After making [Battlefront 2] one of the best games out there from the constant flow of content im glad people get to experience properly this time. If the game had released in this state I reckon it would of had even more success."
The other free game being added to PS Plus in June is Call of Duty: WWII. This makes for two different shooters being offered for free in June, which would kind of follow along with a pattern set in motion with May's games. This month, PlayStation Plus offered Cities: Skylines and Farming Simulator 19 for free, pairing games from the same genre together. While May's offerings are much more subdued and relaxing, June is apparently more focused on high-octane action and team-based battles.
Honestly, June's titles seem perfectly suited for the WHO's Play Together Apart initiative, which is promoting the practice of safe social distancing guidelines by encouraging gamers to dive into more online multiplayer gaming.
Though we still have to wait a few days for Battlefront 2 to be available for free, Call of Duty: WWII is currently free of charge for PS Plus subscribers. Both games will be free until July 6, when the next round of free PS Plus titles will be made available.