The Last Of Us 2 Accused Of Copying Trailer Music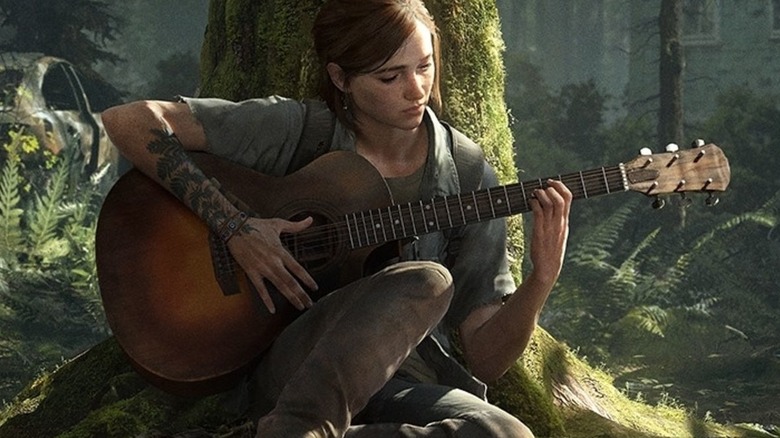 Naughty Dog seems to have gotten involved in yet another controversy, this time surrounding a piece of music in The Last of Us Part 2's latest trailer. The trailer, which features a folksy cover of New Order's "True Faith" performed by lead protagonist Ellie, has been called out on Twitter by musical Lotte Kestner. According to Kestner, the arrangement of "True Faith" that can be heard in the trailer is way too similar to a cover version she recorded back in 2011. 
In a tweet that has since been deleted (via IGN), Kestner asked Naughty Dog and game director Neil Druckmann, "hey are you aware that the true faith cover you put in your last of us 2 trailer is a replica of my cover that came out 10 yrs ago? I wrote original parts not in the original song that are copied exactly by whoever covered it. I am heartbroken."
The similarities between the two covers are certainly striking. The slowed down melody and guitar picking sound extremely close to one another. The "original parts" that Kestner refer to appear to be the humming sections that weren't present in the original New Order recording of the song. 
"True Faith" was originally recorded by New Order and released as a single back in 1987. It was a huge hit for the band and since then, the song has been covered by a number of high profile artists. In addition to Lotte Kestner's version, the song has been covered by George Michael, Anberlin, and The Wombats. On a darkly humorous note, it should be mentioned that the album that featured Kestner's cover of the song was entitled Stolen. 
It is unclear what happened in this case. Kestner seems to believe that the two recordings are way too close together to be a coincidence. However, the fact that her tweet has been deleted suggests that either someone from Naughty Dog reached out to her or she's been legally advised to remove it for now. While it's true that Kestner does not own the rights to the original song, her frustration seems understandable. 
As one fan points out on Twitter, the issue here is that her particular arrangement of the song was seemingly copied without permission. While this leads to something of a legal gray area, it makes sense that Kestner would at least speak up about it.
There seems to be a lot of disagreement on Twitter over whether or not Kestner has a right to feel slighted by this alleged use of her arrangement. However, another Twitter user mentions that Kestner could be entitled to some form of compensation — or at least an acknowledgement. They wrote, "She has bought the rights to use the the lyrics and any particulars in the creation of her own work. That work can be sold. She has the rights over any reproduction/'copy' of that work."
This is just the latest in a series of controversies and snags that have plagued The Last of Us Part 2 in its journey to release. The game has been delayed multiple times as Naughty Dog has scrambled to finish and fine-tune the game to meet expectations and standards of quality. While this could be seen by many as a good thing, Naughty Dog has also come under heavy fire this year for its labor practices. According to many Naughty Dog employees past and present, the company has encouraged a kind of "crunch culture" to get projects completed on time. 
The game saw a second delay when Sony and Naughty Dog decided to hold its release out of concern for public safety. With many business closed and areas on lockdown during the COVID-19 outbreak, it seemed like it would be a good idea to wait until everyone who wanted the game could safely get themselves a copy. Unfortunately, following this delay, someone stole a ton of gameplay and cutscene footage from later in the game and leaked it onto the internet. As a result, the plot of The Last of Us Part 2 has been spoiled for many fans who have waited nearly a decade to play it. 
The Last of Us Part 2 will finally be out on June 19, but its wild to see how many scandals the game has been a part of during its development and marketing cycle. Naughty Dog has yet to issue a statement regarding its use of this cover of "True Faith," but hopefully the company will do so in the near future.