Things Keep Getting Worse For The Last Of Us Part 2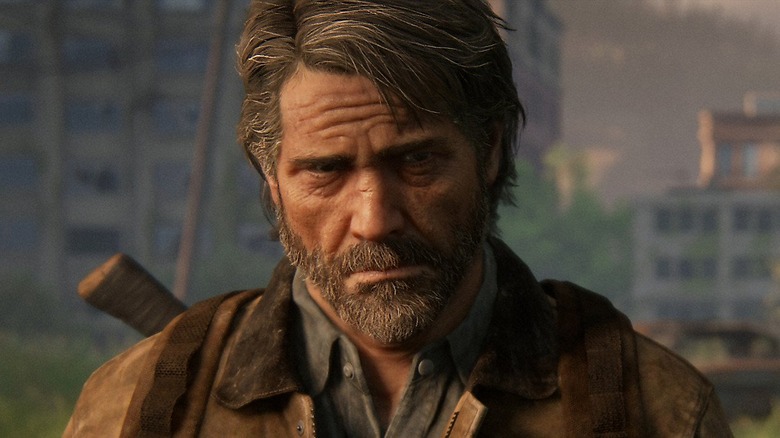 Just last week, the decision was made to delay The Last of Us Part 2 yet again, this time "indefinitely." The reason for this was due to logistical concerns surrounding the continuing coronavirus outbreak, which has had a massive impact on the gaming world. It wasn't entirely unexpected, since multiple games have been delayed in recent months, while several movies and television shows have also been delayed by the outbreak.
Advertisement
However, in an unexpected move, PlayStation has chosen to cancel all digital pre-orders for The Last of Us Part 2. What's more, this isn't even really up for debate. While it's not unusual for a company to offer some kind of refund for games that have been delayed, Sony is straight-up refunding all digital pre-orders for The Last of Us Part 2. 
The banner recently added to the PlayStation Support main page simply reads, "The Last of Us Part II and Iron Man VR have been delayed. All digital pre-order consumers will automatically receive a refund. Please check your email for more details."
So what's the deal here? It's not like the game hasn't been delayed before. The Last of Us Part 2 was originally slated to release in February 2020, but the game was later pushed back to May to allow Naughty Dog more time to further polish the game and presumably reduce stress on the development team. At the time, this seemed like an annoying but acceptable timeframe. 
Advertisement
A coronavirus-related delay is likewise a bummer, but it's the fact that refunds are being automatically issued that may be cause for concern. Games get delayed all the time, but the one-two punch of the refunds and being told that the delay is indefinite sure makes it look like the future of The Last of Us Part 2 is more uncertain than ever. Sony must be expecting the delay to be more significant than we could have ever guessed, especially if the company is going to such lengths.
In a recent interview (via VG24/7), Naughty Dog boss Neil Druckmann explained that we shouldn't even be expecting a demo for the game to be released any time soon. While a demo would certainly help tide some fans over for at least a little while, there are plenty of good reasons why that's simply not in the cards right now.
The press demo that has previously been played at events is apparently not an accurate representation of how far the game has come since then during development. Furthermore, there's actually a good bit of work that goes into producing a demo and ensuring that the chunk released to the public is playtested properly.
According Druckmann, "That's a massive amount of work that we don't want to put our team through. We would rather put our focus on finishing the actual game."
Advertisement
Druckmann also described the frustrations that came with having to delay the game yet again. While the possibility of a digital-first release has been floated out there, that isn't the route Naughty Dog wants to take. The biggest hurdle that seems to be in the way right now is that it just doesn't seem fair for a game that is so highly-anticipated to not be available for everyone who has been waiting for it.
As Druckmann said, "There hasn't been a final decision yet, we're just reacting to the different retail chains, whether we can get physical copies to people ... This is a worldwide game that people in every country are waiting for and we want to make sure we're fair. If we just get it to a small fraction of people, what does it do to the people who don't get it? So, we're looking at all sorts of different options like what's the best way to get it to all of our fans as soon as possible. But that's going to take time for us to ship and get things figured out."
So it seems that Sony and Naughty Dog are working on coordinating some other way of making sure that the fans all get the game at the same time. In the meantime, the decision was made to pull the game from the PlayStation Store and keep an eye on how things develop worldwide. So at least we understand why preorders were canceled, but it's still a shocking move. 
Advertisement
The Last of Us Part 2 isn't the only game being impacted by this uncertainty. As mentioned previously, Sony has also pulled Iron Man VR from its store and is issuing similar refunds. Folks who were hoping to have Ellie, Joel, and Tony Stark to help them pass the time in self-isolation are going to have to wait until some unknown later time.