No One Knows Why Nintendo Dropped This YouTuber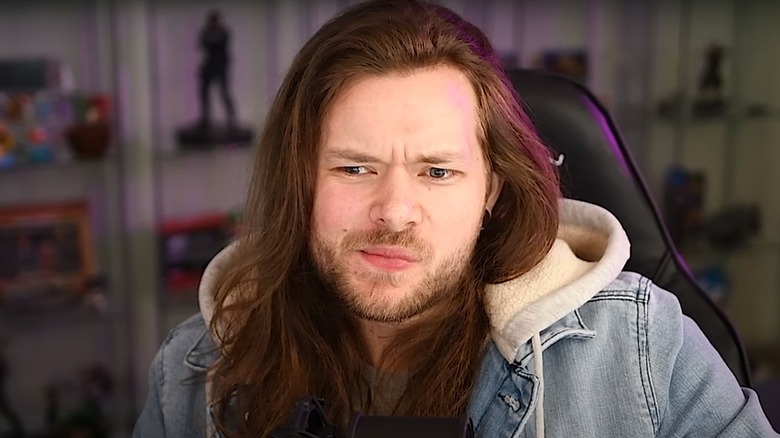 YouTube: BeatEmUps
Wood Hawker, perhaps best known for his YouTube channel BeatEmUps, has been dropped from Nintendo's Brand Ambassador program with seemingly no explanation. On May 28, Hawker sent out a Tweet announcing that Nintendo was ending its Brand Ambassador program and cutting ties with him. While Hawker is allowed to continue making Nintendo-related content (and, in fact, still qualifies to get game review codes and other free Nintendo products to make content with), he can no longer use Nintendo branding on his channel and cannot affiliate himself with the brand ambassador program in any way.
While not likely to be a huge blow to his channel or his subscriber count, it was — as Hawker put it — a "slap in the face" to someone who had been such a loyal fan and content creator.
A week after being dropped from the program, Hawker released a discussion video on his channel going into more detail about the situation and his plans going forward. While Nintendo did not give a specific reason for its decision, he did get assurances that it was nothing to do with the quality or content of his videos.
At first Hawker assumed, reasonably, that this was part of an internal restructuring at Nintendo as it swapped out its ambassador program for something else. He imagined that other ambassadors had gotten similar letters, and that they would be a part of whatever came next. However, that does not seem to be the case. In his followup video, "My Response To The Nintendo Situation," Hawker does say that several other brand ambassadors were let go around the same time, but not all of them.
Other previous brand ambassadors have shared their experiences working with the company and how they, too, ultimately left or were let go. Wood's friend Shawn (RGT 85 on YouTube) made a video titled "My Experiences Working With Nintendo And Why I STOPPED!" which gives some insight into the behind-the-scenes processes that might have led Nintendo to cut ties with BeatEmUps.
It seems like a strange move for Nintendo, since BeatEmUps had — up to that point — been a Nintendo-focused channel with nearly a million subscribers. The main attraction of Hawker's channel is his review videos, of which he has over 200, almost all of them for Nintendo games or products. In addition to that, he has a playlist of 129 "discussion" videos, which are also related to Nintendo and its products. BeatEmUps also features videos of Hawker playing Nintendo games, often with entertaining gimmicks such as using the Mario Kart steering wheel for games not designed for it, or playing The Legend of Zelda: Breath of the Wild with a hundred mods at once.
In fact, that Zelda video was one popular theory for why Nintendo suddenly dropped him. Nintendo is known for jealously defending its IPs and aggressively going after modded content, but Hawker is confident that wasn't the reason for the decision. Based on his long-standing relationship with Nintendo, he seems certain that the company would have just asked him to take down the offending video instead of ending his ambassadorship entirely. 
Other fans of the channel have theorized that it was something to do with Hawker's appearance — namely, his long hair, piercings, and tattoos. He quickly dismissed that idea as well, saying, "I'm not sure if any of these people are aware I've looked exactly the same since I was 18, years before Nintendo even accepted me."
While it's still not entirely clear why Hawker was suddenly and unceremoniously dropped, it does seem to be related to Nintendo's decision to end the brand ambassador program, and Hawker not qualifying for whatever program is being created to replace it. Hawker shared this response he got from Golin, the company charged with administering the brand ambassador program. It seems to confirm that he's not part of the new program while not explaining much of anything else.
"Yes, there is a new program," Golin told Hawker. "Content creators for that program are evaluated on several criteria, including their passion for Nintendo, their social following, the quality and brand-friendliness of their content, and more."
Several people in the replies to Hawker's tweets, including other former brand ambassadors, have said that Nintendo's decision might actually be a result of BeatEmUps's success, rather than any lack of it. By affiliating itself with large channels like BeatEmUps, it runs the risk of backlash if those channels are ever caught up in major controversies. In Hawker's own words, Nintendo may be afraid of a "Jared from Subway" moment.
Until Hawker gets a clear answer from either Nintendo or Golin, all we're left with is speculation. However, Hawker has no plans to let this setback stop him, and his many fans have announced that they will continue to support him as he looks for his channel's new direction.