PewDiePie Reveals How He's Avoiding Controversy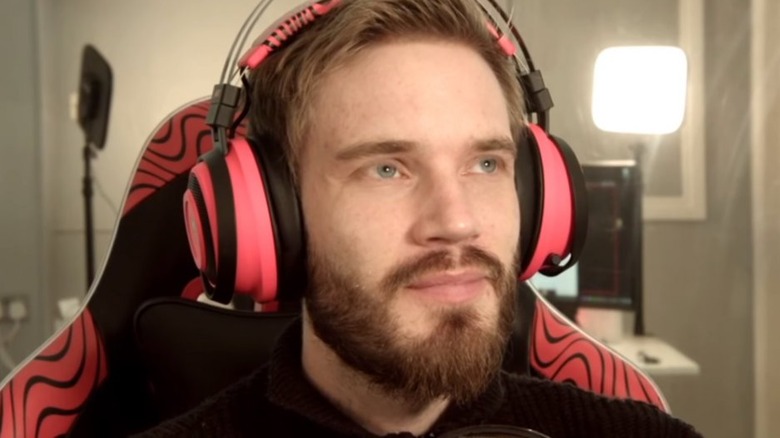 Even though he is one of the most successful content creators in YouTube history, PewDiePie is no stranger to controversy. Over the years, the YouTuber has found himself embroiled in quite a few feuds with other creators and has come under fire for jokes that were deemed offensive. However, it does seem like that the shadier side of PewDiePie's career has lessened in recent memory. In fact, that very subject came up during one of Pewds' most recent videos, and his comments on the matter were somewhat surprising.
Advertisement
In his video posted on June 11, PewDiePie answered questions fans had asked about him on Quora. As he sifted through the questions, he stumbled across one that really seemed to make him reflect on his career.
This fan asked, "Why is PewDiePie at the center of many controversies?"
PewDiePie immediately answered, "Because I've always had a very light-hearted take on serious topics." He added that the resulting controversy was something that "someone that is as popular as I am should have seen that coming. It was inevitable."
While PewDiePie expressed that he doesn't think he's been criticized entirely fairly, he also doesn't think he's "completely blameless." Instead, the YouTuber seemed to express a bit of remorse for how he'd handled things in past videos. 
Advertisement
"I've been very reckless and not careful, and I've paid the price for it," said PewDiePie very plainly.
It's interesting that PewDiePie brings his own popularity into the equation, but that's an important point to make. Content creators frequently come under scrutiny because of the size of their platform and the age of their viewers. After all, that was one of the biggest criticisms lobbied at Dr Disrespect when he shared coronavirus conspiracy theories with his audience. When you have millions of viewers, there tends to be an expectation that you should use your platform responsibly.
This is a pretty straightforward answer for PewDiePie, who tends to make a lot of jokes about his run-ins with controversy. He continued this train of honesty when explaining to viewers that he doesn't actually get heavily into politics. According to PewDiePie, modern political discourse has basically devolved into "more about name-calling, instead of discussing actual ideas."
Fans who have stopped following PewDiePie in recent years may be happy to see how frankly he discussed his missteps, even though he didn't mention any of them here specifically.
For those who aren't aware, PewDiePie has landed himself in hot water on more than one occasion for his antics. Through it all, PewDiePie maintained his usual sense of humor, though he did eventually take a break from YouTube to recharge himself. During this time, other creators expressed their feelings toward PewDiePie. One of these was frequent collaborator Jacksepticeye, who likewise seemed to feel as though PewDiePie's racier comments had been taken out of their original context.
Advertisement
In an interview with Metro, Jacksepticeye reiterated that he and PewDiePie were friends and that it was strange to hear him being held in a negative light. He said, "To hear his actual thoughts on it...people like to take things every which way and twist things all over the place."
In the last few months since his return to regular video uploads, it does appear as though PewDiePie has made a concerted effort to rehabilitate his public image. Shortly after his return, he posted a lengthy video discussing misogyny in the gaming community. During this video, he walked back a lot of his jokes and attempted to have more of an honest conversation about the topic. It was a marked difference from how he may have handled such a hot button topic in previous years, but it still came across as, he'd put it, "lighthearted."
Earlier this month, he raised over $106,000 during a charity livestream to help benefit Black Lives Matter. He has even jokingly extended an olive branch to T-Series, the Indian music company he feuded with last year. Admittedly, this was in the service of defeating the children's YouTube channel Cocomelon in number of subscribers. Still, it's a start.
This isn't even the first time that PewDiePie has expressed regrets toward older content. As far back as 2016, he openly lamented the "immature" content of his earliest uploads.
Advertisement
All in all, it seems like PewDiePie is looking to move past being the guy who would record a song like "B*tch Lasagna." It appears as though his efforts have been seen by the higher-ups at YouTube, since he recently signed a lucrative deal with YouTube Gaming.