Was The Next Crash Bandicoot Just Leaked?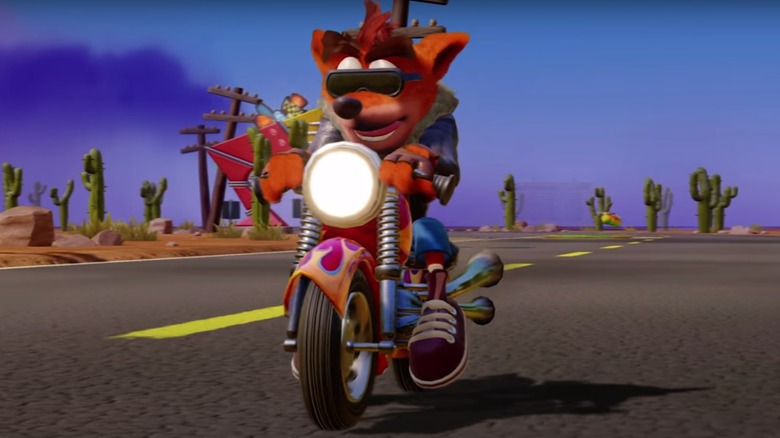 YouTube: Crash Bandicoot
The Taiwan Digital Game Rating Committee seems to have jumped the gun and confirmed the next Crash Bandicoot game before it was even announced. Listings for Crash Bandicoot 4: It's About Time have appeared on its website, complete with ratings and details.
The game description reads: "Crash is relaxing and exploring his island in his time, 1998, when he finds a mysterious mask hidden away in a cave, Lani-Loli. The mask is one of the Quantum Masks and apparently knows Aku-Aku[sic], Crash's mask friend! With the Quantum Masks returning and a Quantum Rift appearing near our heroes, they decide to bravely head through to different times and dimensions to stop whoever is responsible."
It's not clear what the Quantum Masks are, though anyone who's played Crash Bandicoot before will know the name Aku Aku, the witch doctor-turned-living wooden mask who helps Crash and his friends through their adventures. His abilities range from giving helpful tidbits of advice all the way up to making Crash and friends almost completely invincible. However, for all that Aku Aku has been in every Crash game since the very first, we really don't know much about him.
Given the new game's focus on masks, and the fact that the description specifically mentions Aku Aku, perhaps we'll finally learn more about the mysterious character's past and how he got such incredible powers; or at least how he and his brother Uka Uka ended up as haunted masks. Maybe Aku Aku is a Quantum Mask?
The focus on alternate dimensions and timelines sounds a lot like the new Ratchet & Clank game announced during Sony's Future of Gaming event. Apparently, anthropomorphic animals going timeline-hopping is the new hotness in gaming. Just remember that Sonic did it before it was cool.
Really, the fact that Ratchet and Crash are both getting new games involving alternate dimensions is almost certainly a coincidence, but it's a funny one.
The Crash Bandicoot series has a long and rocky history stretching back to 1996. The first few games were developed by Naughty Dog, which has been a big name in gaming news recently thanks to The Last of Us Part 2. However, Naughty Dog has had nothing to do with the franchise since 1999's Crash Team Racing. Since then, a number of other developers have tried their hands at making Crash Bandicoot games. The results have been mixed, to say the least. From Traveller Tales' Crash Twinsanity to the tedious mini-game collection that was Vicarious Visions' Crash Bandicoot Purple, this poor marsupial has gone through good, bad, and ugly in the last couple of decades.
The good news is, Crash Bandicoot 4 is being developed by Toys for Bob, the studio behind Skylanders and Spyro Reignited Trilogy. While Crash Bandicoot fans have been burned a few too many times by weird spin-offs and lackluster sequels, Spyro Reignited Trilogy has gotten great ratings across the board, and boasts an impressive 10/10 on Steam with almost 4,000 reviews. Given that, it's fair to say fans are cautiously optimistic for It's About Time. Hopefully Toys for Bob can pull off another winner and put some new life into this old bandicoot.
The Taiwan Digital Game Rating Committee has given Crash Bandicoot 4 a rating of P (protected), meaning that it's appropriate for children ages 6+. The only reason given for the rating is "violence," which seems reasonable. While Naughty Dog had originally envisioned a, well, naughtier game, wacky cartoon violence has been basically the only thing that parents might object to in the series. It seems like It's About Time will be sticking to that pattern.
As of writing this article, the Committee's site has live listings for PS4 and Xbox One versions of Crash Bandicoot 4. No Nintendo Switch version is shown. Neither Toys for Bob nor Activision, the game's publisher, have made any official statement about Crash 4. The Crash Bandicoot website also says nothing one way or the other about an upcoming new game, which tracks with a project that is on the way but hasn't been officially announced yet.
Games analyst Daniel Ahmad shared the leak on his Twitter account, confirming that the game is in development while reaffirming there are no plans for a Switch version at this time. Ahmad also claims that the official announcement of Crash Bandicoot 4 is coming at Summer Game Fest's developer showcase on June 22. Hopefully we'll get some more details there, including exactly what Quantum Masks are and why they're so important.