Marvel's Avengers Fans Just Got Great News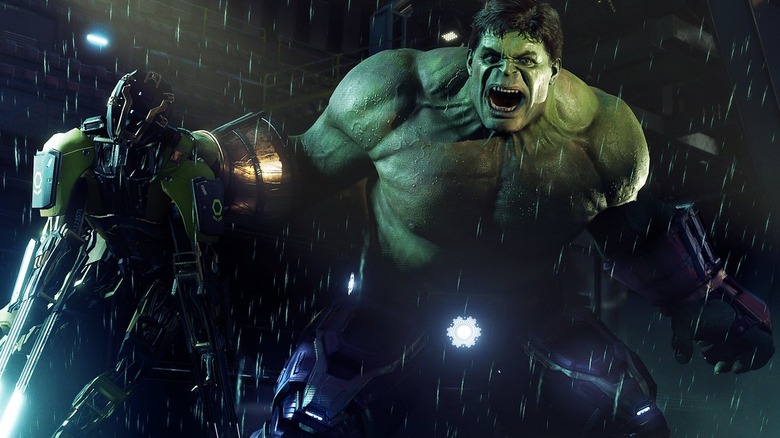 We're still a few months away from the release of Marvel's Avengers from Square Enix and Crystal Dynamics, but fans of Earth's Mightiest Heroes finally have some great news. Though the game will be launching before the release of the PlayStation 5 console, fans looking for a next-gen world-saving experience won't have to wait until that version is available. Instead, anyone who purchases Marvel's Avengers for the PS4 will get an automatic upgrade to the PS5 version when that version comes out.
This announcement was made in a post to PlayStation.Blog from Crystal Dynamics' Chief Technology Officer Gary Snethen. In the blog post, Snethen talked a bit about how well the game will perform on the PS5. According to Snethen, the game's graphics and overall presentation will see a significant increase in quality on the PlayStation 5. Because of this, Snethen and his team didn't want any fans to miss out on the game's full potential. This is when Snethen officially announced cross-gen upgrades for Marvel's Avengers.
"At Crystal Dynamics, we are gamers and we have a gamer-first mentality. We want to make it easy for Marvel's Avengers players to enjoy the additional features PS5 brings to the game," read the blog post. "Therefore, we're happy to announce that when you purchase Marvel's Avengers for the PS4 platform, either digitally or on disc, and later upgrade to a PS5, you get the PS5 version of the game with all of its enhancements free of charge!"
The fact that PS4 gamers can upgrade to a PS5 copy is especially important, given what we've recently learned about Sony's stance on cross-gen play. There has been a bit of vague messaging from Sony regarding how cross-gen play will be supported on the PlayStation 5. The Xbox Series X will support a feature called Smart Delivery, which basically ensures that once you buy a cross-gen title, it's yours in perpetuity. If or when you decide to upgrade from the Xbox One to the Xbox Series X, you will get the most recent version of the game free of charge.
Sony, on the other hand, appears to be playing much more fast and loose with this concept. Rather than making this the case for cross-gen games across the board, Sony is allowing publishers to make that call for themselves. Publishers will also be able to issue little caveats with games that do offer upgrades. For example, EA will allow customers to upgrade Madden NFL 21 from PS4 to PS5, but only if they purchased a physical copy of the game. EA won't be offering the same advantage to customers who bought the digital version of Madden NFL 21.
Coupled with talk of the "flexibility" Sony is apparently approaching the upgrades with, this news was very disconcerting to some fans. Backwards compatibility and cross-gen play is very important for many gamers making an investment in a new console. The news that Marvel's Avengers will be releasing with this option from the start seems to be a good sign for PlayStation fans. While it seems like this was ultimately the publisher's call, it will hopefully relieve any worries that AAA games would be less likely to go the upgrade route.
There was an additional bit of exciting news in the blog post regarding the game's cross-gen play. According to Snethen, "PS5 gamers can play Marvel's Avengers online with PS4 gamers, so anyone can upgrade at any time and continue playing with friends on both platforms."
This is great news for fans who want to play the game online but aren't ready to make the leap to the PlayStation 5 just yet. There's no worry of being left behind if the rest of your teammates make the upgrade when the PS5 drops.
Marvel's Avengers has had a bit of a troubled road to release, at least from an outside perspective. When the first trailer for the game was released, fans were immediately critical of the designs of the characters. Then came the news that the game was being delayed by several months, moving from its original May 2020 release date to September. Just last week, the game's developers and publisher came under fire for an insensitive tweet promoting the game that seemed to throw some shade at the Black Lives Matter movement. 
This latest announcement is not only welcome news for fans, but it probably helps to wash the bad taste of some of the game's development cycle out of people's mouths. Regardless, free stuff is always exciting. Fans can check out the game for themselves on September 4, 2020. The free upgrade will become available when the PlayStation 5 and Xbox Series X finally arrive at some point this holiday season.