There's A Catch To Getting Watch Dogs 2 Free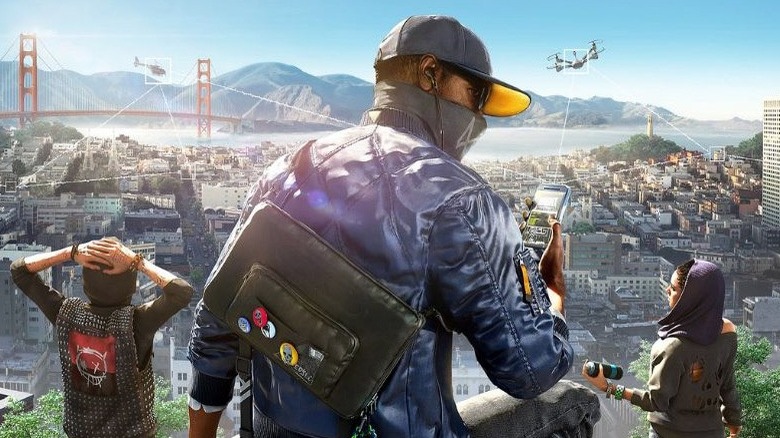 Fans of the Watch Dogs series have a giveaway to look forward to this weekend, and it's tied to one of the most anticipated video game events of the summer. Ubisoft is prepping for its upcoming livestream event, Ubisoft Forward. The event is expected to show off some of the games that are coming soon from the publisher, but there are also a few goodies in store for people who tune in. One of the cooler incentives for the livestream is the opportunity to get Watch Dogs 2 for free. However, there are a few catches involved in getting that free AAA title for yourself.
Advertisement
According to the official Ubisoft Forward page, PC gamers with an Ubisoft Uplay account are the only folks who will be able to claim the free game during the Ubisoft Forward event. If you have a Uplay account, make sure to log on during the Ubisoft Forward broadcast. At some point during the livestream, players will be given the opportunity to unlock the game. As an alternative, players can also link their Twitch channel to their Uplay account. This will allow players accept Twitch drops from participating channels that will unlock Watch Dogs 2 for the PC.
This Watch Dogs 2 giveaway clearly being done to tie into the hype surrounding Watch Dogs: Legion, the next installment of the open world hacker franchise. The new game is expected to expand the world of the series in new ways. Watch Dogs: Legion takes place in an impressive recreation of London, England, and will give players the opportunity to recruit other hackers, some of whom can actually be randomly killed in-game. 
Advertisement
Watch Dogs Legion will also be made available to players using Ubisoft's Uplay+ subscription service when it launches. While the basic version of Uplay has been around for quite a while, Uplay+ has only been around for a little under a year. Still, this giveaway may draw attention to the extensive game library available for Uplay+ subscribers. After all, Watch Dogs 2 is more or less seen by fans as where the franchise really hit its stride. 
While the original Watch Dogs had built up considerable hype before it's release, it didn't live up to the gorgeous trailers seen during the game's pre-release phase. The final product had significantly lower resolution graphics when compared to how it was originally advertised. This led to many fans calling Ubisoft out for releasing a "downgraded" version of the game. The released game still received decent reviews, but it didn't light the world on fire as many had expected.
Watch Dogs 2 was seen as a vast improvement on the first installment in the series. In fact, The Verge's Andrew Webster referred to Watch Dogs 2 as "exactly what the original game should have been."
Watch Dogs 2 also featured a new cast of characters in a new setting, making it feel like something of a soft reboot for the franchise. In other words, if you want to get a decent feel for what the Watch Dogs franchise has to offer before you dive into Watch Dogs: Legion, then checking out Watch Dogs 2 is your best bet.
Advertisement
However, it doesn't appear as though everyone is as excited for this giveaway as Ubisoft had hoped. Reactions on social media have been mixed. Though there are plenty of people excited to check out Watch Dogs 2 for the first time, some people are frustrated that the free copy of Watch Dogs 2 is only available for the PC. A few fans have expressed a distaste for Watch Dog 2's story, with one person saying the game "has fun gameplay but it's the most cringe story in a game ever."
The Ubisoft Forward livestream kicks off at 12:00pm PDT. According to the event's official line-up reveal video, there are plenty of other cool reveals to look forward to. Fans can expect to see more footage and possibly even gameplay from such titles as Assassin's Creed: Valhalla, Watch Dogs: Legion, and more. The livestream is expected to run for about 45 minutes and have plenty of "surprises" for fans. 
It's unclear what kinds of surprises are in store, but rumors suggest that Far Cry 6 will officially be announced. Maybe we'll also get to hear some of the songs that fans have provided for the soundtrack to Watch Dogs: Legion. At the very least, this chance for a free game should tide fans over until we get an official release date announcement for Watch Dogs: Legion.
Advertisement