Apex Legends May Bring Back This Fan Favorite Skin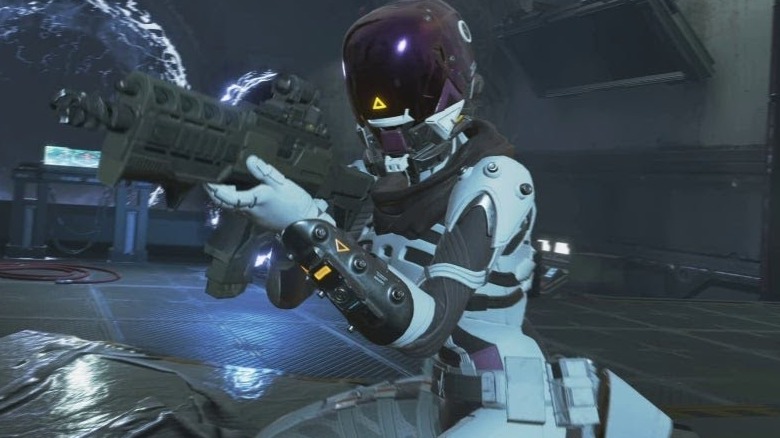 Respawn Entertainment's Apex Legends is having a pretty successful season. For its fifth season, the battle royale shooter recent introduced a new character, Loba, and now appears to be gearing up for some fun summer events. In fact, recently uncovered data seems to point to a fan favorite character skin making its triumphant return to Apex Legends. That's right; those of you who missed out on Wraith's awesome Voidwalker skin may get a second chance in the very near future.
The data miner iLootGames recently posted some interesting findings on Twitter that back this theory up. A screenshot shared by iLootGames shows a series of data string codes that seem to point to a big summer sales event for Apex Legends. Each of these codes appear to reference the name of some kind of bundle deal. Among others, these include a Dressed to Kill Bundle, a Holy Grail Bundle, a Phase Shift Bundle, and a Voidwalker Bundle. 
It's very likely that each of these bundles will feature items and designs specifically tailored to work with certain characters. In other words, players would be most likely to snag a particular bundle to power up their main. While it has been suggested by Dexerto that the Dressed to Kill Bundle will be items and skins tailored to Loba, it's pretty obvious what the Voidwalker Budle seems to be pointing toward.
The Wraith Voidwalker skin was originally released as part of a limited time event and proved to be extremely popular among Wraith mains. In fact, earlier this year, fans were hitting up members of the Respawn team to ask if there was a chance we'd ever see the Voidwalker skin in the future. At the time, Respawn senior animator Moy Parra insinuated that he had no idea if the skin would ever return to the game. Knowing what we know now, it could be that Parra was playing coy at the time. Then again, Respawn could have made the decision shortly afterwards in response to fan requests.
The latter option seems most likely, especially considering how vocal the fan base has been in asking for the Voidwalker Wrath skin to return. In fact, the skin was even the subject of a wildly popular fan petition, which garnered signatures from players who wanted the Voidwalker skin to be available again.
According to Dexerto, the code strings next to the bundles include the data-code entry "200721." This apparently tells us that the Summer Bundle deals will launch in-game on July 21. In other words, Apex Legends fans only have to wait another two weeks before the return of the Voidwalker skin and the arrival of all those other goodies teased in the leak.
The reaction to this leak has been somewhat mixed. It does seem as though the majority of the fanbase is very excited to see the return of the Voidwalker skin. Some of these excited responses were from fans who already had the Voidwalker skin and were happy to know other folks would be able to snag it for themselves.
One fan tweeted, "As an owner of the Voidwalker skin, I'm happy that people that couldn't buy it before, or switched devices, or didn't start playing until recently, can buy it again. It really is the best Wraith skin."
Meanwhile, there were other fans who felt that making the Voidwalker skin available once more would make it feel less special for the folks who bought it previously. One fan asked, "What's the point of it being an event exclusive skin if it's just gonna come back?"
Video game fans take their limited time character and weapon skins very seriously. It was recently reported that one Counter-Strike: Global Offensive fan spent a staggering $100,000 on an extremely rare skinned weapon featuring exclusive tournament stickers from 2014. This was already a testament to the kind of passion that video game fans can have for special in-game skins, but the cherry on top is what happened next. That fan has already turned around and is attempting to sell that weapon for $130,000.
Luckily for Apex Legends fans, they're not going to have to take out a second mortgage on their home to get the Voidwalker skin. When it originally launched as part of the Voidwalker event, the skin cost about $18 USD. In other words the Summer Bundle deals should be comparable, or at least fairly affordable.
The summer may be halfway over, but it looks like Respawn is making sure that Apex Legends fans end the season in style.