343 Shoots Down The Halo Infinite Multiplayer Rumor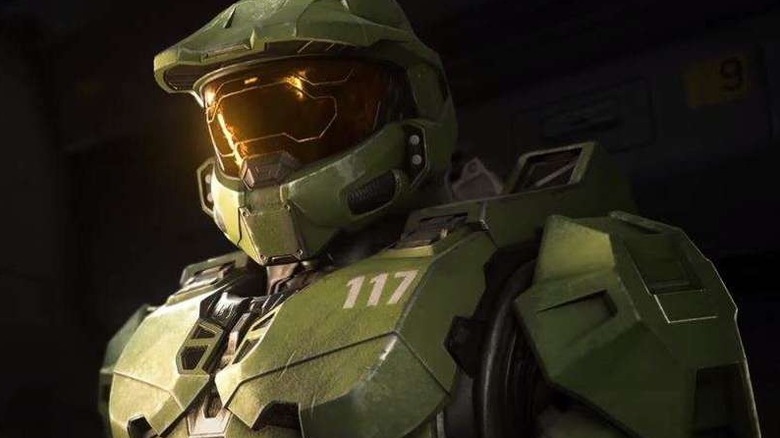 We finally got our first look at the gameplay for Halo Infinite during yesterday's Xbox Games Showcase livestream. Reactions to the event as a whole were rather mixed, but the majority of the online discourse since then has revolved around Halo Infinite in particular. Even worse, diehard Halo fans were briefly led to believe that they would be sorely disappointed with the way Halo Infinite launched.
Games journalist and author Brad Sams revealed a troubling rumor on his YouTube channel today. According to his sources, Halo Infinite was so behind in production that the game's multiplayer component hasn't even been finished. In fact, there was a likelihood that it wouldn't be finished until sometime after the game shipped. 
"One source is saying that multiplayer is not going to be shipping with single-player this fall," said Sams. He added, "Put that in your back pocket ... we may not be seeing multiplayer yet."
This was obviously not the news that fans wanted to hear. It's no secret that Halo Infinite has been in development for quite some time. While we know that this game will be far beyond anything we've seen in previous Halo games — even including a vast open world to explore — the idea of a Halo game launching without multiplayer seems borderline impossible.
Gaming industry analyst Daniel Ahmad responded to the rumor by quipping, "When they called it Infinite I didn't realise that referred to the development cycle."
Thankfully, 343 heard about the rumors and quickly dispelled them. Responding to a tweet about the rumor from noted game info leaker Nibel (which has since been deleted), 343's Brian Jarrard got cut right to the point, writing, "Nothing to see here folks, this is not true."
Naturally, fans have breathed a collective sigh of relief to hear this news. Nibel also made sure to share the tweet from Brian Jarrard, just to drive the point home that the rumor had been debunked. Fans also breathed a collective sigh of relief, with one person tweeting, "It's good to see rumors like these end fast."
People have been very concerned about the shape that Halo Infinite will ship in. Many fans were unimpressed by the graphics on display in the demo shown during the Xbox Games Showcase, with some people even comparing it to older games in the series. Others went to bat for the game, pointing out that not every demo should be expected to reflect the final version of the game. Following all of the uncertainty that has built up around Halo Infinite, the folks at 343 and Xbox have reassured fans that everything will be just fine.
This brings us back to a recent interview Inside Gaming had with Xbox Marketing GM Aaron Greenberg. When discussing the state of Halo Infinite and the underwhelmed fan response to the demo, Greenberg conceded that there was still plenty that had to be done to ship the game. It should also be noted that part of the blame for the slower development cycle was placed on the Covid-19 outbreak.
"I mean, listen ... we're in the middle of a global pandemic, it's July, we're far from [the release date], you're seeing a work-in-progress game," said Greenberg. 
However, Greenberg seemed to be rather confident that the game would live up to gamers' lofty expectations of the long-running Halo franchise. Later in the interview, he said, "I can tell you, because we see build check-ins every week, and they make progress week after week, so between now and Holiday it's just going to get better and better."
In other words, yes, there are still plenty of questions regarding Halo Infinite, but they will all be answered in the coming months. It makes sense that people have been concerned about the multiplayer aspects of Halo Infinite. After all, the Master Chief Collection has had issues with buggy multiplayer modes in the past. It launched more or less broken at the start, with massive server issues keeping people from being able to get into matches. 343 eventually had to literally throw in a free game to get people to come back to The Master Chief Collection. Even when Halo 2 Anniversary was finally added to the Master Chief Collection earlier this year, there were still issues with matchmaking and the multiplayer UI.
Basically, it wouldn't be unprecedented for a Halo release running into some major setbacks with multiplayer. At least now we know that Halo Infinite will for sure have a multiplayer mode at launch.
The game may have seen some bumps in the road, but 343 is striving to give fans the things they want out of a Halo game. That definitely includes a robust multiplayer component. We still don't have a definite release date for Halo Infinite, but it is scheduled to be out this holiday season for the Xbox Series X.