PS5 Could Already Be The Winner Of The Console War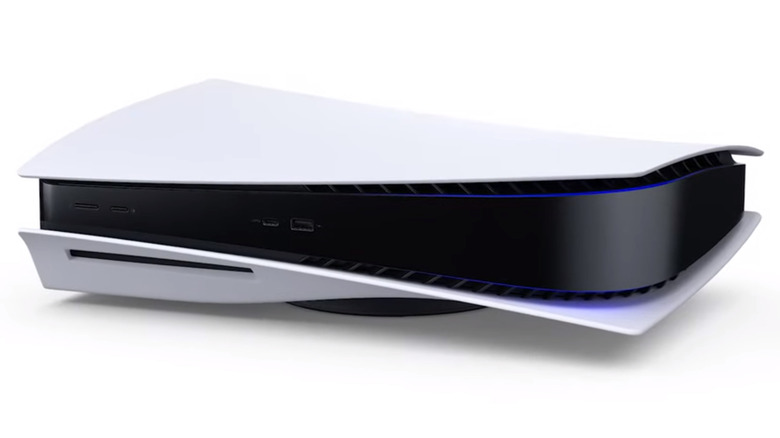 We're only a few short months away from the launch of the PlayStation 5 and the Xbox Series X, and everyone is waiting to see which console will come out on top. While it almost appears as though Microsoft doesn't really care if you buy an Xbox Series X or not, it's always a little difficult to tell how a new console launch is going to fare. However, according to new research, the PlayStation 5 may already be poised to conquer the next gen landscape.
Advertisement
According to a report from Taiwanese electronics magazine Digitimes (via Tom's Guide), Sony is apparently hoping to produce 120 million PlayStation 5 consoles within the next five years. Digitimes allegedly received this insider information from sources related to Sony's "backend supply chain in Taiwan." Considering the console will launch with maybe a month left in 2020, that's no mean feat.
As pointed out by Tom's Guide, it may be difficult for Sony to actually make those figures. If Sony does indeed mean to ship 10 million units at the end of this year, that leaves a whopping average of 27.5 million units that would have to shipped in the following four years in order to hit that magic number of 120 million units.
Advertisement
As Tom's Guide puts it, "This may not be a realistic number, as the PS4 has sold fewer units than that over a longer timeframe. On the other hand, perhaps the PS5 will deliver an experience that targets a wider demographic than traditional console gamers. Until the console launches, it will be hard to tell — and even then, Sony could add any number of features designed to attract new customers after the fact."
This is a really great point, especially considering the rumblings we've heard of things that may be coming to the PS5 after launch. Patents have been leaked for extra attachments for the DualSense controller and for some kind of robot designed to analyze your gaming and entertainment habits. Also, recent leaks have suggested that the PlayStation 5 may feature a customizable faceplate that can be replaced after purchase.
In addition to the alleged number of PlayStation 5 units, Digitimes reports that Microsoft is only planning to produce roughly 66 million Xbox Series X units, nearly half of the projected number of PS5s. In other words, the PS5 may be able to outsell the Series X due to sheer number of units produced, at least if these reports turn out to be accurate.
However, it's also worth noting that this latest figure outright contradicts previous reports we've heard suggesting the number of PlayStation 5 units that will be manufactured in its initial run. According to sources close to Bloomberg, Sony may only be planning to ship a total of 5 to 6 million PlayStation 5 units within the console's first fiscal year. And if that turns out to be the case, then the number of units shipped and sold in subsequent years would have to be even greater for Sony to hit that 120 million unit mark.
Advertisement
Despite the uncertainty over exactly how many units will be produced, the PlayStation 5 is still projected to sell like gangbusters. According to projections from Ampere Analysis, the PlayStation 5 may be poised to sell twice as many units as the Xbox Series X in its first few years of release. In fact, Ampere Analysis expects the PlayStation 5 to move roughly 66 million units by the end of 2024. That's an impressive number, but it falls noticeably short of the projections made by Digitimes.
That leads us to the question of how, exactly, these different companies have come up with such vastly different figures. If anything, these numbers show that this current period of economic uncertainty has made it more difficult to accurately predict how these systems will perform once they are on the market. It's hard to know what to expect as the marketing push for both consoles kicks into high gear. After all, we know that Sony in particular has had its marketing plans derailed by the coronavirus outbreak. Sony may be hoping to make up for this by simply flooding the market, making and shipping as many PS5s as possible. Again, this is all based on unconfirmed reports, but it would make a certain amount of sense.
Advertisement
In any case, however, all of these projections still seem to point toward the PlayStation 5 being the reigning champ in the upcoming console war. We'll see who does better right out of the gate when both the PlayStation 5 and the Xbox Series X launch later this holiday season.