The PS5 Might Not Be Around As Long As You Think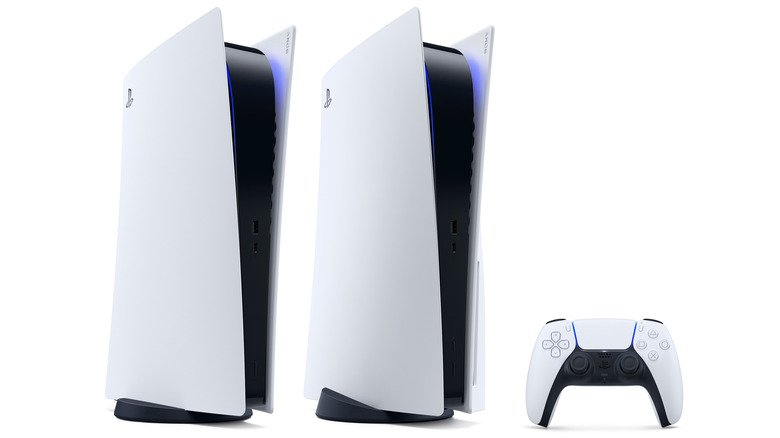 The PlayStation 5 is set to finally arrive in stores this holiday season. However, if a new report is to be believed, the PlayStation 5 may be available for a much shorter time than we could have expected. Taiwanese gaming publication Digitimes (via Video Games Chronicle) reports that sources close to Sony's backend supply chain claim that the life cycle of the PlayStation 5 may only last for five years.
This would mean that the PlayStation 5 would have a significantly shorter lifespan than many other console generations before it. To put things in perspective, as pointed out by Video Games Chronicle, previous PlayStation consoles have had shelf life of around 6-7 years.
This hasn't come as the best news for fans. As GiveMeSport's Matt Dawson put it, "Considering the price that you're going to have to pay for a console as powerful as the PS5, a life cycle of just five years is somewhat of a letdown."
As of this writing, Sony has yet to respond to this report. It's also worth noting that previous PlayStation generations have seen a bit of a mid-generation refresh, as with the release of the PS4 Pro. If that happens with the next console generation, maybe these reports only refer to the first iteration of the PlayStation 5.
This isn't the only recent report from Digitimes that seemed to reveal Sony's plans for the PS5's lifespan. According to Digitimes, the PS5 could have already won the next console war, as Sony also expects to move way more PlayStation 5 units than we could have expected. According to the Taiwanese electronics magazine, Sony is hoping to produce 120 million PlayStation 5 consoles within the next five years. If that's the case, then Sony is already trying to anticipate the lifetime sales of the console, rather than just for the first five years of a longer life cycle.
As the release window of the PlayStation 5 continues to draw closer, there are still quite a few things about it we don't know. Part of this is due to the fact that Sony's marketing campaign was thrown entirely out of whack by the coronavirus outbreak. This resulted in the PS5 being revealed much later than it was originally supposed to be. Whether or not this will effect any of the figures reported by Digitimes is unclear.