The Real Reason Marvel's Avengers Is Causing An Uproar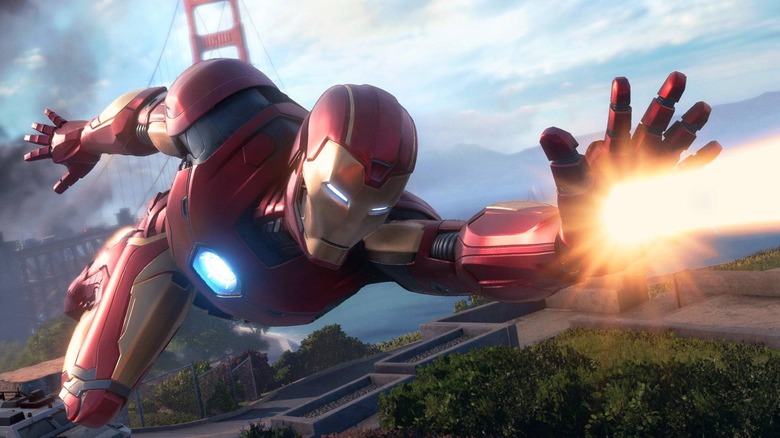 After a huge delay, Marvel's Avengers finally releases next month. Playing as Square Enix and Crystal Dynamics' versions of Earth's Mightiest Heroes should be an exciting prospect for fans of Marvel Comics and the Marvel Cinematic Universe. Unfortunately, a recent announcement from PlayStation has some people wishing that Thanos would come in and start snapping.
Advertisement
In a post on the official PlayStation blog, Crystal Dynamics' Jeff Adams announced that the PlayStation release of Marvel's Avengers will feature Spider-Man as an exclusive DLC character. Even better for PlayStation fans, Spidey will be part of an absolutely free post-launch update. On the downside, non-PlayStation gamers are feeling exceptionally cheated by this announcement. 
In fact, some people are already calling for a boycott of Marvel's Avengers. On Reddit, a thread with over 1,000 comments is full of displeased Marvel fans who feel like Sony is being greedy with everyone's favorite webhead. According to this post, some people feel as though they are being ripped off because they will be receiving less content than other people who are paying the same price for the game. 
Advertisement
On Twitter, some PlayStation 4 owners are also apparently standing in solidarity with the disgruntled Xbox and PC fans. One fan tweeted he wouldn't be buying the game for his PS4 because the whole concept seemed to be "Awful for the consumer."
Another PS4 fan echoed this sentiment, tweeting, "I was completely on board with this game until this. I have to be honest, I'm sure the game will be fantastic. But even as a PS4 owner, this just feels dirty. This type of exclusivity isn't good for anyone, and only hurts the consumers playing the game."
Others have pointed out that the idea of a character being exclusive to a particular console isn't exactly a new one, with at least one person pointing to the Soulcalibur series as an example. Previous entries in the Soulcalibur franchise have featured console-specific "guest characters," such as Kratos from God of War and the Apprentice from Star Wars: The Force Unleashed. The difference here is that it doesn't look like the other platforms are receiving any exclusive Marvel characters — at least not yet.
It should be noted that this isn't the first bit of controversy to be stirred up surrounding Marvel's Avengers. Way back when the first trailer for Marvel's Avengers was unveiled last year, fans of the movies were less than enthused by the game's character designs. However, that was nothing compared to the frustration that gamers seem to have regarding this Spider-Man announcement.
Advertisement
Overall, the fan reaction to the latest Marvel's Avengers news has been mixed, to put it lightly. Kotaku apparently reached out to Square Enix for comment on the controversy, but the only response from the game's publisher was a redirect to the previously mentioned PlayStation blog post.
Despite the disappointment surrounding Spidey's lack of cross-platform availability, there are plenty of reasons for fans of the character himself to be excited. For one thing, it sounds like Spider-Man is a character that the developers are very passionate about. In the PlayStation blog post, Crystal Dynamics' Jeff Adams explained his love for the web-slinging hero. He also described this game's take on Spider-Man as "A familiar but fresh Spider-Man who needs to evolve to take on global threats alongside Earth's Mightiest Heroes."
According to Adams, a lot of work has gone into making sure that playing as Spider-Man feels exciting and new, yet true to the character. Spider-Man will have a variety of different web-based attacks, multiple cosmetic upgrades to swap out his classic costume, and extensive skill trees that can be leveled up along the way. Adams wrote, "An impressive suite of iconic abilities and attacks will be at your disposal, and you get to decide which gadgets and skills you wish to upgrade. These enhancements will be necessary for him to take on the threats coming his way."
Advertisement
There is also some good news for fans who are feeling burned by the console-exclusive Spider-Man DLC. The wall-crawling hero isn't the only Marvel mainstay making their way to Marvel's Avengers in free post-launch content. It was announced just last week that Clint Barton, a.k.a. Hawkeye, would be released as a DLC character shortly after the launch of the game. In addition to being able to play as Hawkeye, that DLC will also include character-specific missions that fans of the comics should be pretty excited for. We've already gotten to see a bit of Hawkeye in action via a pretty impressive teaser.
Sure, Spider-Man is all-around a much more prominent character than Hawkeye, but at least everyone will get the chance to play that particular DLC, regardless of platform.