The Real Reason You Recognize The Cast Of Twelve Minutes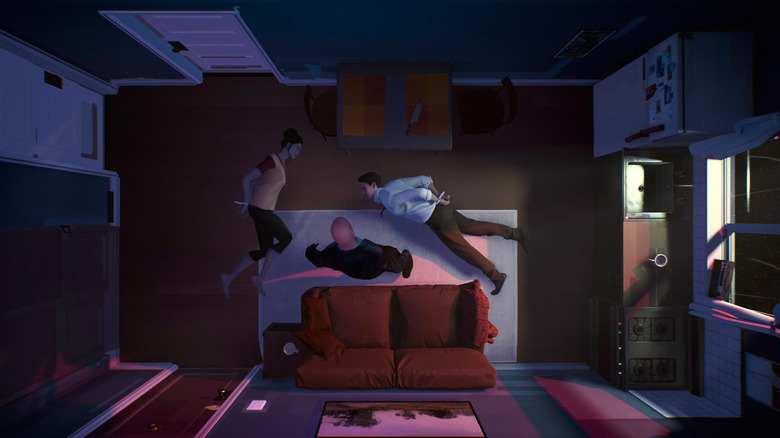 While there is still a lot that we don't know about the game's full plot, Twelve Minutes is already set to be one of the most bizarre games to be released this year. However, the game's latest trailer has revealed the amazing cast that will be bringing the game's character's to life, which in turn raised expectations even higher for the final product. 
Twelve Minutes is an upcoming interactive thriller game from Annapurna Interactive that focuses on a man caught in a time loop. Specifically, a time loop that lasts 12 minutes. As he sits down for a quiet meal with his wife, an intruder barges in and attacks them. Things go horribly wrong every time, then there's a hard reset, allowing the main character another chance to fix things. Each time, the loop will allow the player to make different suggestions and try different methods of defense. Twelve Minutes looks to be a fascinating mix of puzzle-solving and adventure game-style narratives. Now, it looks like the game is poised to be even more gripping, since it will have a star-studded cast delivering the dialogue throughout.
During Thursday's Gamescom Opening Night livestream, Annapurna Interactive released a new trailer for Twelve Minutes. This trailer announced that Twelve Minutes will feature the vocal talents of Willem Dafoe, Daisy Ridley, and James McAvoy. These names may already be familiar to many gamers and filmgoers. However, if you're having trouble putting a face to the name, here is where you may have seen them in the past.
Willem Dafoe has been nominated for four Academy Awards over the course of his acting career, receiving high praise for his performances in films such as Shadow of the Vampire and At Eternity's Gate. However, he may be best known to mainstream audiences for his memorable turns as villains in some major motion pictures. He played Norman Osborn/The Green Goblin in 2001's Spider-Man, a role he reprised in the that film's two sequels. This is also not Dafoe's first starring role in a video game. He previously voiced Norman Osborn in the video game adaptation of the first Spider-Man movie. He also played the main villain in James Bond 007: Everything or Nothing and had a supporting role in Beyond: Two Souls.
James McAvoy is a celebrated Scottish actor who also has a notable Marvel Comics connection. McAvoy is likely best known for his role as Charles Xavier/Professor X in several X-Men films, including X-Men: First Class and Deadpool 2. In addition to his extensive theatre resume, McAvoy can also be seen in such blockbuster films as It: Chapter 2 and M. Night Shymalan's Split. McAvoy most recently lent his voice to an all-star audio drama from the BBC, voicing the titular character in an adaptation of Neil Gaiman's Sandman comic series.
Daisy Ridley is best known for her role as Rey in the most recent Star Wars film trilogy, a role she reprised in multiple video games. Ridley has also made a name for herself with roles in such films as Murder on the Orient Express and Ophelia. She is also attached to the upcoming video game Baba Yaga, in which she will be portraying a character named Magda.
The official Twitter account for the game announced the cast with a new trailer and an enthusiastic message for fans: "So happy to finally be able to share that we'll be featuring James McAvoy, Daisy Ridley, and Willem Dafoe as the voices for our interactive thriller!"
Fan reaction to the news has been very positive, with some fans commenting their surprise at seeing such big names attached. It is truly pretty incredible to see such a star-studded cast for an indie game like Twelve Minutes. However, it is worth noting that many films and television projects have been put on hold this year due to the coronavirus outbreak. As one fan pointed out in the comments of the cast announcement trailer, this may become the norm in the near future. Fans may be right to expect big names hopping on board smaller game projects like this one while work has slowed down in front of the camera.
Twelve Minutes is set to be released for PC, Xbox One, and Xbox Series X. While it does not have an official release date at this time, it has already set itself up as a game to keep an eye on.With a cast like this, Twelve Minutes may end up being one of the most compelling titles of the year.