Marvel's Avengers: What It's Really Like Making A Superhero Video Game - Exclusive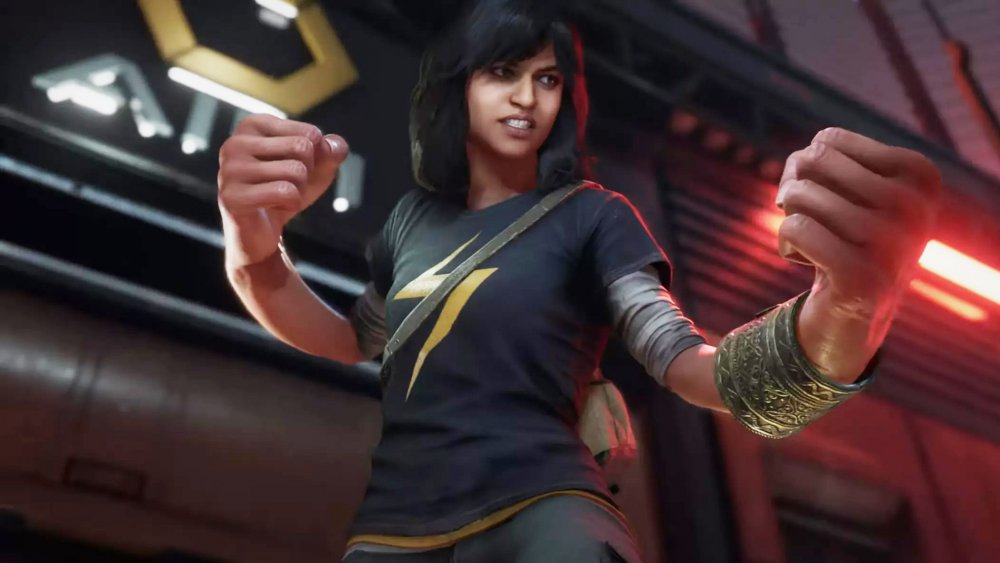 Marvel/Square Enix
Sandra Saad had no idea what she was getting into.
"I just thought it was a film or TV audition," Saad tells Looper in an exclusive interview, recalling her first try-out for Marvel's Avengers, a new superhero video game from Tomb Raider developer Crystal Dynamics and publisher Square Enix. "It didn't feel like a video game audition, because you usually just send in an audio clip."
Advertisement
Saad should know, too. Over the past few years, the actress has appeared in everything from Fallout to Call of Duty to The Elder Scrolls. Still, there was something different about this one. "They mic'd me up and I was in front of a green screen. It was very, very high-tech, and they were looking at all kinds of things that I wasn't used to," she says. "They were really looking at all my facial movements and the way my voice sounded."
Of course, in true Marvel fashion, the people in charge kept the project's real nature a secret, even from the talent. "I was like, 'Man, like what, what is this? Film, TV, web series? What is it? A video game?'" Saad remembers. But it wasn't until much later, after an unusual number of callbacks, that Saad learned the truth: Not only was she auditioning for a role in one of 2020's biggest video games, but she was also going to get to play Kamala Khan, the fan-favorite superhero also known as Ms. Marvel. 
Advertisement
"I didn't believe it," she tells us. "I was like, 'This can't be actual Marvel. This has to just be based on Marvel.'"
And yet, Marvel's Avengers is the real deal. It stars Captain America, Black Widow, the Hulk, and many other Marvel heavyweights; takes place in locations inspired by the comics; and features classic villains like MODOK and the Abomination. Its storyline is brand-new, but if you've seen the movies or read the books, you'll feel right at home beating on AIM's goons solo or with up to three friends during the game's 12-hour campaign and its post-game content.
That said, Saad took some convincing. "I didn't let myself believe it until I got on the mo-cap stage and met the Marvel people," she says. And that was just the beginning. After landing the role, Saad still had to film the thing.
Putting the motion in mo-cap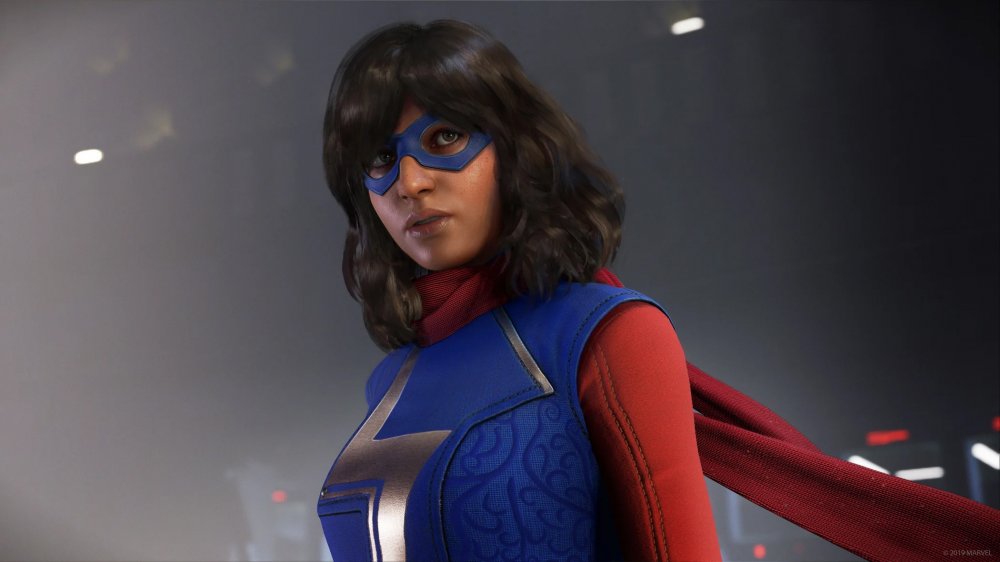 Marvel/Square Enix
For Marvel's Avengers, Saad didn't just provide Ms. Marvel's voice. She physically played the character using motion capture technology, too. Every time you see Kamala pump her fist, sigh, or give her teammates a high-five? That's all Saad's performance, albeit with a little extra flair thanks to Crystal Dynamics' animation team.
Advertisement
Avengers marked Saad's first opportunity working on a mo-cap stage, and she doesn't hesitate when asked to name the most important thing she learned from the experience. "What all that gear feels like," she says, laughing.
"Admittedly, saying that feels silly, but you never think of what all that mo-cap gear must feel like until you have it all on," she continues. "It took me probably a whole day to get acclimated to the weight of it. A lot of it can obstruct from an otherwise natural performance. After working with all those people who've done it a million times, you're quickly out of that. You're quickly [like], 'Oh, yeah. I know. That's fine. I'm just normal Sandra, walking now.'"
If getting used to the motion capture rig was tough for Saad, it's even harder on the stunt team, who must perform super-heroic maneuvers while balancing all of that equipment. "They're stunt people normally, but if they can also be stunt people in all that gear and just move like a regular body, it's so impressive," Saad says. In fact, Saad has nothing but kind words for Marvel's Avengers' stunt team, who did lots of the heavy lifting, physically speaking: "I have to credit my amazing body double. She takes on really tough stuff for me."
Advertisement
For Saad, the biggest challenge that came with motion capture was performing in front of a green screen, without the benefit of real props or costumes. "You have to have a great imagination," she says, "because you do have all these other things that would normally work against you. You have a bunch of people sitting down having coffee in front of you, and pool noodles and cameras, a ton of people and a ton of cameras and gear everywhere. You have to keep in your head what the character's actual surroundings are."
Assembling the Avengers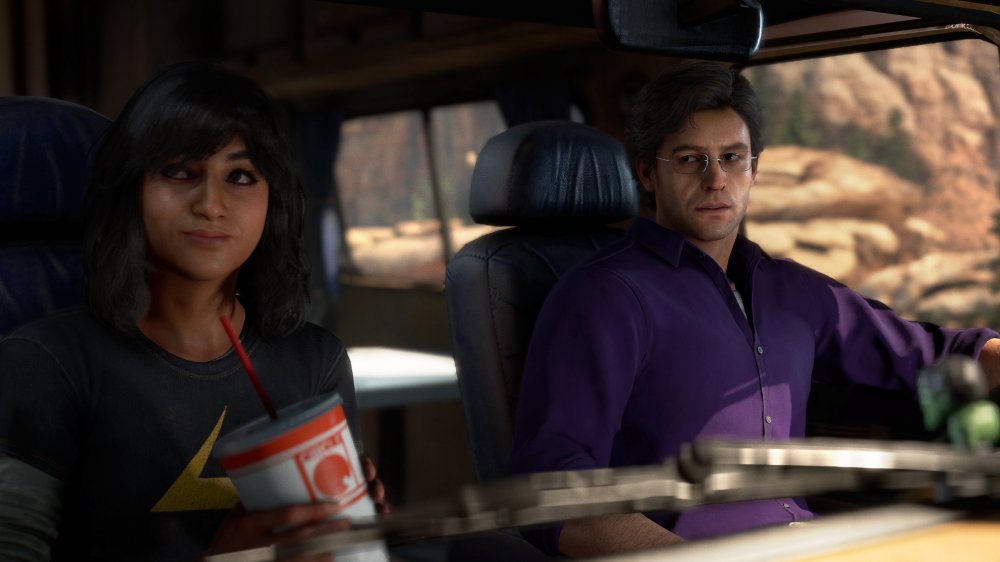 Marvel/Square Enix
Thankfully, Saad didn't have to go it alone. On Marvel's Avengers, Saad is surrounded by some of the biggest names in gaming. Uncharted's Nolan North voices Tony Stark. The Last of Us' Troy Baker is Bruce Banner. Laura Bailey — who's been in both of those franchises as well as Gears of War, World of Warcraft, and, in a Marvel-twofer, Sony's Spider-Man – plays Black Widow. Critical Role star Travis Willingham appears as Thor, and Resident Evil 3 and Final Fantasy VII Remake's Jeff Schine voices Captain America.
Advertisement
"They're giants in the industry, and it's just really nice to experience each one of their different processes on stage and to see them go from person to superhero in seconds," Saad tells Looper. It helps that, for the most part, the Avengers cast recorded their scenes together. While Saad had some scenes by herself, the entire crew shared the set as much as possible. "It's really nice getting to connect with other actors," Saad says.
But the cast is only one piece. As Saad explains, having to rely on your imagination while filming on a green screen can be hard, and it's a lot easier when talented people are running the show: "Having an amazing director really, really helps inform what's around you."
Advertisement
In Marvel's Avengers director Shaun Escayg, she found one. "I've done a lot of comedy training and I've worked with a lot of people, directors and stuff. Shaun is something else," Saad says. "He just knows what to say to each person. Also he's very tech-savvy, which I feel like you really need for mo-cap. He knows exactly what to ask for from a cameraman versus an audio person, versus his visual effects crew. The guy is very smart."
The thing that makes Escayg extra-special, according to Saad, is that he intuitively knows how to work with individual actors, all of whom have their own, unique quirks and styles. "He's amazing at knowing how to get into my head, as opposed to knowing how to get into these other people's heads," she notes. "When you give that to a smart artist, or when you give that to somebody who is as passionate an actor as Troy, for instance, then you really, really get something beautiful."
Still, that doesn't mean that making Avengers wasn't hard work. Filming, which took place in fits and starts, lasted for a couple of years. While Saad didn't have any fight training for the role, she did have to do some action scenes, which meant studying Crystal Dynamics' combat designs in order to figure out the right movements. Finally, Saad had to contend with the pressure that comes with bringing a fan-favorite comic book character in her highest-profile appearance yet.
Advertisement
For the actress, it was worth it. "Every time I get on that stage with Shaun and with those incredible actors, I say to myself, 'This is the best day I've ever had in my life,'" says Saad. "It's just such a rewarding role for an actor that I always feel like the best days of my life can't be topped, until I go in again."
Marvel's Avengers launches on Friday, September 4, 2020 on PC, PlayStation 4, and Xbox One.