This Xbox Option Could Be The Nail In PS5's Coffin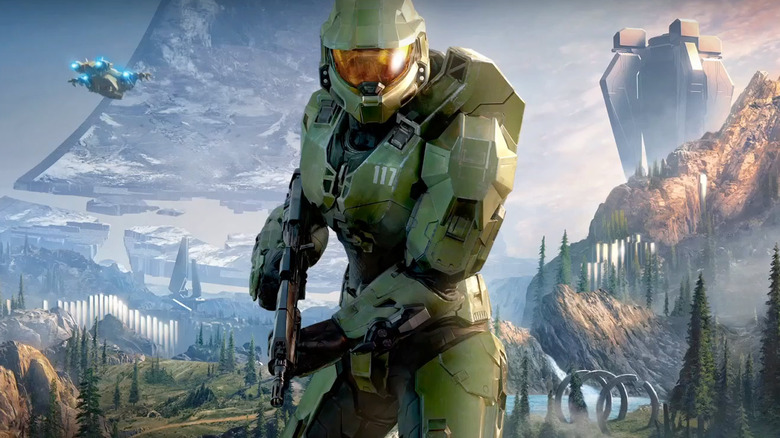 The next console generation is just months away from launching. The Xbox Series X is scheduled to launch sometime in November, while the PlayStation 5 is expected to join sometime in the upcoming holiday season. In other words, hype is at an all-time high. Analysts have previously predicted that the PlayStation 5 would seriously outsell the Series X, making its future a bit more uncertain. However, it now seems that Xbox might have an incredible plan in store for gamers that could give the company a leg up on the PlayStation 5.
The rumors of Xbox's latest marketing plan for the Xbox Series X have been popping up alongside details concerning that console's companion, the Xbox Series S. While the design and price of the Xbox Series S has finally been confirmed by Microsoft, there are several other details of these rumors that have yet to be verified. Still, they're definitely worth addressing, particularly when they sound so enticing.
One of the earliest reports regarding the Xbox Series S leaks came from Windows Central. Along with the proposed price point for the Series S and the images of the console, Windows Central reported that the Series X price may also have leaked. Not only that, but Windows Central wrote that the Series X may launch along with an interesting financing bundle that could quite literally change the game for potential buyers. According to Windows Central, the Series X may end up retailing at $499 — $200 more than the official Series S price. In addition, Windows Central says that Microsoft might offer "a $35 per month Xbox All Access financing option."
This would be huge. Xbox All Access is a financing option introduced during the current console generation that essentially gets gamers all set for gaming on the Xbox One. For $20 a month, gamers can finance an Xbox One console and receive Game Pass Ultimate, which gives them access to online play and a catalogue of over 100 games. This new financing plan would allow gamers to snag the next-gen console and continue with the Game Pass Ultimate subscription for just an extra $15 dollars a month. If this turns out to be accurate, then Xbox may have a winning strategy on its hands.
The reason that this leak should probably be given a bit more attention is the fact pretty much every other aspect of these latest leaks reported on by Windows Central has since been more or less confirmed. The leaks on Twitter essentially forced Microsoft's hand, which in turn led to the official announcement of the Series S and its exciting price point. In other words, it wouldn't come as too much of a surprise for Microsoft to confirm this proposed Xbox All Access plan in the near future.
It's worth remembering that every game showed off during July's Xbox Games Showcase will be available for Xbox Game Pass on launch day. This basically means that people who buy a Series X will have access to every single first-party game that comes out for the system for only $35 a month. If you are the kind of person who likes to check out every new first-party release, then this option sounds like a dream come true. Still on the fence about Halo Infinite? No problem; you will be able to try it out through Game Pass.
Xbox really seems to be gaining some steam going into the next console war. It was just this morning that the company unveiled the price point and design for its upcoming Xbox Series S console. The Series S is designed to be the disc-less alternative to the Series X, much like the PS5 Digital Edition is to the standard console. The Xbox Series S is officially priced at $299, making it the first console of the next generation to have an official retail price attached to it. 
While the PS5 is expected to a powerhouse machine, it doesn't seem as though Sony has any plans for a similar financing option, which could hurt sales if the price is too steep. PlayStation also doesn't have anything quite similar to GamePass. The only thing that could even come close would be a bundle deal that offered players a PS Now subscription, but that service doesn't include new release titles.
This announcement should get the ball rolling on similar announcements from both Microsoft and Sony, and not a moment too soon, considering how close the holiday season is getting. Things are definitely heating up between Xbox and PlayStation. However, these latest reveals from Xbox may have just put it on top.