Ubisoft's Zelda Clone Is Causing An Uproar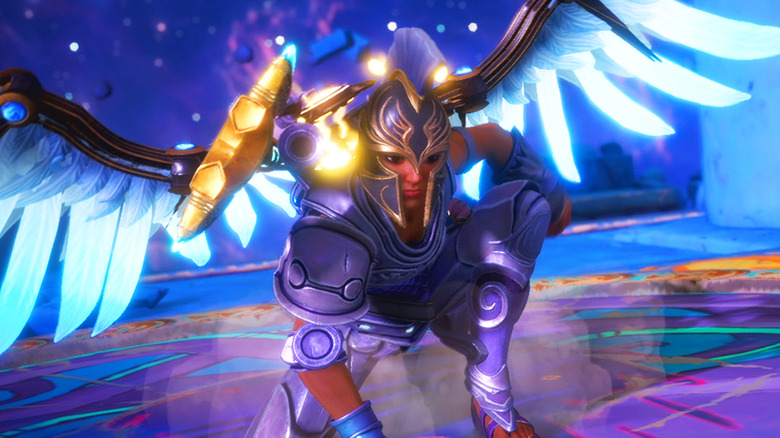 The Legend of Zelda: Breath of the Wild is one of the most beloved entries in the long-running fantasy franchise. That's why people are flipping out over a game that seems to be copying quite a bit of that game's look and feel: Ubisoft's Immortals Fenyx Rising.
Advertisement
If the name doesn't ring a bell, that may be because Immortals Fenyx Rising was originally announced back in 2019 as God's & Monsters. However, it was leaked at the end of last week that the game's title had been changed and that it had gone through a significant visual overhaul. This was met by some skepticism from gamers who were excited to play the title in its original incarnation. However, it was the game's big showcase during this week's Ubisoft Forward that really seemed to sour some people on the whole concept. To put it lightly, Immortals Fenyx Rising is reminding people a lot of The Legend of Zelda: Breath of the Wild.
Fans on social media have expressed their surprise and frustration regarding Immortals Fenyx Rising. One fan said that the apparent ripoff was "Really really disappointing." Another person said that it seemed like Immortals Fenyx Rising was worse than just a copycat, but that it was actually a clone made by a team that didn't understand what made Breath of the Wild such a landmark game to begin with.
Advertisement
However, this observation wasn't unique to regular fans. Even professional gaming publications have pointed out that Immortals Fenyx Rising bears more than just a passing resemblance to Breath of the Wild. Several journalists have had the opportunity to go hands-on with Immortals Fenyx Rising, and the results have been decidedly mixed. 
While he enjoyed the writing and some of the puzzle-solving in the game, Jordan Oloman of NME said he was "disappointed" in the overall experience. He concluded that Immortals Fenyx Rising is "an egregious Breath of the Wild clone that misunderstands a few of the fundamental things that made that game great."
Eurogamer video producer Zoey Delahunty-Light shared side-by-side screenshots from both games to illustrate how similar the two were. She also promised that a video would be coming soon that highlighted more similarities between the two games.
GamesRadar+ had an opportunity to speak with the developers of the game regarding the similarities. According to game director Scott Phillips, the game was inspired by everything from Assassin's Creed to Super Mario Odyssey to even Studio Ghibli films. However, Phillips did acknowledge that people were noting the similarities between Immortals Fenyx Rising and Breath of the Wild.
Advertisement
To that point, Phillips told GamesRadar+, "For us, it's cool to be compared to Breath of the Wild. It's obviously considered a masterpiece. It's a fantastic game," explains Phillips, before adding, "I think any time you make a game, you're going to be compared to something else, because all game creation, all art creation, all everything is... you know, you build from what you know, and you create something new."
It almost feels like all of the controversy could have been avoided if the game stayed true to its original design. It's also worth noting that Immortals Fenyx Rising also isn't the first major game to seemingly ape the look and gameplay mechanics of Breath of the Wild. Last year, the internet was up in arms over the announcement of Genshin Impact. That game was made by Chinese developer MiHoYo for the PlayStation 4, and the similarities to Breath of the Wild were immediately apparent. Everything from the art style to the menu design and even some of the puzzle-solving seemed to have been closely copied from the beloved Legend of Zelda adventure. Naturally, fans were displeased. In a display of protest, one disgruntled Zelda fan even destroyed his PlayStation 4 on the show floor of the China Joy convention.
Advertisement
While Immortals Fenyx Rising isn't likely to cause anyone to obliterate their consoles, comparisons to the Genshin Impact debacle have been made, which isn't too surprising. Some people seem to think that Immortals Fenyx Rising actually copies more from Breath of the Wild than Genshin Impact did. Meanwhile, there are others who are thrilled to see so many new games taking cues from Breath of the Wild. Even though video game clones have caused an uproar in the past, gamers usually like to have more of a good thing, right?
Genshin Impact arrives later this month, while Immortals Fenyx Rising debuts in December. If you're not wanting to wait for the arrival of the next Legend of Zelda game, then at least these clones may be able to tide you over.