Leak Suggests Ubisoft's New Game Is Coming This Year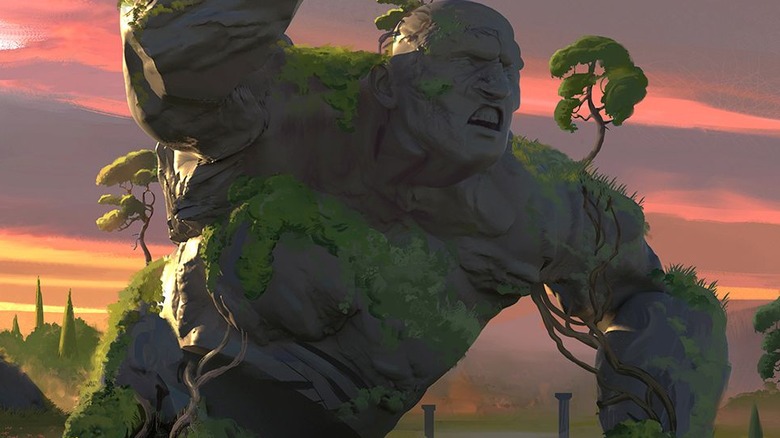 Ubisoft has a pretty impressive slate of new games on the way, including Watch Dogs: Legion and Assassin's Creed: Valhalla. Now, thanks to an apparent leak on the Xbox Live store, gamers may finally know the release date for another highly-anticipated Ubisoft title: Immortals Fenyx Rising.
If that name doesn't sound super familiar to you, it's because Immortals Fenyx Rising was originally titled Gods & Monsters. Just a few days ago, Ubisoft UK announced on Twitter that the Gods & Monsters title was "no more." The developer tweeted a brief video announcing the new title of Immortals Fenyx Rising. Ubisoft also announced that more information on the upcoming game would be revealed during the Ubisoft Forward livestream presentation on September 10.
Apparently, at some point in the last 24 hours, a listing for the game was put up on the Xbox store. It has since been deleted, but noted game info leaker Wario64 managed to snag multiple screenshots of the listing, which he then shared on Twitter.
According to Wario64 and the accompanying listing, Immortals Fenyx Rising will be released on December 3, 2020. The game will also support Smart Delivery, which is the system being used by Microsoft to support cross-gen upgrades for older video games. In other words, anyone who snags Immortals Fenyx Rising for the Xbox One will be entitled to an upgrade of the game for the Xbox Series X. This is especially good news when one considers the fact that this game will be released the month after the Series X arrives in stores.
If Immortals Fenyx Rising really is coming out in early December, then that doesn't leave much time for a marketing push between the Ubisoft Forward and the release of the game. Then again, Gods & Monsters/Immortals Fenyx Rising has been in development for so long that people will be more or less familiar with it by the time it drops. Still, it's odd to see a title change like this so close to a game's release window.
Some news outlets, such as Kotaku, have reached out to Ubisoft for a comment on the alleged leak. However, Ubisoft has yet to respond to any of these requests. It is entirely possible that the listing had a placeholder release date and the game may be out later than December. Whatever the case, this latest leak has seemingly answered one question and raised several others.
Despite the hype surrounding the game, there are a few reasons why fans are more cautious about the game after this leak. As can be seen in the replies to Wario64's post, some fans are concerned that the name change may be indicative of a certain lack of quality in the finished product. Hopefully that isn't the case, and Ubisoft's market research is what actually led to the significant change. Some people have also speculated that the name change may have come from some kind of trademark issue with another license or property.
Other fans are disappointed to see that the game apparently went through a major change in art style. The screenshots shared by Wario64 seem to have a more "realistic" feel to them, which stands somewhat apart from the time and presentation of the earlier released footage. Gods & Monsters/Immortals Fenyx Rising was notably one of three Ubisoft titles that were infamously pushed back from their original release windows. In a statement released last year, Ubisoft's Yves Guillemot explained that this was being done so that the game's development teams could realize these new titles to their full potential. It seems that part of that extra time was spent giving the game a complete stylistic overhaul, which isn't sitting too well with some gamers.
Immortals Fenyx Rising has had a long road to release. According to an interview from last year, Ubisoft began developing the idea for the game that would become Immortals Fenyx Rising while working on Assassin's Creed: Odyssey. The result was a game that left behind all of the limits that are imposed on a franchise like Assassin's Creed.
As explained at the time by Immortals Fenyx Rising creative director Jonathan Dumont, "We really connected with the mythological aspects of ancient Greece. The gods, the monsters, the legends, the myths are all great, but building an Assassin's Creed game limits what you can tap into." Hopefully the game can still live up to those promises in its new state.
Gamers may finally know when to expect the release of Immortals Fenyx Rising, but it's starting to look like it will be a very different game by the time it's actually available. Hopefully many of these worries and questions will be cleared up during the Ubisoft Forward on September 10.