Series S Fans Just Got Terrible News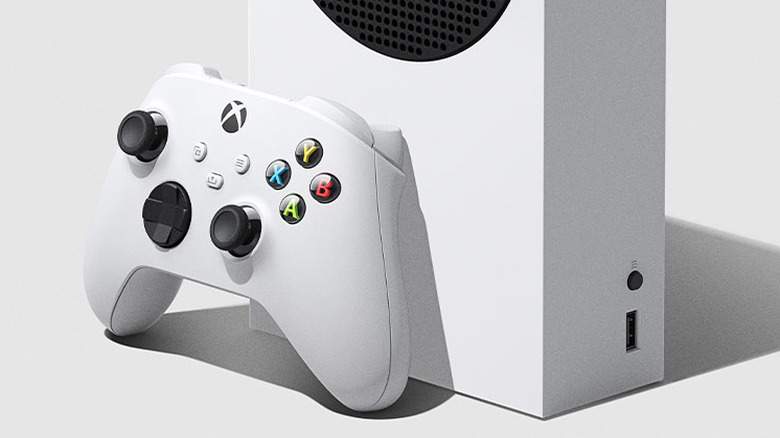 Microsoft
Last week brought the surprise reveal of not only the Xbox Series S, but the price point and release date for the Xbox Series X. Over the last week, Microsoft has released plenty of details regarding these brand new consoles. While Microsoft has been adamant about giving customers a higher level of choice in the next console generation, a recent reveal has cast doubt on whether or not the Series S really is the budget system that gamers have been hoping for.
One of the features that has had fans excited for the Xbox Series X is the range of backwards compatibility options available to gamers. The Series X's Smart Delivery system will allow gamers to upgrade their Xbox One games to the optimized Xbox Series X versions. Meanwhile, gamers can also play the Xbox Series X optimized versions of those games with upscaled graphics on the newer console. 
According to a report from VGC (which has since been confirmed by Xbox), the Series S will still upscale Xbox One games, but they will be the Xbox One S versions of those games, rather than the ones seen on the more powerful Xbox One X. Confused?
As explained by VGC, "Xbox Series S was designed to be the most affordable next generation console and play next generation games at 1440P at 60fps. To deliver the highest quality backwards compatible experience consistent with the developer's original intent, the Xbox Series S runs the Xbox One S version of backward compatible games while applying improved texture filtering, higher and more consistent frame rates, faster load times and Auto HDR."
In other words, the Series S apparently doesn't have the available RAM to play both next-gen games and to be able to run the Xbox One X versions of older games. However, this doesn't necessarily mean that Xbox One games won't still see a noticeable improvement when played on Series S. According to VGC, John Linneman of Digital Foundry has pointed out that there are still plenty of advantages afforded to gamers who play older games on the Series S.
"It may be be running backwards compatible games in Xbox One [S] mode, but because the GPU is so much more capable ... you should actually still be able to clean up performance issues," said Linneman. "So games that maybe struggled on Xbox One S – either the dynamic resolution was overly-aggressive, with slowdown and things like that – conceivably they could actually run noticeably smoother on this machine."
Some fans are disappointed by this news, with more than a few expressing their desire for a disc-less console with the Series X's specs. These fans may be in luck, as a recent leak has suggested that Microsoft is indeed planning that very thing for its console line. Rumors abound concerning a possible mid-tier next-gen Xbox console, the Xbox Series V, which may make its debut either alongside the Series S and X, or shortly afterwards. However, those rumors should still be taken with a grain of salt until Xbox gives the official word.
Others seem to think that this limitation isn't that big of a deal. As one fan again pointed out, the console will still run at an impressive resolution and will afford gamers plenty of backwards compatible titles. 
One of the most common complaints regarding this latest news hasn't had much of anything to do with the specs of the consoles. Instead, some people are seemingly just getting super confused by the naming conventions of Xbox consoles. This confusion has led to some people not fully understanding which system is capable of what. Microsoft has previously been accused of creating "a confusing mess" with the announcement of the Series S, and the response here from fans would seem to support that feeling. Unfortunately for fans, these are the console names that Xbox gamers are saddled with for the foreseeable future. 
The good news here is that this limitation also doesn't mean that the Xbox Series S isn't still an impressive console in its own right. As displayed in a recent presentation from Xbox, the Series S is capable of many of the other highly-anticipated features expected of the Xbox Series X. This includes the system's Quick Resume feature, which allows gamers to swap between multiple games on the fly and eliminates load times almost entirely. During this tech demonstration, the Series S was shown to load into The Outer Worlds nearly a full minute faster than the Xbox One S. 
So, sure, the news that the Series S won't have the same upscaling as the Series X for older games is a disappointment. However, there is still plenty to look forward to when the new consoles make their debut. The Xbox Series X and Xbox Series S are set to launch Nov. 10, 2020.