We Finally Know The Series X Release Date And Price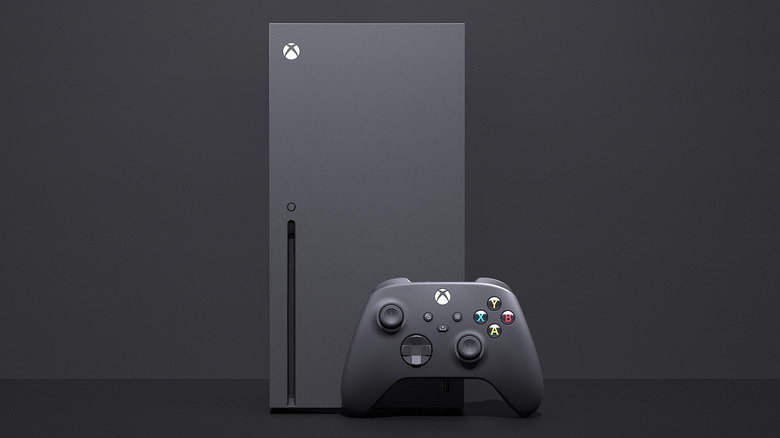 The Xbox Series X was first announced back in December 2019, and fans immediately had a million questions. Along with wondering how much the system was going to cost, everyone wanted to know exactly when the system would be released in stores. The announcement of the Series X came with a promise of "Holiday 2020," but nothing more concrete than that. Now fans finally know when they will be able to purchase an Xbox Series X of their very own, and how much it'll cost them.
On Sept. 9, following the leak and official announcement of the Xbox Series S, Microsoft decided to finally spill the beans and announce the release date and price for both of its upcoming consoles. The Xbox Series X and Xbox Series S will arrive on Nov. 10, 2020. As for the price points, the Xbox Series X will retail for $499, while disc-less Series S console will sell for $299. Preorders for the console start very soon, beginning on Sept. 22.
The time leading up to this announcement has been an interesting one, especially considering some of the bumps in the road experienced along the way. In fact, the company has been very open about the fact that not everyone is going to be comfortable paying for one right now.
In June, Xbox head honcho Phil Spencer got everyone talking when he explained how the company was looking at the release strategy of the console. Spencer told the BBC that the company has been very aware of the current economic hardships faced by many Xbox customers. Due to lockdowns and closures in the wake of COVID-19, people began questioning whether this was the right time to release a new console.
At the time, Spencer said, "If this is not the year when a family wants to make a decision to buy a new Xbox, that's okay. Our strategy does not revolve around how many Xboxes I sell this year."
Instead, Xbox put more of an emphasis on supporting existing customers. By offering the Smart Delivery system, customers are entitled to a next-gen upgrade for any cross-gen game they purchased before the release of the Xbox Series X. This made it so that customers could continue purchasing new products without the fear of missing out, especially since Xbox has been seriously encouraging publishers to offer these upgrades free of charge. 
Despite this fact, some of the cross-get upgrade paths for these consoles have been terribly confusing for gamers. One of these confusing cases has been the upcoming Call of Duty: Black Ops – Cold War, which has an upgrade path so twisted that it almost seems like fans are better off waiting for the next-gen version to release. Luckily for them, the new release date for the Xbox Series X and Series S puts both consoles on the market a few days before Black Ops – Cold War's Nov. 13 launch.
Still, Microsoft's approach to giving customers more choices has been further exemplified in some of the design choices made for the Series X. This included the decision to use AA batteries to power the Series X controller, although an optional battery pack will also be available on the market. Microsoft also nixed some features in order to save on costs, such as the optical audio port that many hoped would be part of the console.
It's also worth noting that the option of delaying the release of the Xbox Series X was never seriously considered. Back in April, Spencer told IGN that there was no "Plan B" in place for the Xbox Series X launch. He explained, "We have nothing right now that says we're not going to make the dates that we've been planning."
As Spencer implied, it will be up to the consumer whether or not Microsoft has been able to provide affordable choices. There seem to be plenty of options for longtime fans and new gamers alike. All of that aside, it's exciting to finally have a solid price point and release date to attach to the Xbox Series X.
Exclusives for the Xbox Series X include such highly-anticipated titles as Senua's Saga: Hellblade 2 and Avowed. While Halo Infinite was meant to be a flagship launch title for the new console, it has unfortunately been delayed until 2021. Despite this setback for one of Xbox's biggest franchises, Xbox fans are still likely to be very happy when they can finally get Microsoft's next-gen console in their hands.