What PlayStation Plus Collection Really Means For Gaming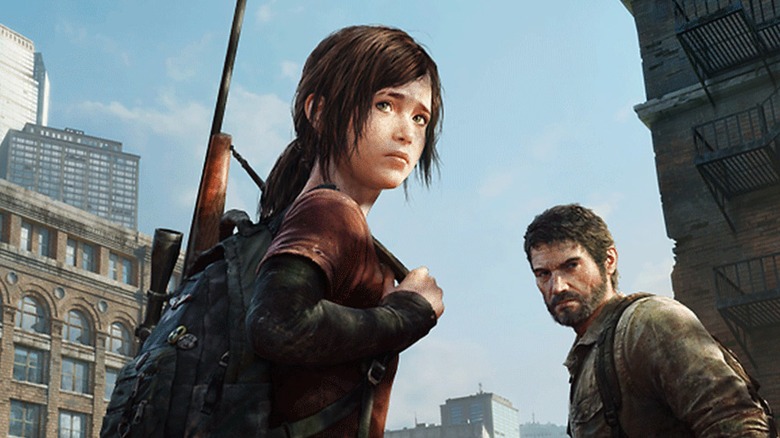 Sony dropped a lot of news today during its PlayStation 5 showcase, but there's one announcement that might fly under the radar. It wasn't tied to the PlayStation 5's price or release date. It wasn't about one particular game, either. It was about a whole bunch of games, available to PlayStation Plus subscribers who buy a PS5.
The PlayStation Plus Collection seems, at first glance, to be a catch-up mechanic for those who either didn't own the PlayStation 4 or missed some of its biggest games. The Collection doesn't cost anything extra — there's no additional fee tacked on to the PlayStation Plus subscription. But it lets PlayStation 5 owners download and play titles like God of War, Uncharted 4: A Thief's End, and more all the same.
Upon counting, the final tally rests at 18 games. For no additional cost on top of a PlayStation Plus subscription — which will likely be required once more for online gaming — players get 18 pretty good PlayStation 4 games they can check out on their PlayStation 5. The question is, why is Sony doing this?
It's possible Sony felt compelled to offer something akin to Microsoft's Xbox Game Pass. The folks in Redmond are heavily pushing Game Pass, so much so that there was an Xbox event back in July that featured nothing but Game Pass titles.
Sony already does offer something similar to Xbox Game Pass in PlayStation Now, which hosts an enormous library of PlayStation 2, PlayStation 3, and PlayStation 4 games. But PlayStation Now is primarily focused on cloud gaming. There are downloadable PS2 and PS4 games, but the draw of PS Now is the lineup of PlayStation 3 games that can be streamed to your PlayStation 4 or PC.
Perhaps Sony thought it could one-up Xbox Game Pass by including these games in a $9.99 per month PlayStation Plus subscription. This is something Microsoft doesn't do with Xbox Live. To get Xbox Live and Xbox Game Pass bundled together, gamers need to pay $14.99 per month for Xbox Game Pass Ultimate.
It's also possible Sony saw an opportunity to use the PlayStation Plus Collection as a way to sell players on sequels. The Last of Us: Remastered will be included in the PlayStation Plus Collection library, and though there's a PlayStation 4 version of The Last of Us Part 2 out now, one has to assume Sony will offer a PlayStation 5 upgrade at some point. Ratchet & Clank will be available in the PlayStation Plus Collection, as well, and there's a sequel on the way for that and for God of War.
There exists another potential explanation, however, and it might be one that means an even bigger change is taking place with PlayStation Plus.
At present time, PlayStation Plus on the PS4 offers two free games per month to subscribers. These games aren't always winners, but there have been plenty of gems. In fact, you can probably credit PlayStation Plus for the success of games like Rocket League and Fall Guys: Ultimate Knockout.
With the PlayStation Plus Collection, perhaps Sony is moving away from the monthly free games in favor of an instantly available library of titles. This would start every PlayStation Plus subscriber off with a collection of games to play on PlayStation 5, and would enable Sony to get out of the monthly free games arms race.
If the PlayStation Plus Collection's library is fluid — meaning games can enter and leave — Sony won't have to give players access to those titles forever. Even better: Sony can potentially get a purchase out of those who want to keep playing a game that's no longer available through the PS Plus Collection.
Would PlayStation fans be okay with that, though? That's something worth asking.
Because the announcement for the PlayStation Plus Collection happened today, and because Sony hasn't offered more details about it, its purpose remains unknown. It's not entirely clear what Sony is angling to achieve through the PlayStation Plus Collection, or how exactly it'll operate once it goes live.
If the Collection is a way to challenge Microsoft and Xbox Game Pass, the competition is a win for gamers. If Sony is hoping to sell players on newer games, those players are still getting some stellar titles without paying extra.
If the PlayStation Plus Collection is meant to replace the free games available through PlayStation Plus, however, some fans might have a problem with that. They'll be getting a nice big library at the beginning, sure. But the games won't be theirs to keep as long as they're subscribed to PlayStation Plus. You can definitely imagine some PlayStation fans taking issue with that.
If Sony comments further on the PlayStation Plus Collection and how the whole system operates, we'll be sure to let you know.