Xbox Just Crushed PS5 Players' Hopes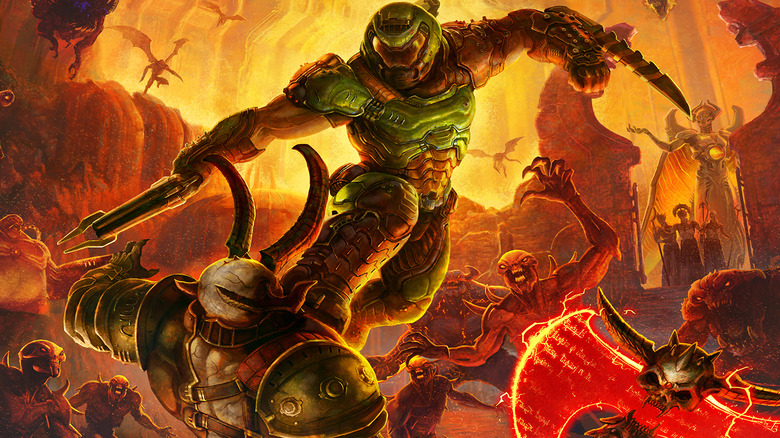 Video game fans were shocked last week when Microsoft announced its plans to buy ZeniMax Media, the parent company of Bethesda Softworks. This means that Microsoft will soon have ownership over every studio in Bethesda's stable, including id Software and Arkane. This naturally led fans to wonder if Bethesda's biggest franchises would soon become Xbox exclusives. Recent comments made by Xbox boss Phil Spencer and Bethesda founder Chris Weaver would seem to indicate that PlayStation fans may be in for a big disappointment.
During an interview with Yahoo Finance, the topic turned to the acquisition of Bethesda. Specifically, Spencer was asked how Microsoft's latest purchase would change the availability of Bethesda's games on platforms other than Xbox. Spencer's answer was pretty diplomatic, but it still doesn't sound like great news for PlayStation fans who are looking forward to future Bethesda titles.
"[W]e want to make sure that subscribers to Game Pass feel like they have the consistent set of games to go play," replied Spencer. "In terms of where games will show up, our commitment is that our games will show up in Game Pass, and on PC, and on console, and be available in xCloud."
Spencer explained that Xbox customers should look at the ZeniMax acquisition as "a huge investment in the experiences ... that they're gonna have in the Xbox ecosystem." Spencer concluded, "[W]e want Xbox ecosystem to absolutely be the best place to play, and we think game availability is absolutely part of that."
Perhaps the most important thing to note about Spencer's latest statement is just how carefully everything was worded. It seems pretty clear that Spencer was taking pains not to say anything definite one way or the other. Of course, this is a smart move on his part. He doesn't want to put his foot in his mouth, just in case the deal ends up not going through for whatever reason. It also allows Xbox to remain somewhat cagey on the topic of console exclusives, just so that their customers don't accuse them of flip-flopping if or when a Bethesda title makes it way to a Sony platform in the future.
On that same token, it should be noted that the deal between Microsoft and ZeniMax Media isn't expected to officially close until sometime in 2021. In other words, projects that are already planned to be cross-platform releases before then will probably remain so, such as the upcoming Doom Eternal DLC. Bloomberg's Jason Schreier also confirmed that the timed PS5 exclusivity deals for both Deathloop and GhostWire: Tokyo will still be honored. After that, however, it's highly likely that the majority of Bethesda's titles will be exclusive to Xbox platforms. After all, it wouldn't make much sense for Microsoft to spend so much money on acquiring ZeniMax, only to then allow Bethesda to keep making games that went to other platforms.
Fan reaction to this news has been mixed, to say the least. Some people are excited to see Bethesda finding a home at Xbox Games Studios. Others feel like this is an unfair move on Microsoft's part. For example, one fan pointed out on Twitter that it might be better for gamers to know if all future Bethesda games will be exclusive to Xbox before they decide which new console to buy. However, as stated previously, it's pretty much impossible for Xbox to say something definitive in that regard before the deal has been legally completed. In a rather wholesome response, one PlayStation fan tweeted that he was happy for Xbox to have a competitive leg up like this.
It should also be mentioned that Phil Spencer was a lot more even-keeled in his answer than Bethesda founder Chris Weaver has been. Weaver left the company back in 2002, but he seems to still have his finger on the pulse in many areas of the gaming industry. In an interview with Inverse, Chris Weaver said plainly, "I think this is an extremely interesting acquisition on the part of both groups ... There are only a limited number of proven creators of AAA. What Microsoft owns, Sony cannot get."
It doesn't really get any more cut and dried than that, does it? While it may not be the news that PlayStation fans want to hear, it sounds like some would be totally on board with the idea of Bethesda creating games exclusively for Microsoft platforms. The likelihood of highly anticipated games like Starfield or Elder Scrolls 6 seeing a release on the PlayStation 5 seems to grow slimmer by the day.
Whether you're a fan of the deal or not, it's an incredibly smart move on Microsoft's part. It's another clear sign that the company is taking a more aggressive approach to providing its customers with premium content. Microsoft has been taking some pretty pointed shots at PlayStation, but the acquisition of Bethesda shows just how far the company is willing to go to stay competitive.