Xbox Just Took A Huge Shot At Sony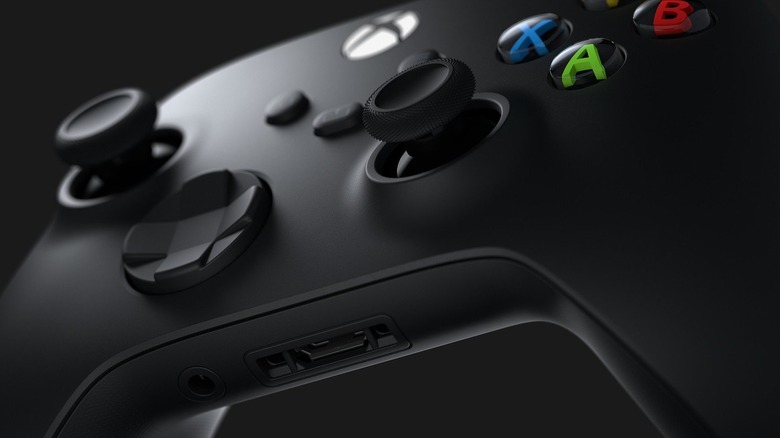 With both the PlayStation 5 and the Xbox Series X arriving in November, the competition between the two gaming giants is definitely heating up. With that in mind, it's no surprise that one company has made some jokes at the other's expense. In recent weeks, Xbox has thrown a bit of shade toward the PlayStation brand, with hilarious results. In the process, Xbox has also highlighted some of the ways that PlayStation may have dropped the ball heading into the new console generation.
It all seemingly started last month, when Sony explained to fans some of the limitations of the PS4's accessories. Specifically, it was revealed that the PlayStation 4's DualShock 4 controller is not compatible with PS5 games. In order to get the full experience of the PS5, gamers have to play with a DualSense controller. This isn't a huge surprise, considering the advancements made with the DualSense. However, some fans were apparently disappointed by this news, which is where Xbox stepped in with some playful snark.
Shortly after this announcement from Sony, Xbox Marketing Lead Samuel Bateman tweeted, "Just a reminder that you can use all your Xbox One controllers with the Xbox Series X (both XB1 and XSX games)." Bateman also told gamers that they could even use the newer Series X controller to play games on the Xbox One. It was some sneaky timing on Bateman's part, but it also helpfully reminded gamers of all of the options afforded to them with the Xbox line.
Earlier this month, Xbox had a pretty pointed answer to the fiasco surrounding PlayStation 5 pre-orders. Sony had been promising for a while that the company would not surprise fans by launching pre-orders without a heads up. Unfortunately, the company did just that, which led to a mad dash. PlayStation 5 pre-orders were sold out within minutes, leading to customers trying to figure out how they could still get a PS5.
In response, Xbox tweeted the date for its own pre-orders a week in advance. The company also assured its followers that an exact start time for the pre-orders would be announced well in advance. However, it should be noted that the Xbox Series X pre-orders caused an uproar as well, with some reports suggesting that a ton of confused customers may have accidentally purchased Xbox One X consoles instead. Still, that sassy tweet was ultimately a very clever way for Xbox to double down on its differences from PlayStation's marketing strategies. 
Xbox UK even got in on the fun earlier this week. PlayStation has been getting a lot of flak over how confusing it is to try to upgrade cross-gen games. Call of Duty: Black Ops – Cold War has a confusing upgrade path, but that's nothing compared to how Sony is handling upgrades for the upcoming Ultimate Edition of Spider-Man: Miles Morales.
The short version is that the Ultimate Edition comes with a full remaster of 2018's Marvel's Spider-Man for the PS5. However, gamers who buy Miles Morales for the PS4 have to pay a fee to upgrade to the Ultimate Edition on the PS5, and anyone who wants to simply upgrade their copy of Marvel's Spider-Man from PS4 to PS5 cannot do so. The only way to get the remaster of Insomniac Games' 2018 superhero masterpiece is to buy the Ultimate Edition of the new game.
Yes, it's wildly confusing. It also led to Xbox UK posting a Twitter thread telling customers that it was going to provide step by step instructions on how to upgrade their pre-existing games. The only step listed was "Just buy the game."
This actually points out the biggest difference between PlayStation and Xbox when it comes to upgrading older games. For months, Xbox has been pushing for upgrade paths to be as simple and self-explanatory as possible. Xbox has even encouraged publisher to offer next-gen upgrades of Xbox titles for free. On the other hand, PlayStation has been non-committal on this front. When it comes to the PS5's own approach to Smart Delivery, the company has been leaving upgrade paths and prices up to the discretion of individual game publishers.
Fans of the Xbox brand have responded especially well to this latest PlayStation roast. One gamer tweeted that the Xbox Series X was the way to "play games you already own." Others simply shared screenshots of a PlayStation blog post that attempted to explain the confusing upgrade path for Miles Morales, allowing that to speak for itself.
By offering customers an easier upgrade path for their pre-existing games, Xbox has definitely secured a bit of an edge in the transition to the next console generation. At this point, the company has also more or less earned the right to playfully rib PlayStation now and then.