The Real Reason Spider-Man: Miles Morales Changed Peter Parker's Face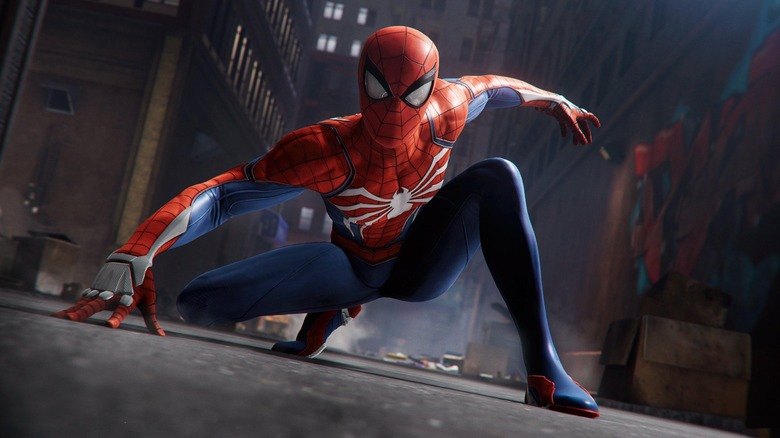 Sony Interactive Entertainment
Sony and Insomniac Games recently announced that a full remaster of Marvel's Spider-Man would be included with the Ultimate Edition of Spider-Man: Miles Morales. Now, some new footage from the remaster has been released as part of a PlayStation blog post, and it certainly looks impressive. However, fans of the original game many have noticed something very peculiar about the new footage, particularly when it comes to Spider-Man's civilian identity of Peter Parker.
Advertisement
As can be seen in the new footage of the Marvel's Spider-Man remaster, Peter Parker has been given an entirely new look. Not his clothes, mind you; the character model has changed from its former appearance, with the most notable difference being the new model's more youthful-looking face. Even the character's hairstyle looks different in the new version. The major difference between character models has been spotlighted on Twitter by Fandom, which put the two designs side by side.
Peter Parker's face has been changed in PS5's 'Spider-Man Remastered' â€" You like the new look? 🤔 pic.twitter.com/L1c43ieppc

— Fandom (@getFANDOM) September 30, 2020
Fans are probably wondering why such a drastic change was made to their favorite wallcrawler for his next-gen debut. A bit of the reasoning behind this new design was explained in the aforementioned blog post, which was written by James Stevenson, the Community Director for Insomniac Games.
Advertisement
According to Stevenson, working on the remaster itself necessitated the change. Stevenson explained, "We loved working with [original Peter Parker face model] John Bubniak on the original game; however, to get a better match to Peter Parker/Spider-Man actor Yuri Lowenthal's facial capture, we have cast Ben Jordan to be the face model for Peter Parker on the PS5 console." It is presumed that this change will also carry over to Spider-Man: Miles Morales.
However, not everyone seems to be buying into the official explanation for the change in character models. Some fans have pointed out that the new, fresh-faced Peter Parker bears a bit of a resemblance to current Marvel Cinematic Universe Spider-Man actor Tom Holland. While Marvel's Spider-Man and the upcoming Spider-Man: Miles Morales take place in a separate continuity from the Marvel movies, this is a pretty compelling theory. Sony and Insomniac may have wanted to give their Spider-Man an appearance that more closely matched the one the moviegoing public is more familiar with. 
Another theory is that the character model may have been changed because of Spider-Man's upcoming appearance in Square Enix and Crystal Dynamics' Marvel's Avengers. Since Spider-Man will be exclusive to the PlayStation versions of the game, it would make a certain amount of sense for Sony to want to make the appearance of the character more consistent across the board. There's a chance that this new character model will actually be seen in Marvel's Avengers when the Spider-Man DLC arrives.
Advertisement
Whatever the case, it's an interesting change, one that isn't sitting too well with all of the fans. There was already an uproar over Spider-Man's exclusivity in Marvel's Avengers, as well as fans getting upset over the upgrade path for Spider-Man: Miles Morales. How long before #NotMySpiderMan starts popping up on Twitter in response to this change to Peter Parker?
Oh, wait. It already has.