No One Saw This Smash Bros. Character Coming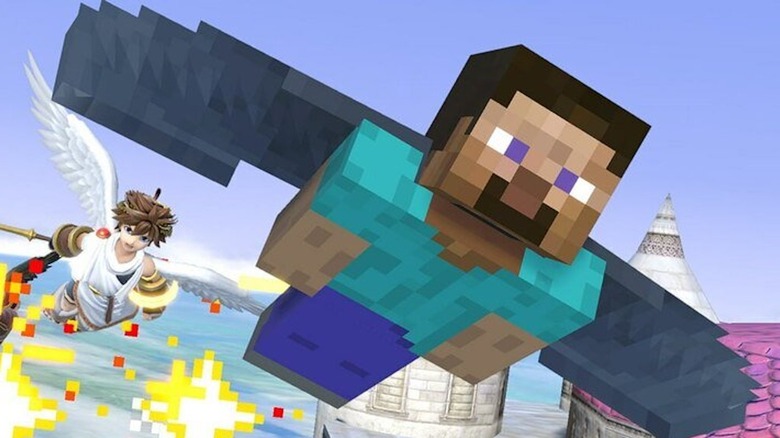 Nintendo
During a special Nintendo livestream today, Super Smash Bros. Ultimate director Masahiro Sakurai announced that the two newest characters joining the popular fighting game would be Steve and Alex from Minecraft. The characters are being added to the game as part of the Super Smash Bros. Ultimate Fighters Pass Vol. 2 DLC. Steve and Alex are the second wave of characters to be announced, following Min Min from Arms, which was also an interesting and unexpected choice. 
Advertisement
The announcement trailer for the new characters shows them using many of their abilities from the Minecraft games. It looks like Alex and Steve will be able to use various weapons, like the Diamond Sword, to fend off enemies. It appears that they will also be able to craft blocks to either stomp on enemies or momentarily trap them. The biggest surprises come near the end of the announcement, however. Both Alex and Steve are shown to be able to somehow swap out with a Zombie or an Enderman, each with their own particular set of moves. 
It makes perfect sense that Nintendo would want to incorporate characters from Minecraft in this fashion. Minecraft is the best-selling game of all time, so teaming up with such a massive franchise is pretty much a no-brainer.
Advertisement
However, it sounds like the process of adding these characters wasn't quite as simple as you might think. As Sakurai explained after the announcement trailer, there were a ton of different aspects to consider when developing these latest DLC fighters. Sakurai said that he felt that Minecraft's graphics were easy to recreate within Super Smash Bros. Ultimate, and there wasn't much to be done in the way of adding new sound effects or vocal performances for the new fighters. However, there were other things that had to be taken into account here.
Sakurai said, "What's difficult ... is the programming work required to bring the character to life. It's a massive challenge" He explained that the stages that are already in the game had to be adjusted so that Steve and Alex could place blocks there. The team also discussed adding different "biomes" to the game to simulate the different weather conditions that can be found in Minecraft.
"And most importantly," Sakurai added, "how do we adjust the game balance to accommodate the new fighter? Who knows what'll happen?"
This actually brings up a point that some fans have mentioned in the comments of the Nintendo video. There are concerns that Steve and Alex will play like the many other sword-carrying fighters that are already all over the game. Back in February, the Smash Bros. creator actually expressed his opinion that "there are too many sword characters" in Super Smash Bros. Ultimate. However, he also made sure to point out that he ultimately isn't the person who picks the characters used in the game. As was the case with the latest DLC characters, Nintendo brings pitches for new fighters to him to see if they'd be feasible additions to the overall game.
Advertisement
Luckily for the fans, it sounds as though Sakurai and his team found a way to make these new Minecraft characters work without turning them into sword characters. Yes, the sword and the pickaxe are still accounted for in the announcement trailer, but the way Sakurai describes the move-sets of the characters makes it seem like they control differently from other characters with these types of weapons. 
As Sakurai described the pressure of making the characters work within the context of the game, he mentioned Steve and Alex's "physical attacks and their short reach." This sounds like the characters will definitely set themselves apart from others. That's even before adding in the apparent ability to swap Steve and Alex out with the Zombie and Enderman characters. It's unclear how this last mechanic will actually work, but the good news is that fans won't have to wait too long to find out.
There will be another broadcast on Oct. 3rd at 10:30AM ET, during which Sakurai will be revealing a bit more about these new characters and how they fit into the world of Super Smash Bros. Ultimate. Anyone wanting to get a peek at these new fighters in action before they become available in-game might want to check that livestream out. 
Advertisement
In related news, Minecraft has just made the jump to PS VR. The update is completely free for PlayStation 4 owners, so there's never been a better time to get into the game that will soon be invading the world of Super Smash Bros. Ultimate.