The Best Selling Game Ever Is Coming To PS VR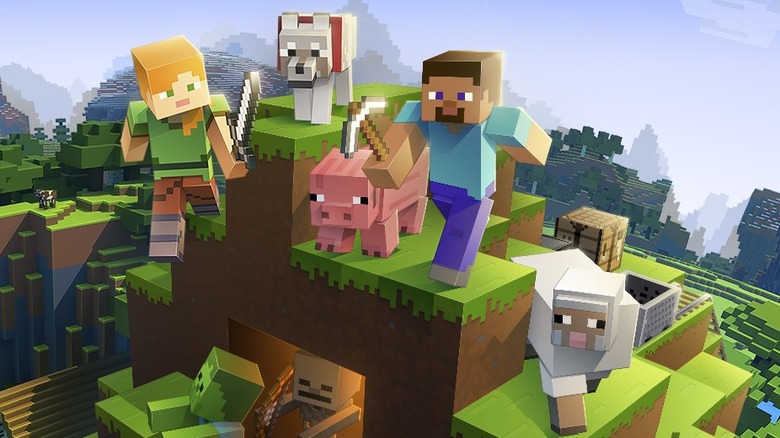 At this point, you would be hard-pressed to find someone who hasn't played Minecraft at least once, just to see what all of the fuss is about. Minecraft has already passed the mark of being the best selling video game of all time. The only paid game that has even come close to Minecraft's success is Grand Theft Auto 5, which has still sold around 200 million copies less than Minecraft. Now, it appears that Minecraft is about to make the leap to VR at long last.
Advertisement
In a post to the official PlayStation blog, Mojang Studios' Roger Carpenter explained a little about what customers could expect from the all-new VR version of Minecraft. It seems that this conversion was a real labor of love for Mojang Studios, so fans should be extremely excited to see it all come to life.
Naturally, some fans may be concerned that the VR version of Minecraft might end up dropping features from the regular version of the game. After all, that's what has happened when other big titles made the jump to VR. Batman: Arkham VR ended up being a short experience that could be completed in less than an hour, which is a far cry from the scope of previous Batman: Arkham titles. Meanwhile, L.A. Noire: The VR Case Files was literally a truncated version of the best-selling game, paring down several of the cases in the game and narrowing its focus to seven core mysteries.
Advertisement
Luckily for fans, it turns out that this release going to be exactly what they expect from the game that they already love, just tweaked to run in VR. As Carpenter explained, "it's Minecraft, but in stellar VR. It is 100% the same Minecraft game that you can play every day, every week, every month, every year...on PlayStation 4. Nothing removed. 100% wholesome & pure full-fat Minecraft."
As explained by Carpenter, gamers will have plenty of options regarding how the VR version of Minecraft will play for them. Carpenter wrote, "There's a bunch of new settings & guidance so that you can tweak the VR experience to your needs. There's also two main ways you can play the game in VR: Immersive and Living Room modes."
Also, if the PS VR controllers aren't your cup of tea, you're in luck. Carpenter explained, "Just like the main game, you use your DualShock 4 controller to move around and do all the crafting and choppy/fighty things that you need to do, but you'll be fully immersed in your Minecraft world." Yes, it seems that using the DualShock 4 won't hurt the experience of being consumed by the world of Minecraft and its many dangers. Carpenter continued, "I guarantee you will jump out of your skin at some point."
Advertisement
If you have played any previous VR versions of Minecraft, then this should feel very familiar. Carpenter mentioned in the blog post that the PS VR version is based on the tech used to develop those other releases.
There are plenty of reasons to be excited for this new release. This latest update will not only broaden Minecraft's appeal, but it could bring back many lapsed fans who may be curious to test out the VR version for themselves. Can you imagine PewDiePie reviving his Minecraft series in PS VR? The chaos would be legendary.
The addition of VR capability is not the only change that Minecraft has seen in recent history that could attract new players. At the end of last year, Sony finally relented and allowed Mojang to extend cross-platform play for Minecraft to the PlayStation 4. This was a long time coming, but it finally offered a solid foundation for gamers everywhere to finally join forces and build together.
In fact, it turns out that the final push for cross-play was one of the things that inspired Mojang to finally implement a full VR conversion for the game. According to Mojang, the update has been in the works pretty much since that announcement was made.
Minecraft Dungeons also notably just dropped a major new update on September 8. The new DLC, "Creeping Winter," brings about all kinds of new challenges, including frozen terrain, as well as new NPCs and Daily Trials that scale to the player's level and number of purchased DLCs. In other words, the Minecraft franchise still isn't slowing down any time soon.
Advertisement
According to Roger Carpenter, "the Minecraft x PSVR experience" will be released later this month. It seems like now would be a good time to start sharpening your pickaxes.