The Big Twist Behind Mortal Kombat 11's Rambo Explained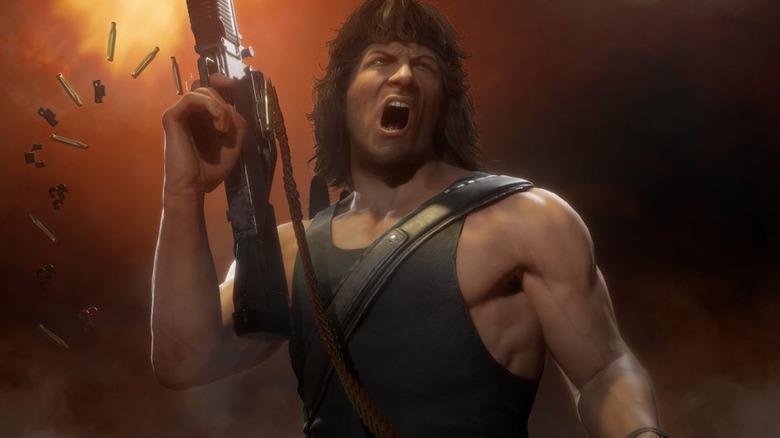 Warner Bros. Games
Mortal Kombat fans received some fantastic news today when Warner Bros. Games and NetherRealm Studios announced Mortal Kombat 11 Ultimate. This expanded version of Mortal Kombat 11 will feature an all-new Kombat Pack of extra characters, one of whom came as a great surprise. It looks as though Rambo himself is joining the fight. Even wilder is the fact that he will be voiced by his original actor, Sylvester Stallone.  
Advertisement
A trailer dropped today for the next Kombat Pack, which brings three new characters to MK11's roster. In a moody clip, a Tarkatan from Outworld is seen running away from unseen assailants. One by one, the newest fighters appear to challenge their enemy. First up is Rain, one of the franchise's many ninja characters, making his triumphant return as he rises up from the water. Before Rain can make his move, the Tarkatan is grabbed and beheaded by Mileena, the deadly clone of Mortal Kombat's Princess Kitana. Both characters begin sparring, but are quickly interrupted by the arrival of the Kombat Pack's third and most surprising character: John Rambo, the lead protagonist of the First Blood/Rambo franchise.
Advertisement
Shortly after the trailer dropped, fans got even more good news. NetherRealm's Ed Boon excitedly tweeted a gif of Mortal Kombat 11's Rambo firing his gun wildly into the air. Along with the gif, Boon confirmed that Stallone would be returning to lend his voice to John Rambo for the game.
The fact that Sylvester Stallone is reprising his role comes as something of a shock, for a few different reasons. One reason is the fact that 2019's Rambo: Last Blood seemed like it would be the last time Stallone portrayed the character. In regards to the Mortal Kombat series, it's a bit surprising to see Stallone reprising this role when Mortal Kombat 11 was unable to secure Arnold Schwarzenegger as the voice of the Terminator.
Although his likeness was used in the game, Schwarzenegger declined to provide the voice for the T-800's appearance in MK11. However, it is worth noting that the original Terminator actor did still have some part to play in the game's production. Schwarzenegger actually ended up choosing the voice actor who portrayed the T-800 in MK11. This was previously confirmed by NetherRealm's Daniel Sayed in a tweet that has since been deleted (via ComicBook.com).
NetherRealm apparently hasn't had to go through such a circuitous route in securing voice talent since then. When the first trailer for Mortal Kombat 11: Aftermath came out, it was revealed that Peter Weller was reprising his role as RoboCop for the first Kombat Pack. Now Stallone's presence lends even more legitimacy to the bevy of '80s guest characters in MK11.
Advertisement
Fans have had a decidedly mixed reaction to the announcement that Rambo will be joining the other Kombatants. Several gamers have expressed their excitement for the addition, with one fan tweeting that the announcement was "the coolest s**t I've seen this year." However, not every fan is enthused by the Rambo reveal. Some expressed a bit of disappointment in the choice, with more than a few people referring to the addition as "fan service," particularly since the game is already chock full of other 80s action characters like RoboCop and the Terminator. 
Others are disappointed that Rambo was announced instead of Ash Williams from the Evil Dead franchise. Rumors have been circulating for quite some time that Ash may end up appearing in Mortal Kombat 11, but that has yet to happen.
One of the more high profile responses came from superstar artist BossLogic, who joked that Rambo popping up in Mortal Kombat 11 wasn't even the weirdest thing to happen in 2020.
One criticism that has been leveled at the addition of Rambo is just how far this appearance puts the character from his creator's original intentions. John Rambo first appeared in the 1972 novel First Blood, written by David Morrell. The novel had action thriller elements, but was very much a drama about the traumas brought on by war, first and foremost. One person commented on the disconnect from this original book and Rambo's appearance in Mortal Kombat 11, tweeting, "imagine selling the film rights to your serious thriller novel in 1972 and this somehow leading to 50 years later your character in a video game murdering robocop and the joker in hell." That's a pretty hilarious change to think about.
Advertisement
Still, the overall response to Mortal Kombat 11's newest guest character has mostly been one of excitement. It's an unexpected bonus to have the original actor returning to voice such an iconic character. Fans will finally get to see Rambo in action against Liu Kang and the rest when Mortal Kombat 11 Ultimate launches on Nov. 17, 2020.