What The Critics Are Saying About Yakuza: Like A Dragon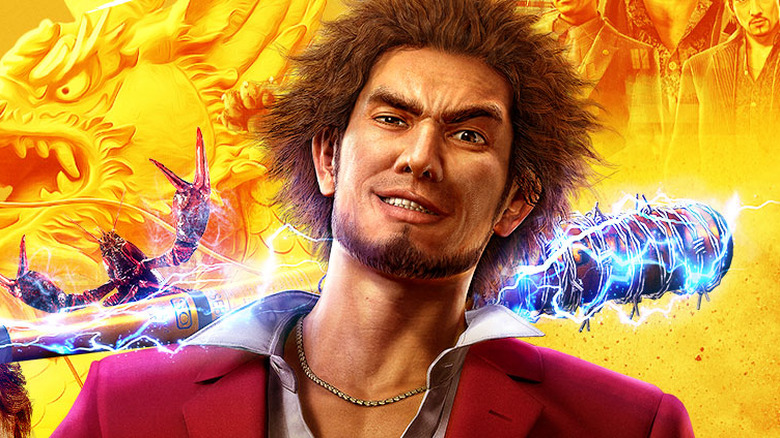 Sega
Yakuza: Like A Dragon is the latest entry in the long-running Yakuza franchise. Like A Dragon follows the story of Ichiban Kasuga, a low level criminal who has spent years in prison for a crime he didn't commit. Now that he's out, he's looking for answers as to why he was set up. The game sold like gangbusters when it was released in Japan earlier this year, so fans of the series have been eagerly awaiting Like A Dragon's localization. Now that critics are getting a chance to play the Xbox Series X|S version, you may be wondering how it stacks up.
Advertisement
Yakuza fans will be happy to hear that critics adore Like A Dragon. It appears that the game excels in not only building off of what came before, but also providing fans with something entirely new. 
Like A Dragon has been hailed for the new lead character that it introduces to the franchise. While earlier Yakuza entries have primarily followed the misadventures of Kazuma Kiryu, Like A Dragon presents players with a very different character in Ichiban Kasuga. The new protagonist has been described as a much more well-rounded character than even the beloved Kazuma Kiryu. PC Gamer's Andy Kelly wrote, "Ichiban Kasuga ... can handle himself in a fight and intimidate people when he has to. But he's also excitable, eccentric, and naive to a fault, which makes him one of the most fun, likeable leads in this long-running series."
Advertisement
According to PC Gamer, the new protagonist's unique personality has also led to Yakuza: Like A Dragon embracing a very different gameplay style when compared to previous entries. Like A Dragon is the first game in the franchise to utilize a turn-based combat system, rather than the combo-based brawling seen in other Yakuza titles. While that could prove to be a divisive change among fans, the new combat system apparently suits the new lead character perfectly. As pointed out in the PC Gamer review, one of the things that sets Ichiban apart from other Yakuza characters is his love for JRPGs like the Dragon's Quest series. Because of this, Ichiban actually sees the fights he gets into as turn-based battles right out of his favorite video games. This makes for a unique touch that brings the player closer to Ichiban, but it also offers a hilarious (and clever) in-universe reason for the switch in combat systems. 
If you're a longtime fan of the series, don't worry too much about not recognizing your favorite franchise. Despite all of the changes, it seems that Like A Dragon remains true to what fans love about Yakuza. As VG24/7's Alex Donaldson put it, "Yakuza: Like a Dragon is a Yakuza game to its very core." Donaldson added that this might end up being his favorite entry in the franchise, thanks to the fresh mechanics and moments of full-on absurdity. 
Advertisement
To put it lightly, the Yakuza series is completely bonkers and always has been. For instance, there are several creepy moments in the Yakuza games, including zombie encounters and a mission involving a haunted video tape. Even aside from the creepy stuff, the Yakuza franchise has always managed to be acutely aware of how wild it is, and pushes those sillier aspects to entertaining extremes. Yakuza 0 notably included one of the most embarrassing game achievements of the last decade, rewarding players for going through a stack of "dirty movies."
In fact, IGN's review of the game praised it for its willingness to be completely weird. IGN's Ryan McCaffrey wrote, "[Yakuza: Like A Dragon] knows it's weird and it leans into that delightful weirdness. The result is an RPG I can honestly say is unlike any I've played before." He concluded, "It's goofy, and that makes it stand out in a sea of buttoned-up fantasy RPGs."
Several reviews, including IGN's, are praising the game for giving players an entry point into the Yakuza franchise. Even though Like A Dragon is technically the 7th game in the mainline Yakuza series, prior knowledge of the franchise is not required in order to follow the plot. 
Advertisement
If these reviews have convinced you to check out the latest installment in the Yakuza series, then you luckily won't have to wait too long. Yakuza: Like A Dragon is currently available for preorder. The Xbox One, Xbox Series X|S, and PC versions of the game will be released on Nov. 10, 2020. The PlayStation 5 release will follow just a few months later, arriving on March 2, 2021.