The Truth About The Mario And Luigi Fruit Pancake Sandwiches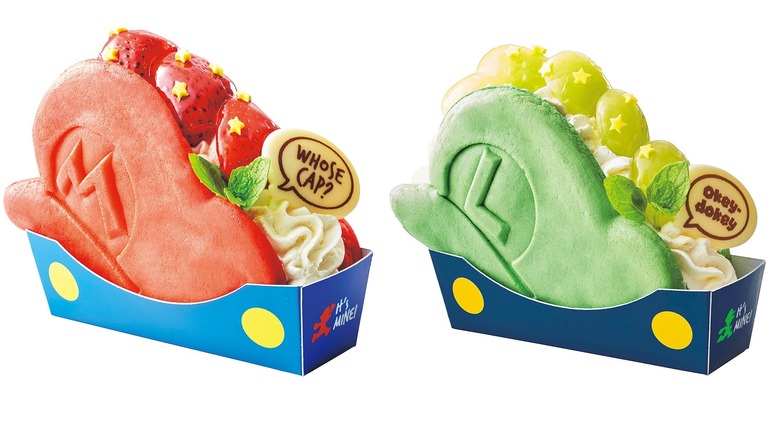 Nintendo
The internet is an excellent resource for modern day food goodness. If you want to find a new recipe or learn how to cook a low-fat version of your favorite dish, just head over to Google. If you want to uncover the latest pop culture food craze, you can also scour cyberspace. You never know what you will find — including a location exclusive piece of specialty comfort food based on the world's most famous plumbers.
At the tail end of October's first full week, word circulated that Universal Studios in Osaka, Japan would soon sell Mario and Luigi-themed fruit pancakes. Unlike what might spring to mind when Westerners hear the words "fruit pancake" (a flapjack cooked with fruit in the middle), these offerings are decidedly dessert shaped. Each Mario and Luigi fruit pancake will come with what appears to be whipped cream, caramelized fruit, and a crunchy speech bubble, all sandwiched in either a red Mario or green Luigi cap-shaped pancake. 
According to Nintendo, these decidedly non-Italian pancakes will be available starting Oct. 16 in the Mario Cafe & Store, located in the Hollywood Boulevard area of Universal Studios Japan. Some commenters have raised concerns regarding the taste and nutritional content of the treats, but the general consensus is that these pancakes will probably be "ungodly sweet" but still healthier than similar desserts sold in America.
The Mario and Luigi pancakes are far from the only Mario Bros. products that will be on sale in the Mario Cafe & Store. It will offer Mario and Luigi-themed fruit cream sodas — complete with mustachioed straws — and soft drinks that come in Super Mushroom-shaped bottles. Moreover, the location will be completely decked out in Super Mario iconography (i.e., colored blocks, green pipes, and giant toadstools). 
If you walk next door, you will find another shop that sells Mario, Luigi, and Princess Peach clothes and memorabilia. Among these items is a cushion that sports the confusing phrase "Whose cap?" However, one item that is missing from the store's lineup is "Power-up Bands." Nintendo previously announced visitors could wear these items and interact with various points of interest within Super Nintendo World for special Universal Studios Japan app rewards.
Even though the Mario Cafe & Store deserts and merchandise are meant to celebrate the upcoming Super Nintendo World section of Universal Studios Japan, they will be available long before the area's grand opening. Visitors itching for more real-life Mario goodness will have to wait for the vague launch of "Spring of 2021." Further, Super Nintendo World will reportedly start small and add new attractions as time goes on, such as Bowser and Princess Peach-themed rides. Perhaps that could mean the Mario Cafe & Store will feature an ever-evolving menu of Super Mario snacks and merch?
While Japan will be the first county to catch Mario and Luigi pancake fever, it probably won't be the last. Super Nintendo World will land stateside in Universal California. Nintendo has yet to confirm whether the fruit pancakes will also make it overseas (or feature the same nutritional content), but when the park opens, visitors can still participate in Nintendo-themed activities such as real-world Mario Kart racing.