What Rockstar's Purchase Of The Crackdown 2 Studio Means For The Future Of GTA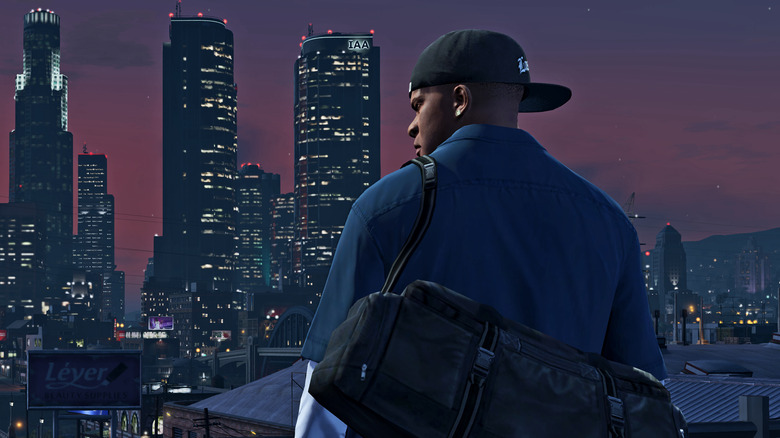 Rockstar Games
Ruffian Games, known for its work on Crackdown 2, was purchased by Rockstar Games and rebranded Rockstar Dundee according to a Companies House listing originally discovered by TheGamer. The site reports that employees at Ruffian have experience working on titles from the Grand Theft Auto series as well as Manhunt. Speculation on this acquisition started when a Tweet highlighted the existence of Rockstar Dundee back in September. Now, Ruffian is fully owned by Rockstar, joining its growing roster of studios, including Rockstar London, Rockstar San Diego, and Rockstar New York. 
Ruffian Games has a long history of game development. Former members of Realtime Worlds, the minds behind Crackdown, founded Ruffian Games in 2008, according to Game Informer. The studio's list of past titles features a series of Kinect games — including the poorly received Kinect Star Wars and the more divisive Crackdown 2. What's now Rockstar Dundee also gained notoriety for its work on Halo: The Master Chief Collection. The studio played a key part in upgrading Halo 3, Halo 4, and Halo 3: ODST to 4K resolution and 60 FPS.
The question remains: how will Rockstar Dundee factor into the future of the Grand Theft Auto franchise? Game Rant believes Ruffian's positive track record with the Halo series proves the studio can refine existing franchises. Dundee could help Grand Theft Auto take advantage of the PlayStation 5 and Xbox Series X hardware. Ruffian's contributions to The Master Chief Collection were met with praise, largely because it managed to keep the look and feel of Halo intact while updating it to current standards. Hopefully, Grand Theft Auto – or whatever Dundee is working on — will get the same treatment.
Given its history, the studio could also be involved in Grand Theft Auto 5 Expanded and Enhanced, the next-gen GTA 5 remaster announced at the June 11 The Future of Gaming event. The record-breaking title will be upgraded for both major consoles, but PlayStation 5 users will have the opportunity to play GTA Online for free during the first three months of its release. A PlayStation blog post promised a series of improvements which, based on the acquisition, Rockstar Dundee could have a hand in.
"Grand Theft Auto V for PlayStation 5 will feature a range of technical improvements, visual upgrades and performance enhancements to take full advantage of the console's powerful new hardware, making the game more beautiful and more responsive than ever," read the announcement.
These improvements seem realistic with the specs of next-generation hardware. Games like Call of Duty: Black Ops – Cold War and Devil May Cry 5: Special Edition are confirmed to run at 120 FPS. Grand Theft Auto 5 is more likely to hit 60 FPS based on a recent report that the Marvel's Spider-Man remaster will target similar numbers. Both the Series X and PS5 also feature ray tracing, which bodes well for the next evolution of Grant Theft Auto 5. 
Rockstar Dundee could be working on a variety of different projects drawn from Rockstar's stable of older titles, maybe even the rumored Red Dead Redemption remake. Updates on classics like Midnight Club and Bully could even be on the table with the increased manpower.
Of course, a new Grand Theft Auto 6 rumor seems to emerge every few months, which is another possibility for Rockstar Dundee's involvement. Alleged leaks covering everything from the setting and story to the characters have surfaced in recent years. As for the prospective GTA 6 release date, industry analyst Jeff Cohen pointed towards 2024 based on an uptick in Take Two's marketing budget for that year. In the past, an increase in spending indicated the upcoming release of a major title. Cohen said in research brief that a similar strategy successfully predicted the launch of Red Dead Redemption 2.
For now, it's difficult to say what Rockstar Dundee's impact on Grand Theft Auto will be and it looks like it could be a long while before fans get any official updates. Rockstar has an expansive library for the studio to work with, and the new addition will hopefully allow the developer to ship titles more quickly while reducing crunch.